We Speak Your Name: Brooklyn community celebrates Henrietta Lacks
By Christina Daulton
Education Outreach Specialist, NHGRI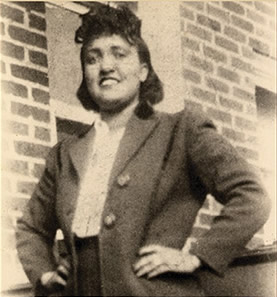 The world owes much to Henrietta Lacks. Henrietta Lacks was an African-American woman whose cells were removed during a biopsy in 1951 and used for research without her knowledge or approval. Mrs. Lacks died at the age of 31, a few months after her diagnosis of cervical cancer. She would never know that more than six decades later, her cells would continue to grow and provide a foundation for advancements in biomedical research. 
Mrs. Lacks' cells revolutionized the field of medicine. Her amazing and immortal cells - commonly known as HeLa cells - have been used for decades in biomedical research. They've been used to study cancer, AIDS and the effects of radiation, among many other areas, and have led to the development of drugs to fight leukemia, hemophilia, herpes, human papillomavirus (HPV), Parkinson's disease, influenza and many others.
On May 17 - 18, 2014, the Brooklyn Public Library in Brooklyn, N.Y., celebrated Mrs. Lacks with a community-based event, We Speak Your Name: Exploring the Life of Henrietta Lacks "Heroine of Modern Science & Medicine." The program, an extension of the "Genome: Unlocking Life's Code" exhibition, was made possible with support from the Smithsonian's National Museum of African American History and Culture and the National Human Genome Research Institute (NHGRI), part of the National Institutes of Health (NIH).
Students, educators and audience members representing diverse cultures and socio-economic demographics met at the library to examine big questions in ancestry, genomics and culture, and to explore issues of race, class, gender and bioethics through the story of Mrs. Lacks.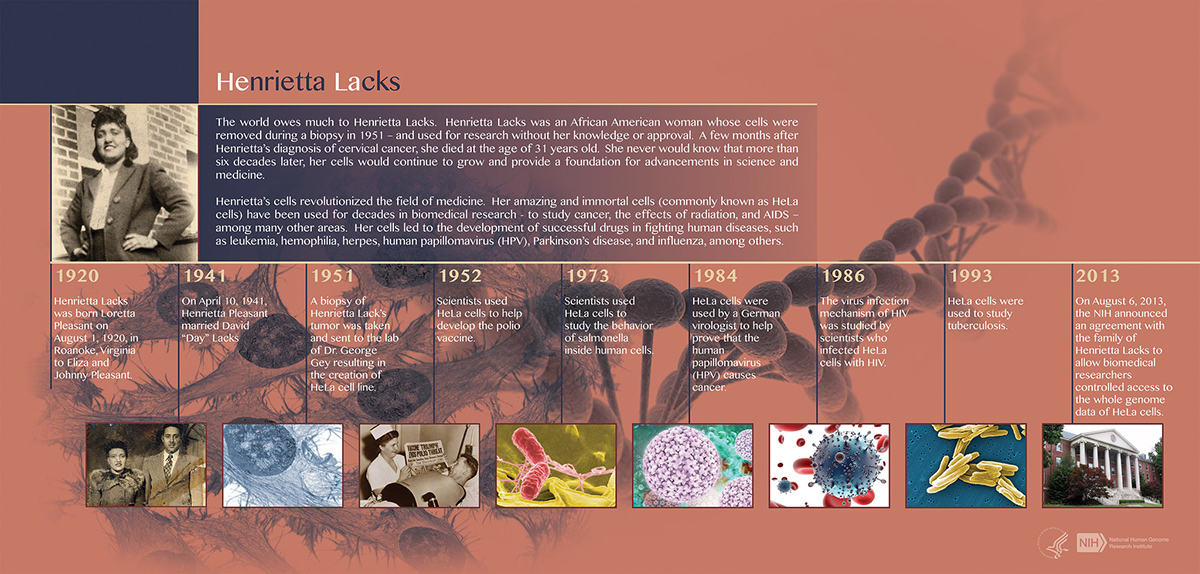 "NHGRI was pleased to join in partnership with the Brooklyn Public Library and the Smithsonian's National Museum of African American History and Culture to honor the legacy of Henrietta Lacks," said Vence Bonham, chief of the Education and Community Involvement Branch at NHGRI. "These conversations are so important in making sure that the research we do at NHGRI benefits all communities and has everyone's interests in mind."
On a beautiful Saturday afternoon at the Macon Library Branch in Brooklyn's Bedford-Stuyvesant neighborhood, hundreds of members of the community paid homage to Henrietta Lacks through drumming, poetry and dance.
Members of the Lacks family were present as the community honored Mrs. Lacks and publicly recognized her life and tremendous contribution to science and medicine. Following an ancestral ceremony of return and healing, the public engaged in a dialogue about the cultural and ethical responsibilities of science and explored issues of trust between communities of African descent and Western medical and science institutions.
"We were truly honored to host the family of Henrietta Lacks and provide a space for our community to hear her story-as a woman, mother, wife, daughter, sister and friend," said Taneya Gethers, senior librarian at the Macon Library and organizer of the two-day event. "This event carries on a great tradition. Since 1907, Macon Library has served as a space for the community to gather in conversation and celebration."
The following day Mrs. Lacks' grandchildren, David Lacks and Jeri Lacks-Whye, took center stage at the Brooklyn Public Library's Dweck Auditorium. They were joined by Professor Spencer Crew, Robinson Professor of American, African American, and Public History at George Mason University in Fairfax, Va., and curator at the National Museum of African American History and Culture in Washington, D.C. Together, they explored the life of Mrs. Lacks, what her legacy has meant to her family, the era in which she lived and how her family became involved in controlling access to the complete genome sequence data of the HeLa cell line through a recent historic agreement with the NIH.
Deirdre Cross, the Adult and Family Programs Coordinator for the Smithsonian's National Museum of African American History and Culture, captured the spirit of the weekend. "The weekend not only was an opportunity to honor the memory of Henrietta Lacks but allowed for honest discussion with members of the community about bioethics, medicine and race."
For more information, see:
Last updated: July 02, 2014