Genome: Unlocking Life's Code Exhibition Closing Symposium
Genomics and Global Health: What does the future hold?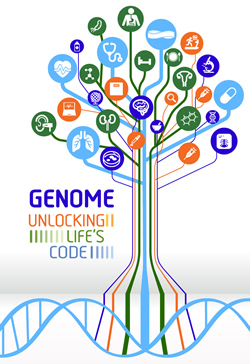 September 30, 2014
Baird Auditorium
National Museum of Natural History
Smithsonian Institution
10th Street and Constitution Ave, NW
Washington, D.C. 20560
The closing symposium, in partnership with NHGRI, the National Museum of Natural History, and the Foundation for the National Institutes of Health, focused on how genomics can prevent, diagnose, treat and cure diseases for individuals, their families and global populations, and what the next decade holds in terms of genomic advances.
The symposium included an afternoon program from 1 p.m. to 4:45 p.m. and an evening program from 6:45 p.m. to 8:45 p.m.

Video Playlist
Time
Topic
Speaker(s)
Afternoon Program
1:00 - 1:30 p.m.
Welcoming Remarks

Video (Coddington)
Video (Kumar)

Jonathan Coddington, Ph.D.
Associate Director for Science
National Museum of Natural History

Seema Kumar
Vice President, Innovation, Global Health, and Policy Communication
Johnson and Johnson
Framing Talk

Video

Eric Green, M.D., Ph.D.
Director, NHGRI
1:30 - 3:00 p.m.
The Future of Genomic Medicine
A conversation on the future of human genomics: where research
is headed, the role of the private citizen in genomic testing and
research, access to genomic testing, and clinical practices.

Video

Anne Wojcicki
CEO and Co-Founder
23andMe

Richard Lifton, M.D., Ph.D.
Sterling Professor of Genetics and Professor of Medicine
Yale University

Moderated by Eric Green, M.D., Ph.D.
Director, NHGRI
3:15 - 4:45 p.m.
Genomics and Global Health
A conversation focusing on genomics and global health, with
a particular emphasis on genomics and the recent outbreak of
the Ebola virus on the African continent. e conversation will
discuss the use of genomics to find cures and treatments for
diseases that aect populations in developing countries.

Video

Pardis Sabeti, M.D., Ph.D.
Associate Professor, Harvard University
Senior Associate Member of the Broad Institute of Harvard and MIT

Charles Rotimi, Ph.D.
Director, Center for Research on Genomics and Global Health
NHGRI

Moderated by Seema Kumar
Vice President, Innovation, Global Health, and Policy Communication
Johnson and Johnson
Evening Program
6:45 - 8:45 p.m.
A Conversation with Carolyn Hax: Ask Me About Health, Genetics, and Dealing with Disease

"Should I get a genomic test to see if I am at risk for breast cancer?"

"I just discovered that I have the gene that puts me at high risk for
Alzheimer's disease. Should I tell my children?"

"Should I have my newborn baby's genome sequenced?"

These are just some of the hard questions that people face today or will in
the future around personal medical issues and families - particularly related to genomics and medicine.

Video

Carolyn Hax
Washington Post Advice Columnist

Barbara Bowles Biesecker, Ph.D.
Director, Genetic Counseling Training Program
NHGRI and The Johns Hopkins University

David Valle, M.D.
Professor and Director, Institute of Genetic Medicine
The Johns Hopkins University School of Medicine.

Moderated by Rebecca Roberts
Program Coordinator, Smithsonian Associates
Last updated: October 08, 2014