Ellen Rolfes appointed new NHGRI executive officer
Ellen Rolfes appointed new NHGRI executive officer
By Raymond MacDougall
Associate Director of Communications, Division of Intramural Research
Ellen Rolfes, M.A.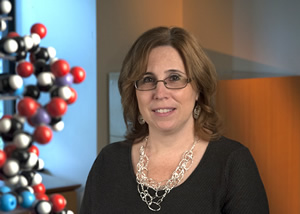 Following a rigorous national search, Ellen Rolfes, M.A., has been appointed the executive officer of the National Human Genome Research Institute (NHGRI), part of the National Institutes of Health (NIH). The executive officer of an NIH institute oversees all aspects of its administrative management. A human resources specialist by training but broadly accomplished as an administrative professional, Ms. Rolfes has worked at NHGRI for nearly two decades and at NIH for 25 years.
"Ellen is a respected and effective leader within NHGRI's administrative management team," said NHGRI Director Eric Green, M.D., Ph.D. "Her promotion to the NHGRI executive officer position is well-deserved and represents the capstone of a tremendously productive career at NIH."
Since being named acting executive officer at NHGRI in April 2013, Ms. Rolfes has become intensely aware of a key requirement of the position: the ability to wear many hats. As the executive officer, she now oversees all administrative management functions of the institute - from the budget and the administrative offices to information technology, ethics and management analysis and workforce development. She also serves as the director of NHGRI's Division of Management.
Ms. Rolfes' NIH career began in 1989, when she joined the NIH Office of Human Resources. This was followed by a stint at the National Heart, Lung and Blood Institute beginning in 1991. In 1996, she joined NHGRI as a human resources specialist. Over time, she served as the special assistant to the scientific director, founding director of the Professional Development Office and founding director of the Office of Intramural Management, all within NHGRI's Intramural Research Program. In 2010, she was appointed deputy executive officer at NHGRI.
"I have had the opportunity to hold a variety of positions and to learn about many diverse challenges," Ms. Rolfes said. "Solving problems is a big part of what I do each day. If I do my jobs well, I can help the scientists do their jobs better. To be able to do anything that helps move the science forward is quite an honor." A Washington, D.C. native, she has a Bachelor of Science degree in human resources and a master's degree in management with a focus on human resources from the University of Maryland, University College at College Park.
Not satisfied just to steer her own career, Ms. Rolfes cultivates up-and-coming federal administrators. She chairs the NIH Presidential Management Fellows Program, a program that matches outstanding recent graduates with federal employment opportunities. "I love watching new fellows come to the NIH with no idea of what they are going to do and then seeing them find their niche over the two year term," she said. "It always feels like a big place when they get here. But the longer they are here, the smaller it feels because they get to know so many people."
Ms. Rolfes' sense of humor threads through her many efforts. "What we do at NHGRI is very serious, but it is also important to have fun and to enjoy our jobs," she said. "I try to be light-hearted, and I try very hard every day to be good to people. I like to think that I do that well."
She is proud of the impact she makes as a federal employee.
"Even though the political environment and the administrative challenges ebb and flow from year to year," she said, "the public service element allows us to do something for the nation. There is something very patriotic and gratifying about that."
Posted: October 20, 2014
Last updated: October 20, 2014