Robert Wildin, M.D., joins NHGRI as chief of the Genomic Healthcare Branch
Robert Wildin, M.D., joins NHGRI as chief of the Genomic Healthcare Branch
By Raymond MacDougall
Associate Director of Communications, Division of Intramural Research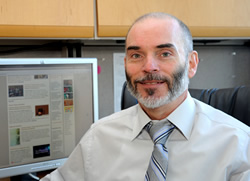 Robert Wildin, M.D., a clinical geneticist with nearly three decades of experience in private and hospital-based medical practice, joined the National Human Genome Research Institute (NHGRI) on Nov. 10, 2014 as chief of the Genomic Healthcare Branch (GHB). Dr. Wildin's selection caps off a national search for leadership of the branch, which promotes the integration of genomic discoveries into healthcare and is part of the Division of Policy, Communications, and Education (DPCE).
As GHB chief, Dr. Wildin will provide overarching leadership for activities to promote the integration of genomic discoveries into day-to-day clinical and public health practice.
"Dr. Wildin's background and expertise are particularly well suited for leading the programs within NHGRI's Genomic Healthcare Branch," said DPCE Director Laura Lyman Rodriguez, Ph.D. "At a time when opportunities are increasing for health care professionals to consider and use genomic information in their care delivery, Dr. Wildin will be able to draw upon his years on the front lines of medical practice in various community and underserved settings to target NHGRI activities to those stakeholders and initiatives most in need." 
Dr. Wildin holds a bachelor's degree from the Massachusetts Institute of Technology and his M.D. from the University of California, San Francisco. He completed a pediatrics residency, a medical genetics fellowship and a post-doctoral fellowship in immunology at the University of Washington.
Dr. Wildin has served on the medical faculty of teaching hospitals in Seattle, Washington; Galveston, Texas; and Portland, Oregon. He was the medical director for a clinical molecular diagnostic laboratory, and for several of the past 10 years, the sole general clinical genetics provider for two large community hospital systems in Boise, Idaho, and Portland, Oregon.  He also established a biomedical informatics software and consulting business.
Dr. Wildin first became interested in medical genetics in college, during a summer work experience as a laboratory technician in the Genetics Division of the Department of Pediatrics at Baylor College of Medicine in Houston. After medical school, he completed both a pediatric residency and a medical genetics fellowship that combined clinical and research training. "I was exposed to medical genetics early and got started doing research on rare diseases," he said.
From 1996 to 2002, Dr. Wildin served as an assistant professor at Oregon Health and Sciences University in Portland, providing bedside and classroom teaching for medical students and trainees. In addition, he co-directed the clinical molecular diagnostic laboratory and provided outpatient genetics consultations, as well as performing NIH funded research.
In 2002, Dr. Wildin began to divide his time between developing software technologies and providing clinical services to the state of Idaho. He spent a sabbatical year in 2003-2004 at the Institut Pasteur in Paris, where he made important research contributions to understanding the molecular basis and cellular behavior of immunodysregulation polyendocrinopathy enteropathy X-linked syndrome, or IPEX, a deadly human genetic disorder.
When Dr. Wildin returned to the United States, he expanded medical genetic services for the state of Idaho, transitioning the clinical genetics service from a state facility to the non-profit St. Luke's Children's Specialty Center, which enhanced patient access to important case management support and pediatric specialty care.
"I enjoyed working in an underserved area," Dr. Wildin said. "It's a challenge in that kind of environment to provide the best possible care because there are fewer resources available to support parents in their understanding and decision making. I gained insights about priorities and interests of the people who came to the clinic-and about their ability to respond to challenges."
Between 2008 and 2011, Dr. Wildin's patient base spanned two states in the Pacific Northwest. For more than two years, while providing genetics services to patients in Idaho, Dr. Wildin was tapped by The Providence Medical Group (PMG) in Portland, Oregon, to provide genetic consultation in the neonatal intensive care unit of its hospital, a facility with the largest number of births in the state.  Under Dr. Wildin's leadership, the hospital expanded genetics services beyond the neonatal unit to an outpatient genetics clinic.
Dr. Wildin said that primary care doctors will need to incorporate genetics and genomics in their medical care. He also thinks that clinicians in primary care will be challenged by the move to what he calls "new medicine."
A penchant for problem solving and interests in software development converge for Dr. Wildin in a software tool he used and has marketed to other physicians. "There is way too much information out there for us to be able to remember and keep in mind when dealing with a wide variety of patients," he said. "My goal was to make it easier to gather the right kind of information and do the right kind of searches on existing databases to make a clinical decision and provide counselling as soon as possible. That's important especially in rural environments where people may drive for hours to see you. In some cases, they may have waited six months for an appointment."
 "Understanding the systems that physicians use on a daily basis, such as electronic health records, is really helpful for making sure that whatever NIH supports is going to be meaningful for them," Dr. Wildin said. "The quality, broad perspective and emphasis on translational medicine provided by NHGRI's leadership is important and timely."
Posted: December 2, 2014