Enhancing the diversity of the genomics workforce
This issue of The Genomics Landscape comes at an especially difficult time, with the events of the last week in cities across the United States on top of the illness, death, and physical isolation that we have been experiencing together due to COVID-19. NHGRI values a community and society in which all are respected and safe – at home, in the streets, and in the workplace. I promise you that NHGRI will continue to make safety, diversity, and inclusion a priority.
As I have mentioned in previous issues of The Genomics Landscape, several government websites are available (and growing!) that provide valuable information about the COVID-19 pandemic, including those at the Centers for Disease Control and Prevention (CDC) and NIH. For NIH grantees and applicants, the Coronavirus Disease 2019 (COVID-19): Information for NIH Applicants and Recipients resource is available on the NIH Grants and Funding website. In addition, NIH Director Francis Collins' blog posts continue to be a great source of information.  
The NHGRI History of Genomics Program continues to showcase oral history interviews with prominent genomicists – specifically, one per week leading up to the 30th anniversary of the launch of the Human Genome Project in October 2020. I encourage you to check out the latest oral histories by Ari Patrinos, Karen Rothenberg, Michael Gottesman (parts 1 and 2), and Jeff Schloss.
All the best,

Enhancing the diversity of the genomics workforce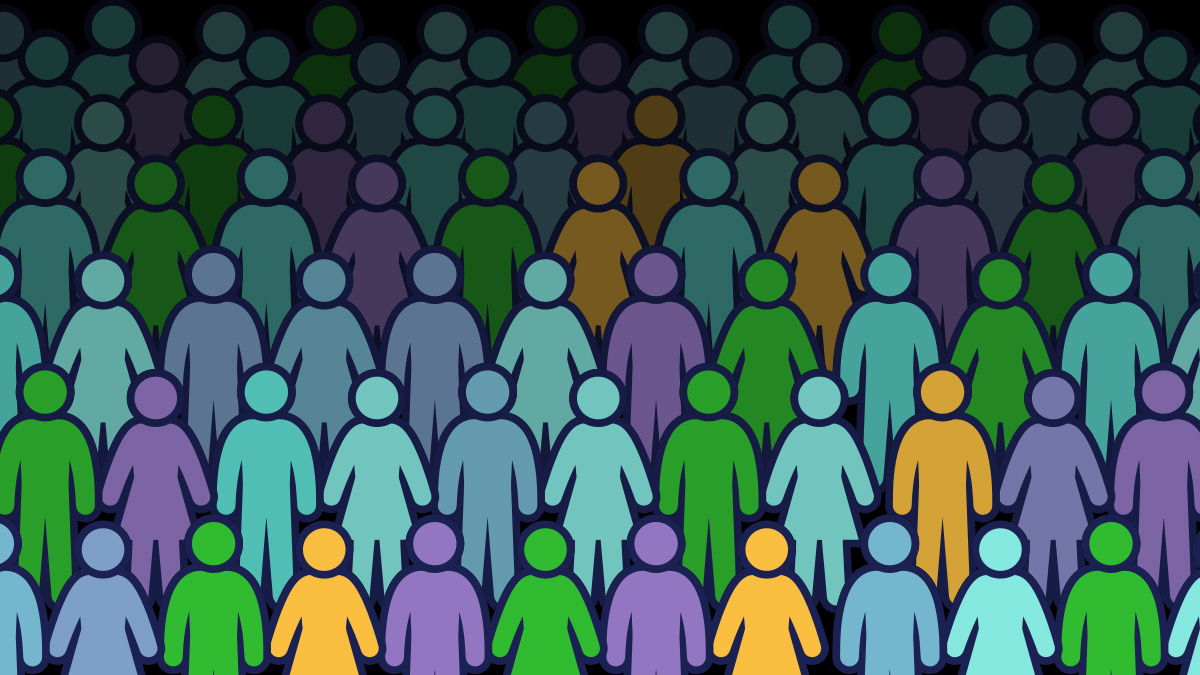 NHGRI is committed to leading efforts to build a genomics workforce of the future that reflects thediversity of the human population. This will require greatly increasing the number of individuals from underrepresented backgrounds who have the necessary training to pursue careers in genomics. The Institute has a history in supporting training programs that focus on increasing the diversity of the next generation of genomic researchers.
The NHGRI Diversity Action Plan (DAP) program aims to increase the pool of underrepresented scientists who are prepared to pursue genomics-related scientific careers. The program was originally associated with NHGRI's large extramural research initiatives, including the Centers of Excellence in Genomic Science, genome-sequencing centers, and model organism databases. Since its inception in 2002, the DAP program has included over 1,400 participants across 20 initiatives. Currently, NHGRI supports 14 DAP initiatives. In 2013, the program was reissued as a Research Education Program (using the R25 mechanism) to support educational activities that enhance the diversity of the biomedical, behavioral, social, and clinical research workforce in genomics.
At an NIH-wide level, NHGRI is participating in the Maximizing Opportunities for Scientific and Academic Independent Careers Transition Award to Promote Diversity (MOSAIC) program, the Research Supplements to Promote Diversity in Health-Related Research program, and the Ruth L. Kirschstein National Research Service Award Individual Predoctoral Fellowship to Promote Diversity in Health-Related Research. Additionally, in 2019, NHGRI was pleased to partner with the American Society of Human Genetics for the Human Genome Scholars Program.
As NHGRI puts final touches on its new 2020 strategic plan for genomics, which will be published in October of this year, an internal working group has been charged with developing a plan for the Institute to provide leadership for substantially increasing the diversity of the genomics workforce in the United States, particularly by recruiting individuals from groups that have been reported by the National Science Foundation to be underrepresented in health-related sciences. NHGRI is committed to learning from the successes and failures of other diversity-enhancing programs in an effort to develop new strategies and to build new partnerships, all aiming to increase the diversity of the genomics workforce.
The notion of "diversity" of the workforce encompasses underrepresented populations in the U.S. biomedical, clinical, behavioral, and social sciences research enterprise as well as individuals with disabilities, those from disadvantaged backgrounds, and women at the faculty level. The genomics enterprise is associated with tremendous challenges and opportunities for improving human health, including the ability to conduct research (including basic, translational, clinical, and bioethics research) and to help implement and refine the practice of genomic medicine. There are extraordinary career opportunities in genomics across numerous disciplines, and the best minds that represent the diversity of humankind are needed to fully realize all the anticipated advances.
NHGRI seeks input from the genomics community to learn about programs and strategies that have proven successful at increasing the diversity of trainees, researchers, and healthcare professionals. The Institute wants to hear what you think can be done to make a substantial impact on increasing diversity in the genomics workforce. Your unique perspective can inform the recommendations of the working group and the development of new programs at NHGRI. Please share your perspectives using the NHGRI questionnaire by June 29, 2020.
Twenty years ago, scientists completed the first draft sequence of the human genome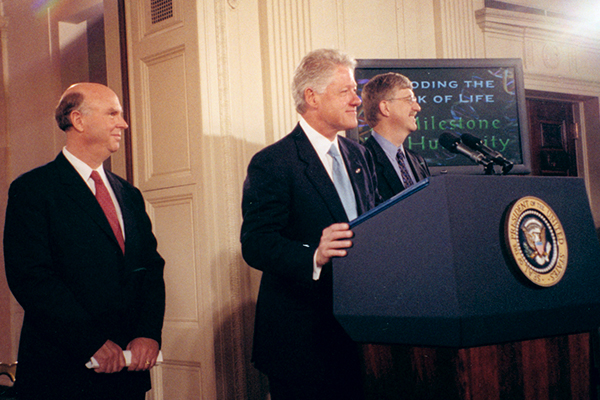 On June 26, 2000, President Bill Clinton and British Prime Minister Tony Blair (via satellite) announced the completion of a "working draft" sequence of the human genome. This ceremonial event took place in the East Room of the White House, where politicians, ambassadors, scientists, company executives, disease advocates, and journalists gathered to celebrate a major milestone for the Human Genome Project. Francis Collins (on the right), then Director of the National Human Genome Research Institute and leader of the International Human Genome Sequencing Consortium (IHGSC), and Craig Venter (on the left), founder of Celera Genomics, joined President Clinton in giving remarks about this achievement.
ELSI Virtual Forum explores integrating and applying ELSI research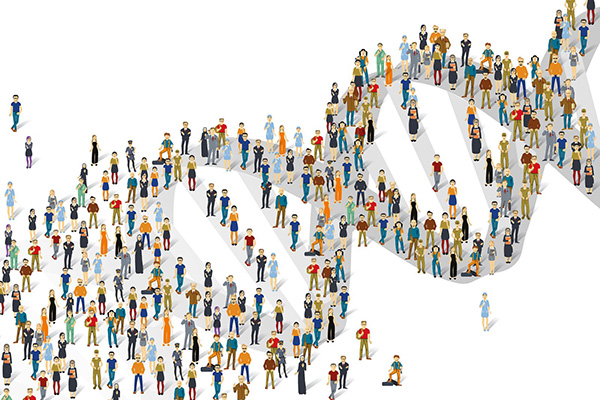 The ELSI Virtual Forum (#ELSIvirtual) will be held on June 15-16, 2020. This virtual meeting is organized as a free online event and will feature talks and panel discussions over the course of two days. Presentations will cover a range of topics, including polygenic risk scores, behavior, human identity, gene editing, history of eugenics, artificial intelligence, precision medicine, collaborating with indigenous communities, and DNA forensics. Registration is required by June 10 to participate. Please note that the 5th ELSI Congress (originally scheduled for June 2020) has been re-scheduled for March 22-24, 2021. Mark your calendars!
Treating sickle cell disease: a brief history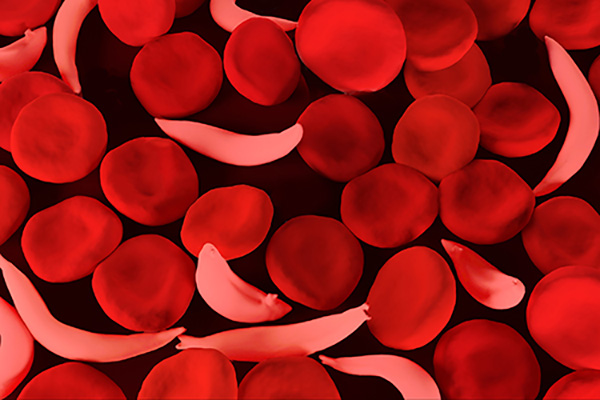 In 2019, researchers made the first announcements about using CRISPR-based gene-editing therapy to cure an individual with sickle cell disease. This has been heralded as a landmark moment for the use of gene editing for treating inherited diseases. Sickle cell disease is a group of disorders that affects hemoglobin. The condition distorts red blood cells into a sickle (or crescent) shape that then clog blood vessels and deprive cells of oxygen. The lack of oxygen can wreak havoc on the body, causing severe pain and in many cases premature death. But after years of research about potential gene therapies, a cure for the disease may be at hand. Watch NHGRI's short video on the history of sickle cell disease and the recent advances in potential therapies. You can also watch other short videos on genomics-related topics.
NCBI seeks input on one of NIH's largest and most diverse genomic datasets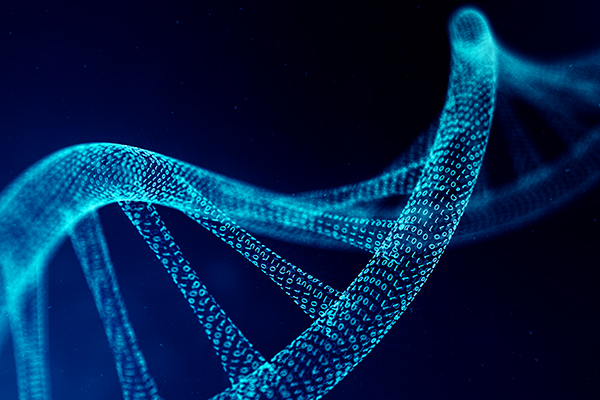 The National Center for Biotechnology Information (NCBI) at the National Library of Medicine (NLM) is proposing a change in policy related to its Sequence Read Archive (SRA). The SRA stores, preserves, and makes available to the research community a large collection of data representing DNA and RNA sequences from myriad organisms. The SRA currently contains more than 36 petabytes of data and is projected to grow to 43 petabytes by 2023. To gather information that will help NCBI facilitate SRA's use in research while controlling its costs, a Request for Information (RFI) soliciting community feedback on proposed new SRA data formats has been released. The RFI asks for input about how the research community currently uses SRA data, how researchers anticipate using cloud computing with SRA data, and which SRA data formats are most valuable. Responses should be submitted through an on-line form by July 18, 2020.
PhenX Social Determinants of Health Assessments Collection now available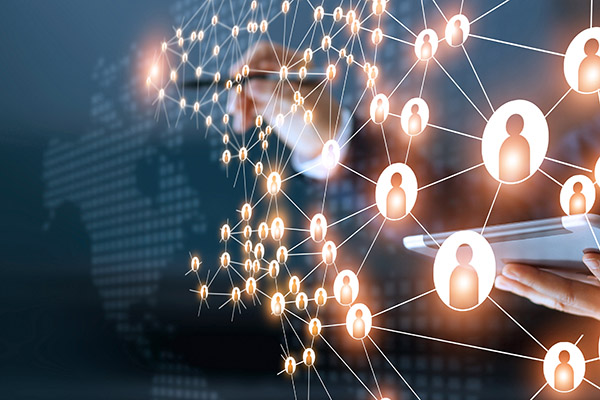 The PhenX (consensus measures for Phenotypes and eXposures) Toolkit provides recommended standard data-collection protocols for biomedical research. The toolkit encourages cross-study analyses, potentially increasing the scientific impact of individual studies. A new Social Determinants of Health (SDOH) Collection is now available in the PhenX Toolkit. The open-access SDOH Collection contains 19 protocols, expanding the previous set of protocols to help measure upstream factors that shape health behaviors and health outcomes. The lack of standard measures presents a barrier for behavioral, clinical, and translational research; in this way, it is hoped that the new SDOH measures will improve understanding the causes of health inequities and enable effective interventions to reduce disparities. The SDOH Collection, created by a NIH working group supported by the National Institute on Minority Health and Health Disparities, provides a common framework for studying SDOH across research programs. For clinicians, knowledge of SDOH can improve patient care and quality of life. For researchers, adoption of standard measures in research will promote collaborations among researchers and clinicians; provide context for understanding health outcomes; and accelerate translational research.
NHGRI Senior Investigator receives HHS Career Achievement Award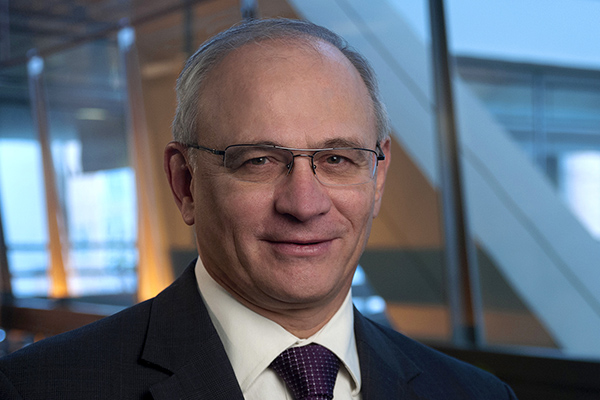 Bill Gahl, Senior Investigator in NHGRI's Medical Genetics Branch and Founding Director of the NIH Undiagnosed Diseases Program (UDP), was honored with the 2019 U.S. Department of Health and Human Services (HHS) Career Achievement Award. This award, which recognizes HHS employees with 10 or more years of service with outstanding achievements throughout their career, represents one of the highest honors given by HHS. For decades, Bill has been an untiring champion of genetics and genomics research and the people it benefits, particularly those with rare and undiagnosed diseases. As Founding Director of the NIH UDP, he has helped hundreds of patients across the world while also advancing our understanding of rare diseases. Bill also served as the Institute's Clinical Director for many years. He is a world-class medical geneticist, having distinguished himself time and again as a premier researcher, a compassionate physician, and a visionary leader.
Related Resources
Genomics Research
Notable accomplishments in genomic medicine
Upcoming Videocast
Genomics and health disparities lecture – Subtype-specific breast cancer risk in highly indigenous Latin American women, Laura Fejerman: June 25, 2020, 3:00 - 4:00 p.m. Eastern
Genomics Videos
30th Anniversary of the Human Genome Project Launch: interviews with genomics leaders – Ari Patrinos, Karen Rothenberg, Michael Gottesman (parts 1 and 2), and Jeff Schloss.
Why am I Irish yesterday and Italian today?
Request for Information
NHGRI Diversity in Genomics Workforce Initiative questionnaire
Use of cloud resources and new file formats for NCBI sequence read archive
Funding Opportunities
Expansion of the research scope for RFA-HD-21-005 genomic predictors of pregnancy loss
NIH Research Project Grant – clinical trial not allowed and clinical trial required
NIH small research grant program
NIH support for conferences and scientific meetings
NIH exploratory/developmental research grant program – clinical trial not allowed and clinical trial required
Mentored clinical scientist research career development award
Mentored quantitative research development award – clinical trial not allowed and clinical trial required
Mentored research scientist development award – clinical trial not allowed and clinical trial required
NIH Pathway to Independence award – clinical trial not allowed and clinical trial required
Funding News
NHGRI late application policy for NHGRI-specific FOAs with application due dates in May, June, and July
NIH & NHGRI News
Dr. Collins coauthors a Science perspective stressing the importance of a coordinated strategy to accelerate multiple COVID-19 vaccine candidates
Coordinated strategy to accelerate multiple COVID-19 vaccine candidates is key, NIH experts say
Pop-up testing lab shows volunteer spirit against deadly pandemic
Investigational ChAdOx1 nCoV-19 vaccine protects monkeys against COVID-19 pneumonia
NIH Director: Defeating COVID-19 requires unprecedented action and collaboration
In a JAMA Viewpoint, Dr. Collins and Johnson & Johnson's Dr. Paul Stoffels describe the direction of the ACTIV public-private partnership to address the COVID-19 pandemic
Enlisting monoclonal antibodies in the fight against COVID-19
Francis Collins awarded 2020 Templeton Prize
NIH releases strategic plan to accelerate nutrition research over next 10 years
Genome: Unlocking Life's Code May 2020 newsletter
About The Genomics Landscape
A monthly update from the NHGRI Director on activities and accomplishments from the institute and the field of genomics.
Last updated: June 8, 2020