Developing a 2020 Vision for Genomics: NHGRI Launches New Round of Strategic Planning
NHGRI has a knack for identifying and celebrating notable anniversaries - and February 16, 2018, was no exception. That date marked the 10,000th day since the official launch of the Human Genome Project. While we celebrated that 'odometer moment,' we could not help but marvel at how much genomics has changed over the last ~10,000 days. Once a laboratory-based discipline mostly focused on genome mapping and sequencing, the field has expanded greatly over time, blossoming into a robust discipline that now touches the full spectrum of research endeavors - basic, translational, and clinical.
Meanwhile, NHGRI has grown from its fledgling roots to the major funder and key leader of genomics research, supporting programs and projects that many of us simply could not have imagined when the Human Genome Project began. In its nearly three decades of existence, NHGRI has occasionally undergone times of self-reflection as an organization. We recently completed such a process, one that aimed to clarify our mission, values, and role in the scientific community. Capturing and evaluating input from internal staff and external stakeholders from a variety of academic, industrial, educational, policy, and healthcare settings, we thought deeply about our place in the genomics ecosystem in 2018. This process has helped us to clarify and articulate our current identity, exemplified by our new mantra - The Forefront of Genomics. Accelerating breakthroughs, improving patient care, and advancing genomics in society are all critical to NHGRI's vision to improve the health of all humans through advances in genomics research. In the coming weeks and months, you will begin to see new materials that help to tell NHGRI's story. Our website is also undergoing some changes, and I encourage you to watch those play out at genome.gov.
All the best,

NHGRI Launches New Round of Strategic Planning
Throughout its history, strategic planning has consistently been important to NHGRI. Beginning in 1991 with a plan for the first five years of the Human Genome Project, entitled Understanding Our Genetic Inheritance, NHGRI has helped to lay out plans for the field of genomics in many successive installations. In each instance, workshops and other opportunities for engagement provided key input for developing a contemporary and compelling vision for genomics research. The last such strategic planning process culminated in the 2011 Nature publication entitled Charting a Course for Genomic Medicine from Base Pairs to Bedside.
With the landmark year 2020 fast approaching, NHGRI concluded that its 2011 strategic plan could not represent a suitable blueprint for genomics at the dawn of the new decade. Meanwhile, a robust strategic planning process takes at least two years to complete. Accordingly, NHGRI has launched a new round of strategic planning, one that aims to deliver the Institute's '2020 Vision for Genomics.' This new process, officially kicked off during the Open Session of the February 2018 meeting of the National Advisory Council for Human Genome Research, aims to culminate in the publication of a new strategic plan in October 2020 - a month that will mark the 30th anniversary of the launch of the Human Genome Project.
As with past strategic planning efforts, NHGRI will solicit input from the broader research and public communities. Workshops, satellite meetings, and 'traveling' town halls will be held to promote such broad engagement. Members of the scientific and public communities are encouraged to participate in one of these gatherings. Of course, NHGRI plans to consult heavily with its external advisory groups as well.
Previous NHGRI strategic plans have aimed to provide a vision for the entire field of genomics. But in the past decade, the world of genomics has changed substantially. Today, genomics has a much greater breadth and depth across the biomedical research landscape. Correspondingly, NHGRI aims to identify, lead, and support areas of genomics that are paradigm-setting, that enable novel applications, and that expand the field - all with a focus on applications to human health and disease. In doing so, NHGRI will be focused on highly impactful and generalizable progress in genomics that benefits the efforts of others. In essence, NHGRI's strategic planning process will be guided by our new mantra, The Forefront of Genomics.
Accordingly, areas that are well-established and/or being sufficiently funded by others will likely be de-emphasized during NHGRI's strategic-planning process - not because they are unimportant, but rather because they are not in need of NHGRI's unique capabilities and attention. Three such examples include cancer genomics, microbial genomics, and microbiome research. At some point in the past, NHGRI was involved in helping shape and support research in each of these areas. Over time, these areas have grown and matured substantially, attracting other major funders (e.g., other NIH Institutes/Centers in addition to other agencies, foundations, non-U.S. funders), who now lead and support the associated research. These are thus areas of genomics that are critically important and should continue to expand, but will not be tackled directly as part of NHGRI's strategic-planning process. In fact, these areas deserve their own dedicated strategic planning that engage individuals with appropriate expertise (and, in many cases, such planning is already underway).
In contrast to the above, there are a number of areas that warrant deeper exploration by NHGRI, in part because they are often 'agnostic' to particular diseases or physiological systems. Prototypic examples of these areas include: genomic technology development; genomic variation and its functional consequences; epigenomics; interactions between the genome and the environment; general and generic aspects of (and barriers to) uses of genomic medicine in clinical care; research and clinical training in genomics; policy development and implementation to enhance data sharing; and ethical, legal, and social implications (ELSI) of genomics. These 'forefront' areas will be included in the Institute's strategic-planning process because they are particularly well-suited for NHGRI's stewardship and funding (as has often been the case for the last decade or more). The strategic planning process will also explore opportunities in the study of rare and common diseases, as well as computational genomics and data science.
The 2020 Vision for Genomics will aim to be a driving force for much of genomics at NIH and around the world, providing a clear vision for using genomics to advance human health, guiding NHGRI's scientific priorities and shaping our research portfolio, and fostering partnerships within the research, healthcare, education, and policy communities.
Input from the scientific and public communities will be critical. Towards that end, NHGRI has established new web resource (genome.gov/genomics2020), a Twitter hashtag (#genomics2020), and an email address for receiving queries and comments (genomics2020@nih.gov). We encourage you to stay connected through these means! For more information on the launch of NHGRI's strategic planning process, see the recent press release as well as the video recording and slides from the presentation "En Route to a "2020 Vision for Genomics": The Next Round of NHGRI Strategic Planning" given at the February meeting of the National Advisory Council for Human Genome Research.
NHGRI Attends AAAS Family Science Day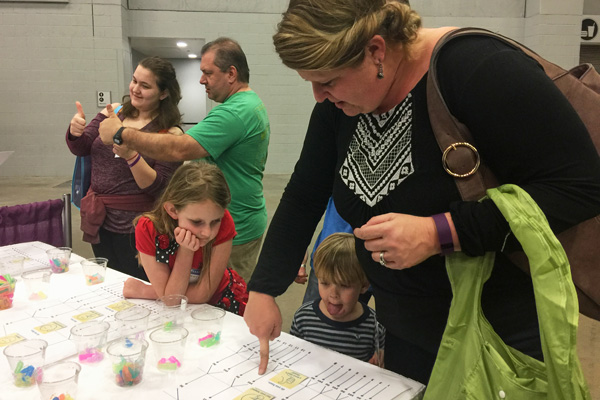 NHGRI took part in Family Science Days as part of the American Association for the Advancement of Science (AAAS) Annual Meeting in Austin, Texas on February 17-18, 2018. This free community science showcase featured hands-on genetics and genomics activities to promote National DNA Day, an annual celebration of the completion of the Human Genome Project in 2003. The Institute's booth, supported by the NHGRI Education and Community Involvement Branch, was a smashing success - accommodating over 600 visitors.
New Resource for American Indian and Alaska Native Communities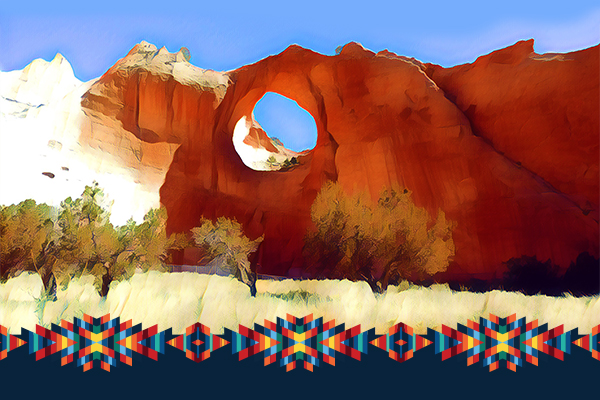 NHGRI, in collaboration with the NIH Tribal Health Research Office, has developed a new resource for American Indian and Alaska Native Communities to learn about key aspects of genetics and genomics research, and to provide examples of current and recently completed genomics research projects funded by NHGRI. This resource was debuted at a policy development workshop held last September and hosted by the University of New Mexico Comprehensive Cancer Center, NIH, and the Navajo Nation. At this workshop, Navajo President Russell Begaye announced that the tribe is considering whether to lift their moratorium on genetics research, which has been in place since 2002.
NIH Common Fund Programs Make Their Mark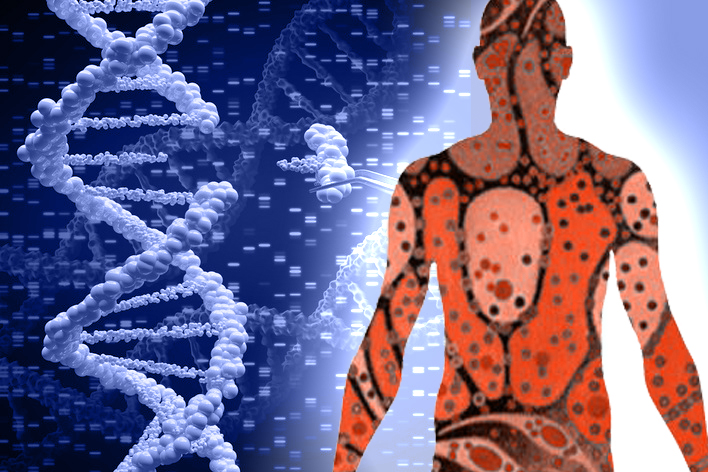 The Human BioMolecular Atlas Program (HuBMAP) is a new NIH Common Fund program that aims to catalyze development of an open, global effort for comprehensively mapping the human body at a cellular resolution. The program hopes to gain a better understanding of the significant cellular variability within an individual, changes across the lifespan, aspects of tissue engineering, and the emergence of disease at the biomolecular level. Another new NIH Common Fund program is focused on cutting-edge aspects of Somatic Cell Genome Editing, aiming to develop tools for performing effective and safe genome editing in human patients. The program elements will include improved delivery systems, novel genome editors, and in vitro and in vivo assay platforms for testing safety and efficacy. Funding opportunities have recently been announced for both the HuBMAP and Somatic Cell Genome Editing efforts.
Related Resources
Genomics Research
New Videos
Funding Opportunities
Funding News
NIH & NHGRI News
Genome: Unlocking Life's Code
The Genome: Unlocking Life's Code exhibition is currently touring North America.

January 28 - April 24, 2018
Rochester Museum and Science Center
Rochester, New York

June 23 - September 15, 2018
Mayo Clinic
Rochester, Minnesota
Learn More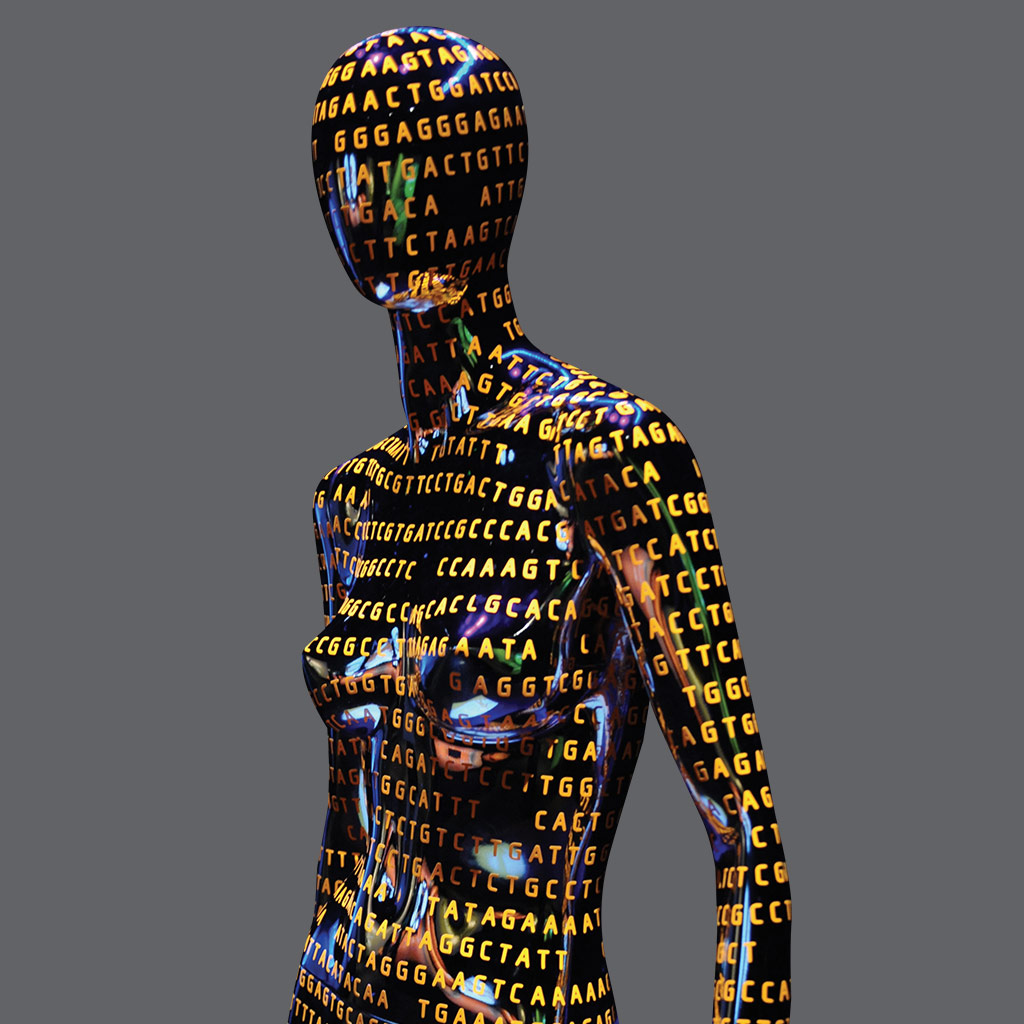 About The Genomics Landscape
A monthly update from the NHGRI Director on activities and accomplishments from the institute and the field of genomics.
Last updated: March 8, 2018