Aug 9 2016 From Bedside Back To Bench Bringing Genomic Medicine Full Circle
From Bedside Back to Bench: Bringing Genomic Medicine Full Circle
August 9, 2016
To explore the complexity of the human genome and its involvement in human disease, genomicists approach research questions from many angles. In an effort to advance genomic medicine research, NHGRI continually explores ways to use genomic-based clinical tools from the "bedside" and basic tools from the "bench."
In April, NHGRI's Genomic Medicine Working Group held its 9th Genomic Medicine Meeting (GM9), entitled "Bedside to Bench - Mind the Gaps." GM9 aimed to continue our long-term effort to address the many challenges of bringing genomics to medicine. GM9 explored how to engage basic genome scientists to tackle the many applied research questions in genomic medicine. A key thematic question explored was, "Can things learned in clinical genomics be used by basic genome scientists to inform fundamental questions in genome biology?"
The problem is that basic genome scientists and clinical genomicists often do not interact. GM9 explored measures that could stimulate such interactions. Objectives of the meeting included reviewing examples of successful collaborations between basic and clinical genomicists to understand what made them successful; identifying ways to enhance communications between basic and clinical genomicists; and establishing effective ways to incorporate clinically important questions into basic research projects.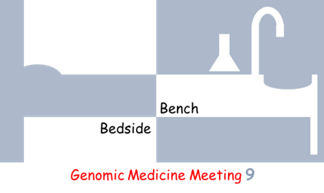 A fundamental approach to identifying genomic causes of disease is to look for genomic variants that differ among people affected by a disease and those who are not. While we sometimes know what impact the knowledge of these variants will make for clinical care of those patients, at other times it is not so straightforward. One of the most difficult problems is characterizing and interpreting the clinical significance of variants that are not clearly classifiable as pathogenic or benign-those known as "variants of uncertain significance" (VUSs).
The GM9 participants discussed how basic research can provide insights about the genomic mechanisms involved in human disease. Such insights help in the development of approaches for understanding the clinical significance of VUSs. The discussion also explored the computational approaches for predicting the possible functional significance of a VUS, including strategies for data integration through the development and implementation of biomedical ontologies.
The GM9 participants generated a robust list of recommendations. All agreed that bringing together basic and clinical genomics researchers would accelerate the use of functional studies for answering important clinical questions, such as those related to VUSs. Such efforts would also help to identify 'clinically impactful' genes and to prioritize their study; encourage the development of high-throughput assays and animal models for studying these genes; involve basic researchers in developing guidelines for generating evidence about the significance of genes and VUSs; and identify a core set of functional assays for characterizing genomic variants. 

Participants in the Genomic Medicine 9 Meeting: Bedside to Bench - Mind the Gaps.
Recommendations were also made to establish more innovative and systematic approaches for capturing clinical phenotype data; to develop structured ways to acquire family history, socioeconomic, cultural, and exposure data; to encourage the use of common vocabularies; to improve ontologies; to enhance interactions among bench scientists and clinicians; and to develop funding opportunities that require basic and clinical research partnerships.
We are best served by bringing all tools to bear on the complex problems associated with understanding human biology and disease. It will not just be research from the clinical side or the basic side that generates the important breakthroughs in genomic medicine; rather, contributions from both sides are essential. Through such integration, we should be able to uncover the full range of benefits of using genomics in medicine.
To access the full set of recommendations from the GM9 meeting, see genome.gov/multimedia/slides/gm9/gm9_executivesummary.pdf. To access the meeting summary, materials, and video, see genome.gov/27564185/genomic-medicine-meeting-ix-bedside-to-bench--mind-the-gaps/.
Posted: September 7, 2016
Last updated: September 07, 2016