Dec 2 2015 Nhgri Develops Path Forward To Address Health Disparities
NHGRI Develops Path Forward to Address Health Disparities
December 2, 2015
In September, NHGRI convened a roundtable meeting to discuss the opportunities and challenges associated with the inclusion and engagement of underrepresented populations in genomics research. The roundtable was organized by NHGRI Senior Advisor on Genomics and Health Disparities, Vence Bonham, J.D. Mr. Bonham's role as Senior Advisor dovetails with his research in the Health Disparities Unit, part of the NHGRI Social and Behavioral Research Branch, in which he conducts research at the intersection of public policy, healthcare inequities, and genomics.

At the roundtable, experts from academic and non-profit institutions across the United States joined NHGRI and NIH staff to identify scientific problems brought about by insufficiently diverse ancestral populations in genomics research, as well as the existing barriers that limit underrepresented populations from participating in genomics research. The group also discussed potential solutions to these problems.
NHGRI Roundtable on Inclusion and Engagement of Underrepresented Populations in Genomics Research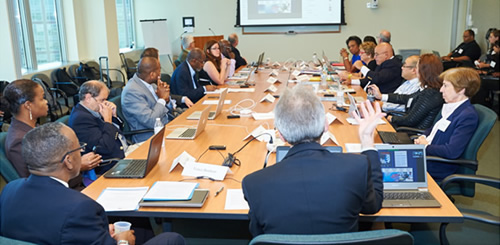 Presentations from the attendees highlighted current research examining health disparities. Discussions centered around ways in which NHGRI can encourage population diversity in future research through Funding Opportunity Announcements and the incorporation of environmental and social data. NHGRI has begun to move into genomic medicine research, and working with diverse communities and addressing disparities will be key for ensuring an equitable and productive path forward.

Dr. David Williams of Harvard University shared his thoughts on health disparities at the roundtable: "Most interventions that have been introduced to address health have widened disparity ... to, in fact, reduce inequalities in health, we need two things to be happening at the same time: we need to improve the health of all, but secondly - and this is the challenge - we need to improve the health of the disadvantaged more rapidly than the health of the general populations. In order to do that, you need specifically targeted interventions, even with a global strategy to improve health."

At the conclusion of the meeting, NHGRI encouraged continued dialogue and engagement of health disparities researchers and NHGRI. This will be critical to incorporating the needs of diverse communities into future genomics initiatives. The roundtable report was presented to the National Advisory Council for Human Genome Research on February 8, 2016.
Read the report:
Roundtable on Inclusion and Engagement of Underrepresented Populations in Genomics

Posted: January 5, 2016
Last updated: January 05, 2016