December 6 2016 Genomics In Africa Expands Through The Human Heredity And Health In Africa Program
Genomics in Africa expands through the Human Heredity and Health in Africa Program
December 6, 2016
The conceptual origin of the Human Heredity and Health in Africa (H3Africa) Program relates to a strong desire that the benefits of genomics reach the African continent. All humans have a shared genetic origin in Africa, and it seemed only appropriate that the countries of Africa be an active part of advancing genomics research. So, in 2010, H3Africa began - funded by the Wellcome Trust in the United Kingdom and the NIH Common Fund (with additional funds provided by several NIH Institutes). The central goal of H3Africa is to develop a sustainable and collaborative African genetics and genomics research enterprise. NHGRI and the Wellcome Trust share the oversight and scientific management duties related to the program.

H3Africa is entering its second five-year phase of support by the NIH Common Fund. Over the next five years, NIH anticipates spending >$76 million on this program. For this phase of H3Africa, two new Requests for Applications (RFAs) were issued for the Coordinating Center and a Bioinformatics Training Program, in addition to renewing the set of five RFAs from phase one. Submitted applications will be reviewed in early 2017, and work on the selected projects will begin later in the year. At the present time, H3Africa consists of 25 projects in 27 countries, encompassing individual biomedical and bioethical research projects; collaborative centers; an H3Africa informatics network; three biorepositories in Nigeria, Uganda, and South Africa (that will eventually house biological samples from over 75,000 research participants); an administrative coordinating center; a bioinformatics training component; and dedicated ethical, legal, and social implications research projects.
The impressive growth of research in Africa and with African populations has recently led to the establishment of a new funding entity that will directly interact with H3Africa. The Alliance for Accelerating Excellence in Science in Africa (AESA) (aasciences.ac.ke/programmes/easa/alliance-for-accelerating-excellence-in-science-in-africa-aesa/) is a funding platform founded by the African Academy of Sciences and the New Partnership for Africa's Development (NEPAD) Agency. Its goal is to develop science strategies and to fund research in Africa. AESA aims to develop research leadership and promote scientific excellence and innovation to overcome some of Africa's developmental challenges. Such challenges include the shortage of researchers needed to deal with African disease burden. AESA has been sanctioned by the African Union heads of state. Seed funding for this new organization has been provided by the Wellcome Trust, the Gates Foundation, and the U.K. Department for International Development. Going forward, the Wellcome Trust will channel its funding for African research, including H3Africa, through AESA.
Importantly, countries in the African Union have committed to spending two percent of their gross domestic product (GDP) on scientific research. Strong support from some African political leaders, such as Her Excellency Dr. Ameenah Gurib-Fakim (President of Mauritius), is furthering research in Africa. At a recent H3Africa meeting in Mauritius, Dr. Gurib-Fakim encouraged increased communication and better knowledge translation among scientists, the community, government agencies, philanthropists, entrepreneurs, and the commercial sector in order to overcome the barriers related to funding and infrastructure limitations; this would help to promote increased scientific research and development in Africa. It is notable that H3Africa has fostered a remarkable number of intra-African collaborations that simply did not exist previously; siloes are being dismantled and African researchers are more routinely interacting on research projects.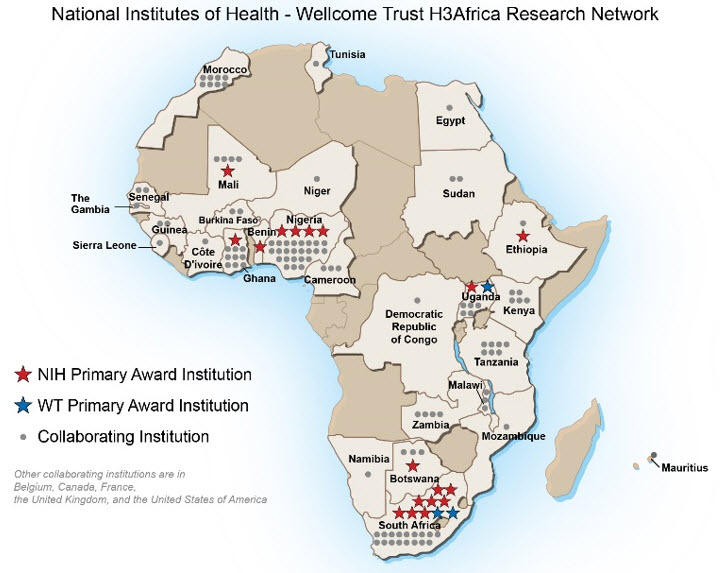 Another exciting development is that Illumina (selected by the H3Africa consortium) is in the process of producing an H3Africa genotyping chip that will more robustly detect genomic variation in African populations. The chip will be able to assay ~2.5 million genomic variants that are of specific relevance to African populations and that better represent the genomic diversity in Africa. The chip was designed by the H3Africa consortium, and is expected to be available for use in Spring 2017. For more information on recent H3Africa developments, see h3africa.org/.
Posted: January 10, 2017
Last updated: January 10, 2017