NHGRI at ASHG 2023 Annual Meeting
Event Details
On November 1-5, 2023, the National Human Genome Research Institute (NHGRI) will participate in the ASHG Annual Meeting - the world's largest human genetics and genomics meeting and exposition. The annual meeting provides a forum for the presentation and discussion of cutting-edge science in all areas of human genetics.
Visit with NHGRI staff at Booth #214 in the exhibit hall to learn more about our research, programs, career and training opportunities.
All times are in Eastern Time (ET).
Walter E. Washington Convention Center
Poster Presentations
Presenter
Title
Board #
November 2, 2023, 3:00 - 5:00 p.m.
Nicholas Singh-Miller
Building a phenotype for ALPK3 loss-of-function mutation heterozygotes: Leveraging PheWAS to enhance reverse phenotyping studies
PB4459
Natalie Deuitch
Evaluation of hereditary predispositions to hematologic malignancy in stem cell transplant: A case series
PB5035
Rebekah Waikel
Generative methods for Pediatric Genetics Education.
PB2385
Edmond Wonkam Tingang
Genome-Wide Sequencing Implicates Monogenic Disruption of Vascular Integrity in Childhood-Onset Essential Hypertension
PB4785
Amna Othman
New phenotypic features in Osteoglophonic dysplasia.
PB4848
Stacie Loftus
Resolving missing heritability among individuals with oculocutaneous albinism: A rare haplotype, comprised of two common TYR variants (p.S192Y and p.R402Q), and evidence of OCA individuals with digenic inheritance.
PB4890
November 3, 2023, 3:00 - 5:00 p.m.
Susan Perksy
Clustering of heritability beliefs across diseases, traits, and individuals.
PB2362
Michael Chambers
Exploring the evolutionary arms race between human PKR and poxvirus K3
PB1097
Nicola Sugden
Understanding ableism in abstracts for genetic and genomic autism research
PB2437
Erin Mansell
Optimizing generation of human isogenic iPSC lines via CRISPR prime editing
PB3446
Petcharat Leoyklang
Cell-based functional assays for screening of drug candidates for Free Sialic Acid Storage Disorder.
PB2008
Grisel Lopez
Analysis of cardiopulmonary function in patients with Gaucher disease
PB4630
Oleg Shchelochkov
Genomic and Clinical Correlates of Plasma Urate in the "All of Us" Cohort
PB4499
Sarah Silverstein
RNAseq driven diagnosis of NBAS deficiency expands the phenotypic spectrum of disease.
PB3464
David Bernard
Vitamin B12-deficient mice lacking the transcobalamin-vitamin B12 receptor, CD320, exhibit modest changes in balance, locomotor activity, peripheral sensation and vision.
PB4942
November 4, 2023, 2:15 - 4:15 p.m.
Faith Pangilinan
Performance of a genome-wide association study of neural tube defects allows an unbiased search for genetic contribution.
PB2092
Ted Han
Genome wide CRISPR screen identifies ceramide-1-phosphate transporter as a regulator of the CLEAR gene network
PB3384
Reuben M Buckley
eQTL analysis of canine testes identifies gene expression patterns associated with canine body size.
PB1092
Yixing Han
Common Genetic Variants are Associated with Plasma and Skin Carotenoid Metabolism in Ethnically Diverse US Populations
PB4093
Maha Zaki
Pontocerebellar hypoplasia type 9: A report of 17 new patients
PB4874
Daniel Shriner
The Origin and Global Distribution of the 17q21 Inversion.
PB3126
Allyson Motter
Optimizing Multimodal Single Cell Sequencing to Fine-Map an Alloimmunization Susceptibility Locus in Sickle Cell Disease
PB3447
Vence Bonham
Democratizing Gene Therapy Education for Patient Communities.
PB2369
David Adams
Development of a comprehensive framework for understanding the scope of undiagnosed disease
PB2372
Gustavo Nieto-Alamilla
Hermansky-Pudlak Syndrome: Exploring the therapeutic effect of gene therapy for HPS-1 pulmonary fibrosis
PB2027
Zo Bly
The landscape of clinical sequencing in diverse populations: lessons learned from the Clinical Sequencing Evidence-generating Research (CSER) consortium.
PB2429
Barbara Pusey
Calibrating CADD on a gene level for enhanced causal variant filtration
PB4461
Hua Tan
SoMAS: Finding somatic mutations associated with alternative splicing in human cancers
PB5151
Molly Behan
Hermansky-Pudlak Syndrome: Using AAV vectors to understand the development of HPS1 pulmonary fibrosis
PB4787
Dawn Maynard
Proteomics of Urinary Exosomes Reveals Impaired Protein Trafficking in HPS-1 Renal Epithelial Cells.
PB3456
Invited Sessions
Moderators
Title
November 3, 2023, 8:30 - 10:00 a.m
Carolyn Hutter, Ph.D., NHGRI
Timothy Reddy, Ph.D., Duke University

The ENCODE consortium

Carles Rotimi, Ph.D., NHGRI
Debra Murray, Ph.D., Baylor College of Medicine
Can we promise precision medicine to all?
2023 Invited Sessions Program (PDF)
Featured Plenary Abstract Session III
Moderator/Presenter
Title
November 4, 2023, 5:40 - 6:00 p.m.
Moderator: Neil A. Hanchard, M.B.B.S., D.Phil., NHGRI
Presenter: Diana Bianchi, M.D., NHGRI

The NIH IDENTIFY study: A prospective evaluation of pregnant women with prenatal cfDNA sequencing results that suggest maternal malignancy
ASHG Mobile App
The ASHG 2023 Mobile App can enhance your annual meeting experience, allowing you to easily discover meeting events, sessions, industry partners and much more!
Use the app to network with other attendees and speakers with in-app messaging and connecting to social media.
Build your schedule within the app – accessible even when you're offline.
Export your schedule to your personal calendar.
Download the Mobile App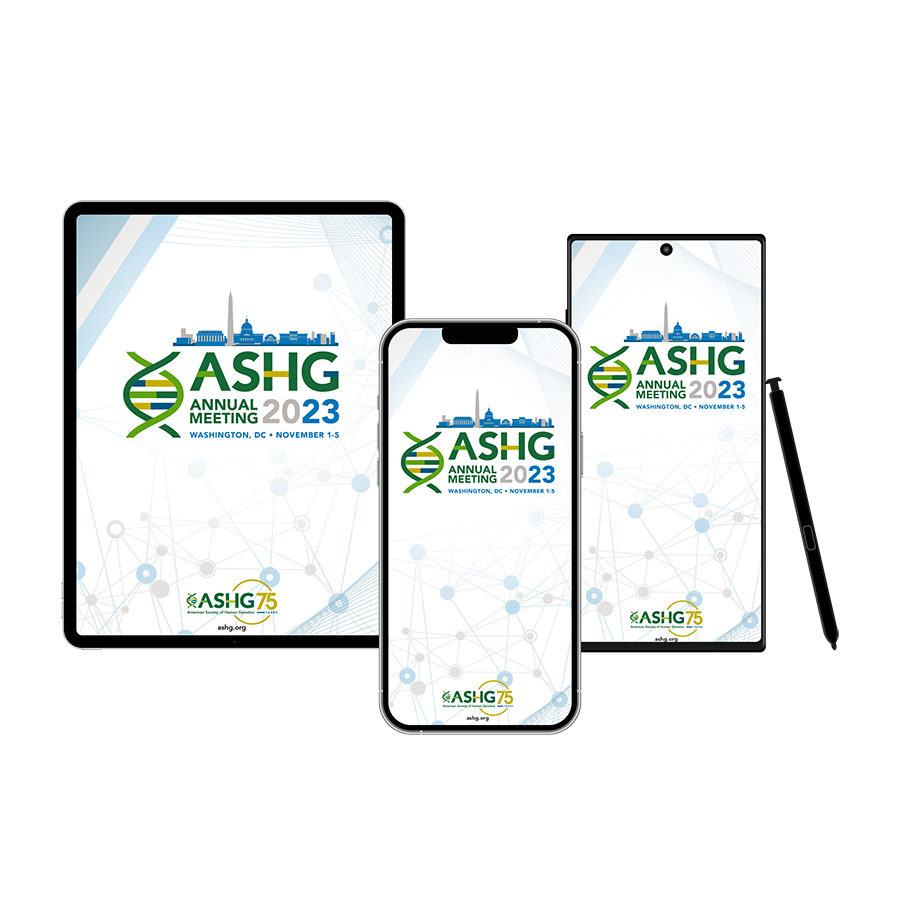 Last updated: November 2, 2023