NHGRI Building a Diverse Workforce: Listening to the Voices of Trainees and Early-Stage Scientists
Event Details
The Training, Diversity and Health Equity (TiDHE) Office within the National Human Genome Research Institute (NHGRI) will host an ancillary event for trainees and early-stage career investigators, "NHGRI Building a Diverse Workforce: Listening to the Voices of Trainees and Early-Stage Scientists," at the 2022 ASHG Annual Meeting.
Ancillary Event Registration *
* Registration for ASHG is required to attend this event. Visit the ASHG registration page.
All times PT
Los Angeles Convention Center
About the Session
NHGRI aims to build a skilled and diverse workforce of genome scientists in basic, behavioral, clinical, and social science research. This session, led by the Training, Diversity and Health Equity (TiDHE) Office, invites trainees and early-stage career investigators to participate in roundtable discussion about professional opportunities for genomic scientists from underrepresented groups. This session will feature Janina Jeff, Ph.D., M.S., an early-career genomic scientist who will share her training and professional experience.
Meet the Speaker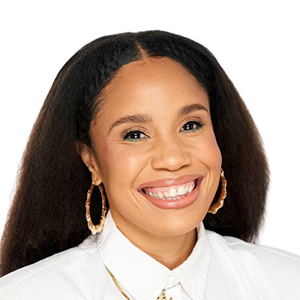 Janina M. Jeff, Ph.D., M.S.
Host,
In Those Genes Podcast
Population geneticist, bioinformatician, STEAM-activist, educator, motivational speaker and podcaster, Dr. Janina M. Jeff is the first African American to graduate with a Ph.D. in human genetics from Vanderbilt University and a graduate of Spelman College (class of 2007). She is currently a staff bioinformatics scientist at Illumina, where she develops pipelines for content annotation, selection and design of population genome-wide content as well as selection of clinically annotated variants for Illumina's genotyping array portfolio that enables healthy population screening. In 2018, Janina was selected as one of three winners (out of 18,000) from Spotify's Sound-Up Bootcamp for her podcast, In Those Genes, an international award-winning podcast that uses genetics to decode the lost histories of African-descended Americans through the lens of Black culture. In Those Genes has been recognized by the American Society of Human Genetics, NY Festivals, IndieWire, The New York Times and Third Coast Audio Festival. Janina was recently named as one of the top 100 Influential African Americans by The Root magazine as well as Top 40 Under 40 Alumna with Spelman College, The National Quality Minority Forum and The Network Journal. The podcast has also received grant funding from Spotify, Illumina and 500 Women Scientist. Her TEDx talk, "Afrofuturism Through the Power of the Genome," challenges the misuse of genetics information and empowers the Black community to learn the value that lies within their genomes.
Last updated: September 30, 2022