Dr. William Gahl inspires collaboration, sharing at Pruzansky lecture
Dr. William Gahl, clinical director at the National Human Genome Research Institute (NHGRI), has given dozens of lectures about helping patients with undiagnosed diseases, work he began with the Undiagnosed Diseases Program in 2008.
Solving Medical Mysteries
But when he gave the honorary Samuel Pruzansky Memorial Lecture on March 23 in Phoenix for the March of Dimes Clinical Genetics Conference, he wanted to inspire.
"As geneticists, in a way we serve the underserved," said Dr. Gahl, during an interview before the lecture. "A lot of our patients face different challenges that are not only physical, but challenges to their aspirations, their hopes for children, the possibility of marriage. "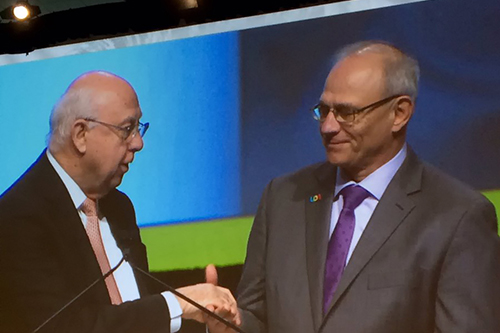 It's that core depth of concern for patients that drives Dr. Gahl, who is a working group coordinator for the NIH Common Fund's Undiagnosed Diseases Network (UDN), established in 2014.
The UDN has created a network of clinical centers that receives patient applications, reviews them and decides which cases will be studied. Since opening for business in August of 2015, the UDN has reviewed 1,319 applications, accepted 523 patients into the program, and evaluated 293 of them. The network rejects more than 50 percent of the patients who apply, and of those who are accepted into the program, a diagnosis is achieved in about 30 percent, according to Dr. Gahl.
"There's a central Institutional Review Board and sharing of information," said Dr. Gahl. "People talk and work well with each other. Enrollment has met goals. People are pleased with the outcome of the network."
Dr. Gahl used that experience of sharing during his lecture, attempting to foster the collegiality he says can lead to better and faster diagnoses. According to Dr. Gahl, sharing information can lead to the ultimate help, aid and assistance to patients: Finding the second case after an N=1 diagnosis.
"An N=1 diagnosis involves a person with a gene variant that is causing disease, but the person is the only one in the world known to have that disorder," said Dr. Gahl. That leaves the N=1 person stranded. Sharing of data is so critical - to find the second case. "
But, Dr. Gahl says, our scientific culture has tended not to share data. Now, he says, sharing has morphed into a core part of the mission for the UDN and UDN International.
"My main theme [for the Pruzansky lecture], will be sharing of information. There are now undiagnosed diseases programs in five different countries of the world. The ultimate hope is to have a central database to share research, data, cases, de-identified DNA sequence information and phenotypic information, and finding a method and way to do that."
Dr. Gahl can point to certain cases that are memorable, those that discovered a new disease or saved a life. He described a 16-year-old boy who had bone lesions that were very painful, yet had no diagnosis. The family applied to the UDP at the NIH Clinical Center, where pathologists were aggressive, asked for unstained slides of the cells and then stained their own. The boy was diagnosed with lymphoma and underwent potentially life-saving chemotherapy.
"I received a note from his mother who said we saved his life," said Dr. Gahl. "This is what keeps us going."
From the Tweets that appeared on Twitter shortly after Dr. Gahl's talk, he met his goal to inspire:

UDN @UDNconnect
We don't know about the rest of you but we're having a hard time keeping it together. Too much respect for Bill to put into words #ACMGMtg17
Megan Grove @meganegrove
Bill Gahl of @UDNconnect: w/ new genetic conditions, finding the 2nd case is rate limiting step. Sharing is SO important.#ACMGMtg17 #gcchat
Medical Geneticist @MedicalGenes
To strong applause: WG caring for the poor, the disenfranchised, the disabled is what makes America great and always has. #ACMGMtg17.

NGLY1.org @ngly1org
Should've brought tissues to Dr. Bill Gahl's inspiring & heartfelt Pruzansky lecture at #ACMGMtg17

UDN @UDNconnect
Gahl: the UDN is NOT a sequencing program - it's a program that brings doctors together to make tough diagnoses #ACMGMtg17
The Samuel Pruzansky Memorial Lecture was established in 1986 in memory of Dr. Samuel Pruzansky, founder and director of the world's first center for craniofacial anomalies, established at the University of Illinois College of Medicine. Dr. Samuel Pruzansky was an internationally renowned research scholar, clinician and teacher. The March of Dimes has helped sponsor the Samuel Pruzansky Memorial Lectureship since its beginnings. Dr. Pruzansky was also acting chief of the Clinical Investigations Branch of the National Institute of Dental Research from 1953 to 1955.
Last updated: April 4, 2017