NHGRI appoints Dr. Benjamin Solomon as clinical director
Clinical geneticist to lead NHGRI's clinical genomics research efforts
The National Human Genome Research Institute (NHGRI) has appointed Benjamin Solomon, M.D., to lead the institute's intramural Clinical Research Program, which provides oversight and guidance to NHGRI scientists and physicians working to develop better diagnostic methods, innovative therapeutic approaches and improved medical management strategies for patients with genetic disorders. NHGRI is part of the National Institutes of Health.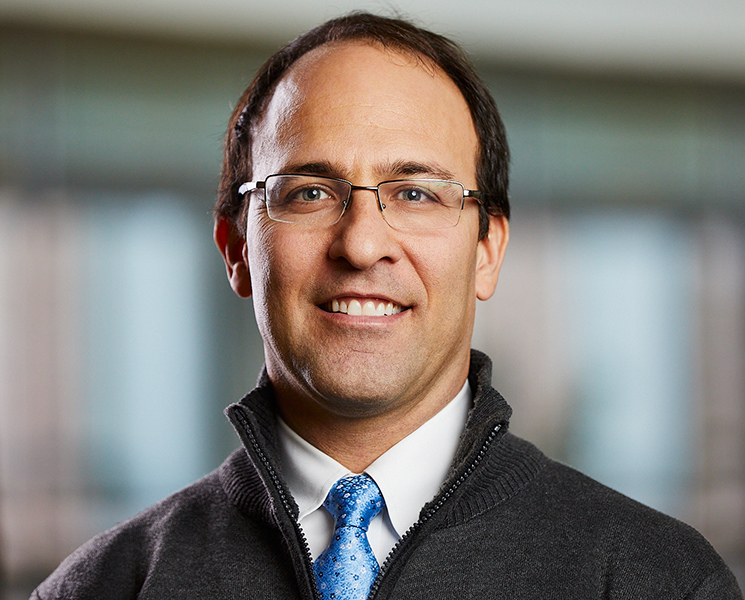 Dr. Solomon takes the position with extensive experience in healthcare and industry settings. He has been chief of the Division of Medical Genomics at the Inova Translational Medicine Institute at Inova Health System and, most recently, managing director of the diagnostic company GeneDx.
Dr. Solomon is an NHGRI alumnus – he started his career training in an NHGRI fellowship and worked for several years as a staff clinician, in addition to providing ongoing service on the NHGRI Fellowship Executive Committee, which oversees the medical genetics training program.
"Ben brings valuable experiences from across the genomics ecosystem to the clinical director position at NHGRI," said NHGRI Director Eric Green, M.D., Ph.D. "His vision for the institute's Clinical Research Program is powered by his expertise in both fundamental genomics research and patient care. I am thrilled to welcome him to the NHGRI leadership team."
The NHGRI Clinical Research Program within the Division of Intramural Research is a world-renowned leader in the advancement of medical genetics and genomic medicine. The program has made extraordinary advances in monogenic disease gene discovery, analysis of genetically complex disorders, development of animal models to elucidate disease pathophysiology, and evaluation of novel targeted therapies. Dr. Solomon will provide new leadership of a research portfolio that addresses far-ranging scientific questions involving an array of disorders in which genetics plays, or is thought to play, a significant role.
"The field of genomics is dynamic and ever-evolving, and I am eager to serve the NHGRI Clinical Research Program as it evolve and grows," Dr. Solomon said. "Past and ongoing achievements by extremely talented and dedicated researchers and physicians provide fertile ground for new clinically and scientifically ambitious pursuits. I am incredibly passionate about NHGRI and NIH, especially the support and development of early career physician-scientists."
While at Inova and GeneDx, Dr. Solomon published in several high-impact journals, including Nature Genetics, Nature Communications, and PNAS. At GeneDx, his team of more than 400 employees collaborated with hundreds of physicians and scientists to identify more than 100 novel disease genes to date, having published more than 50 articles in the last few years alone. Using artificial intelligence and other advanced bioinformatics methods, his groups have tested approaches towards efficient identification of genetic etiologies, and have found often-overlooked explanations for a number of diseases.
Dr. Solomon's appointment follows a 16-year tenure of the previous clinical director, Bill Gahl, M.D., Ph.D.; Dr. Gahl stepped down at the end of 2018, and NHGRI Scientific Director Daniel Kastner, M.D., Ph.D., has served as acting clinical director in the interim. One of Dr. Gahl's signature achievements was the founding of the NIH Undiagnosed Diseases Program, which aims to provide answers to patients with mysterious medical conditions that have long eluded diagnosis.
Dr. Solomon has a bachelor's degree in philosophy from Brown University, Providence, Rhode Island, and a medical degree from Geisel School of Medicine at Dartmouth, Hanover, New Hampshire. Since 2017, Dr. Solomon has served as deputy editor-in-chief for the American Journal of Medical Genetics, and has been on the editorial board of three other journals. He has authored and co-authored more than 120 peer-reviewed papers, 10 commentaries, and six book chapters. Prior to coming to NHGRI as a staff clinician in 2010, he was a professional whitewater kayaker.
Dr. Solomon will begin his appointment on Nov. 12, 2019.
Last updated: November 12, 2019