NIH probes the genome to understand severe drug reaction
"Angela was unique. She was a trendsetter ... one in a million. The disease that took her was one in a million. Even in death, she stood out from the crowd."
A Severe Drug Reaction
These poignant words are from the eulogy for 22-year-old Angela Anderson, a young woman who was taken too soon by a rare genetic condition known as Stevens-Johnson Syndrome/Toxic Epidermal Necrolysis (SJS/TEN).
SJS/TEN is the severest of adverse drug reactions that affect the skin, and one of the most severe of adverse reactions affecting any system in the body. It impacts about 1-3 people per million in the United States each year.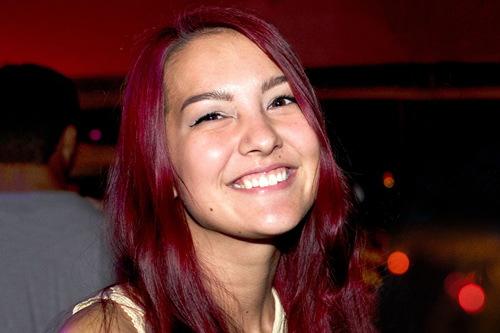 SJS/TEN occurs with an attack from the immune system and starts with a fever and flu-like symptoms. Within a few days, the skin begins to blister and peel, forming very painful areas and looking much like a severe hot-water burn. In up to 80 percent of cases in adults, SJS/TEN develops after someone takes certain medications, such as drugs for seizures, gout or sulfa antibiotics. The reaction likely occurs because a person carries certain changes in their DNA, called genetic variants, that make them more susceptible to developing SJS/TEN.
"We've identified some genetic variants that can keep us from using certain drugs in susceptible individuals," said Teri Manolio, M.D., Ph.D., director of the Division of Genomic Medicine at the National Human Genome Research Institute (NHGRI). "Now, we need to find many more such variants and understand how they cause the syndrome so we can develop effective treatment and prevention strategies."
At NHGRI, Dr. Manolio's team supports research to help medical practitioners bring genomic medicine to the clinic; that is, to develop approaches for the use of genome sequencing and other tools to improve diagnosis, treatment and prevention of diseases, such as SJS/TEN, that might have saved Angela Anderson's life.
"Doctors believe [Angela's SJS/TEN] was triggered by ibuprofen [she had taken for a fever]," wrote Angela's father, Paul, in an online article about his family's ordeal.
What followed the next day was an eye infection, a high fever and rash; then a downward spiral with severe blistering of the skin and mucus membranes; and finally kidney and organ failure. Four days later, on December 28, 2015, she was gone.
"In the three days she was in the hospital, our whole family was put through one of the most heart-wrenching and helpless situations anyone could be put through," Mr. Anderson wrote.
The search for SJS/TEN research turns up empty
In 2014, Thai researchers reported that they were screening patients in the hospital for risky genetic variants that make them susceptible to developing SJS/TEN. The genetic information was then added to a pharmacogenomics ID card - a purple plastic card that fits easily in a wallet. (See the research talk here).
Dr. Manolio was intrigued by this approach: could a simple card that alerts doctors and patients to avoid certain medications be a key to saving patients at risk for SJS/TEN?
"We thought that this would be a very effective and important effort to try to adopt as a signature initiative of a global genomic medicine collaborative, using SJS/TEN as a model," Dr. Manolio said. "We can learn a lot from settings where simple interventions can be implemented system-wide - as in smaller countries with national health systems - and apply their lessons on much broader scales."
But for this to be successful, more research and more support for research was needed. Dr. Manolio knew that NHGRI could not do this alone, so she and colleagues planned to mobilize other institutes at the National Institutes of Health (NIH) doing work on SJS/TEN. However, this strategy led only to the realization that little work was currently being done on the disorder. So, in March 2015, NHGRI organized a workshop, in collaboration with the Food and Drug Administration (FDA) and other NIH institutes, to identify the research gaps and unmet needs in SJS/TEN research.
Workshop gives hope to those searching for answers
Dr. Manolio received a call from Paul Anderson in January 2016, less than one month after he had lost his daughter to SJS/TEN, saying that his family had received donations for research on the disorder, and they couldn't find anyone to give them to. He, too, had come up short in his search for SJS/TEN research.
Dr. Manolio introduced them to Elizabeth Phillips, M.D., professor of medicine at Vanderbilt University Medical Center, and one of the researchers at the conference on SJS/TEN. Dr. Phillips' work focuses on identifying the genetic risk factors that predispose patients to severe immune mediated drug reactions like SJS/TEN, as well as studying the immunology of why these dangerous adverse drug reactions occurs in some individuals but not in others.
"We're looking at the specific molecular and cellular signatures in the skin and blood of those individuals presenting with SJS/TEN, trying to understand if there is a signature that can help us understand and identify which of the small portion of individuals that carry a genetic risk factor will develop the disorder," she said. "We think if we can get those signatures defined for specific drugs, then those could be used as a screening mechanism before an individual is exposed to a drug."
SJS/TEN is a disease that affects multiple organs - everything from the skin, to the eye, to the kidneys. To truly understand the disease, the research effort needs collaboration from experts in disparate areas that can put all the pieces together. To that end, on March 2, 2017, Vanderbilt University Medical Center held a multi-disciplinary, one-day meeting, supported by the NIH and the FDA, that focused entirely on SJS/TEN.
"This meeting was successful in bringing researchers together that not only focus on different aspects of SJS/TEN research but who bring together expertise on genetically and ethnically diverse populations that would never be gathered in one room," said Dr. Phillips. "The intended outcome from this meeting is to build a network of investigators whose research efforts will be synergistic in their contributions to SJS/TEN research."
The meeting also included representation from the SJS Foundation - including founder Jean Farrell and her daughter, Julie, a two-time SJS sufferer, SJS survivors, and families such as the Andersons, whose recent loss of their daughter was relayed to conference participants.
Discussions from the meeting will be published in the Journal of Allergy and Clinical Immunology: In Practice later this year and will outline how researchers will continue to work on identifying and standardizing the clinical features of SJS/TEN and improve ways to collect data on individual treatment plans.
And moving forward, NHGRI and other NIH institutes are funding research on serious adverse drug reactions, with NHGRI's focus specifically on a better understanding of genetically-mediated adverse drug reactions - an area in which, people like Dr. Phillips are already making great strides.
"The big advance in this disease has been starting to identify the immunogenetic mechanisms and strong genetic associations that have been seen with drug-induced SJS/TEN," said Dr. Phillips. "But, the ability to finally put closure on that so other families do not have to go through what they've gone through - that would be huge for most families. If they could see, even in the face of losing a loved one with SJS/TEN, that these research accomplishments will lead to better prevention and treatment and lower morbidity and complications in others and other families, I think that would greatly benefit them."
Last updated: March 27, 2017