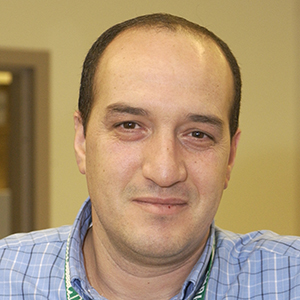 Abdel G. Elkahloun, Ph.D.
Associate Investigator
Office of Scientific Core Facilities
Head
Microarrays and Single-Cell Genomics Core
Education
B. Sc. University of Caen, France
M.Sc. University of Rennes
Ph.D. University of Rennes
Biography

Dr. Abdel Elkahloun obtained his B.Sc. from the University of Caen, and a M.Sc. and Ph.D. from the University of Rennes, France. His Ph.D. thesis was on the positional cloning, physical mapping and genetics of hemochromatosis. He completed his first post-doctoral training under Dr. Paul Meltzer at the University of Michigan for the study of sarcomas and solid tumors and then joined the National Human Genome Research Institute (NHGRI) in 1993.

At the NHGRI, Dr. Elkahloun started applying large scale screening methods to identify genes associated with osteosarcomas and was part of the team that first developed the microarray technology at the NIH. In 1996, Dr. Elkahloun joined Research Genetics, Inc., where he started a microarray department to produce the first commercially available microarrays ("GeneFilters"). In 1999, Dr. Elkahloun joined the NHGRI to start the first microarray core facility at the National Institutes of Health.
Scientific Summary

As a technology provider, the microarray core is involved in a wide range of projects looking at the characterizing of either the global expression profiles or genes sets to use as framework for diagnostics, drugs treatment and/or assays to further define the disease in question.

Most recently, Dr. Elkahloun scientific interest switched to defining exosomes or EVs (extra-cellular vesicles) in cancer. In 2014, and in collaboration with Dr. Roberts at NCI, Dr. Elkahloun demonstrated that exosomes derived from cancer cells can affect the transcriptomes of surrounding cells, specifically vascular endothelial cells through microRNAs and noncodingRNAs. Current research is aiming at defining in details the molecular mechanism behind the regulated sorting of specific RNA species in specific exosomes.

During the course of several collaborations with investigator from NIMH (National Institute of Mental Health); Dr. Kleinman (first temporal global gene expression across the human life span in normal and schizophrenic patients), Dr. Chuang (Bipolar disease) and Dr. Saavedra (Alzheimer's disease), Dr. Elkahloun gained experience the genetics of neurodegenerative and neuropsychiatric diseases. In 2015, in a cross comparative and integrative analysis of global gene expression profile, Dr. Elkahloun was able to show that Candesartan, an FDA approved drug used to treat hypertension, is in fact neuroprotective and could be used for early preventive treatment in Alzheimer's disease.
Publications

Fliedner SM, Shankavaram U, Marzouca G, Elkahloun A, Jochmanova I, Daerr R, Linehan WM, Timmers H, Tischler AS, Papaspyrou K, Brieger J, de Krijger R, Breza J, Eisenhofer G, Zhuang Z, Lehnert H, Pacak K. Hypoxia-Inducible Factor 2α Mutation-Related Paragangliomas Classify as Discrete Pseudohypoxic Subcluster. Neoplasia, 18(9):567-76. 2016. [PubMed]

Ye Y, Mastwal S, Cao VY, Ren M, Liu Q, Zhang W, Elkahloun AG, Wang KH. Dopamine is Required for Activity-Dependent Amplification of Arc mRNA in Developing Postnatal Frontal Cortex. Cereb Cortex, June 29, 2016. [PubMed]

Aschrafi A, Kar AN, Gale JR, Elkahloun AG, Vargas JN, Sales N, Wilson G, Tompkins M, Gioio AE, Kaplan BB. A heterogeneous population of nuclear-encoded mitochondrial mRNAs is present in the axons of primary sympathetic neurons. Mitochondrion, 30:18-23. 2016. [PubMed]

Jiang X, Hu C, Arnovitz S, Bugno J, Yu M, Zuo Z, Chen P, Huang H, Ulrich B, Gurbuxani S, Weng H, Strong J, Wang Y, Li Y, Salat J, Li S, Elkahloun AG, Yang Y, Neilly MB, Larson RA, Le Beau MM, Herold T, Bohlander SK, Liu PP, Zhang J, Li Z, He C, Jin J, Hong S, Chen J. miR-22 has a potent anti-tumour role with therapeutic potential in acute myeloid leukaemia. Nat Commun, 7:11452. 2016. [PubMed]

Kaur S, Elkahloun AG, Singh SP, Chen QR, Meerzaman DM, Song T, Manu N, Wu W, Mannan P, Garfield SH, Roberts DD. A function-blocking CD47 antibody suppresses stem cell and EGF signaling in triple-negative breast cancer. Oncotarget, 7(9):10133-52. 2016. [PubMed]

Elkahloun AG, Hafko R, Saavedra JM. An integrative genome-wide transcriptome reveals that candesartan is neuroprotective and a candidate therapeutic for Alzheimer's disease. Alzheimers Res Ther, 8(1):5. 2016. [PubMed]

Li Z, Chen P, Su R, Hu C, Li Y, Elkahloun AG, Zuo Z, Gurbuxani S, Arnovitz S, Weng H, Wang Y, Li S, Huang H, Neilly MB, Wang GG, Jiang X, Liu PP, Jin J, Chen J. PBX3 and MEIS1 Cooperate in Hematopoietic Cells to Drive Acute Myeloid Leukemias Characterized by a Core Transcriptome of the MLL-Rearranged Disease. Cancer Res, 76(3):619-29. 2016. [PubMed]

Adeyemo AA, Tekola-Ayele F, Doumatey AP, Bentley AR, Chen G, Huang H, Zhou J, Shriner D, Fasanmade O, Okafor G, Eghan B Jr, Agyenim-Boateng K, Adeleye J, Balogun W, Elkahloun A, Chandrasekharappa S, Owusu S, Amoah A, Acheampong J, Johnson T, Oli J, Adebamowo C, Collins F, Dunston G, Rotimi CN. Evaluation of Genome Wide Association Study Associated Type 2 Diabetes Susceptibility Loci in Sub Saharan Africans. Front Genet, 24;6:335. 2016. [PubMed]

Doumatey AP, Xu H, Huang H, Trivedi NS, Lei L, Elkahloun A, Adeyemo A, Rotimi CN. Global Gene Expression Profiling in Omental Adipose Tissue of Morbidly Obese Diabetic African Americans. J Endocrinol Metab, 5(3): 199-210. 2015. [PubMed]

Arafeh R, Qutob N, Emmanuel R, Keren-Paz A, Madore J, Elkahloun A, Wilmott JS, Gartner JJ, Di Pizio A, Winograd-Katz S, Sindiri S, Rotkopf R, Dutton-Regester K, Johansson P, Pritchard AL, Waddell N, Hill VK, Lin JC, Hevroni Y, Rosenberg SA, Khan J, Ben-Dor S, Niv MY, Ulitsky I, Mann GJ, Scolyer RA, Hayward NK, Samuels Y. Recurrent inactivating RASA2 mutations in melanoma. Nat Genet, 47(12): 1408-10. 2015. [PubMed]

Li Z, Chen P, Su R, Li Y, Hu C, Wang Y, Arnovitz S, He M, Gurbuxani S, Zuo Z, Elkahloun AG, Li S, Weng H, Huang H, Neilly MB, Wang S, Olson EN, Larson RA, Le Beau MM, Zhang J, Jiang X, Wei M, Jin J, Liu PP, Chen J. Overexpression and knockout of miR-126 both promote leukemogenesis. Blood, 126(17): 2005-15. 2015. [PubMed]

Dutta S, Sriskanda S, Boobalan E, Alur RP, Elkahloun A, Brooks BP. nlz1 is required for cilia formation in zebrafish embryogenesis. Dev Biol, 406(2):203-11. 2015. [PubMed]

Samal BB, Waites CK, Almeida-Suhett C, Li Z, Marini AM, Samal NR, Elkahloun A, Braga MF, Eiden LE. Acute Response of the Hippocampal Transcriptome Following Mild Traumatic Brain Injury After Controlled Cortical Impact in the Rat. J Mol Neurosci, 57(2): 282-303. 2015. [PubMed]

McFarland HI, Berkson JD, Lee JP, Elkahloun AG, Mason KP, Rosenberg AS. Rescue of CD8+ T cell vaccine memory following sublethal γ irradiation. Vaccine, 33(32): 3865-72. 2015. [PubMed]

Hunsberger JG, Chibane FL, Elkahloun AG, Henderson R, Singh R, Lawson J, Cruceanu C, NagarajanV, Turecki G, Squassina A, Medeiros CD, Del Zompo M, Rouleau GA, Alda M, Chuang DM. Novel integrative genomic tool for interrogating lithium response in bipolar disorder. Transl Psychiatry. 5. 2015. [PubMed]

Chandler RJ, LaFave MC, Varshney GK, Trivedi NS, Carrillo-Carrasco N, Senac JS, Wu W, Hoffmann V, Elkahloun AG, Burgess SM, Venditti CP. Vector design influences hepatic genotoxicity after adeno-associated virus gene therapy. J Clin Invest, 125(2): 870-80. 2015. [PubMed]

Yang C, Zhuang Z, Fliedner SM, Shankavaram U, Sun MG, Bullova P, Zhu R, Elkahloun AG, Kourlas PJ, Merino M, Kebebew E, Pacak K. Germ-line PHD1 and PHD2 mutations detected in patients with pheochromocytoma/paraganglioma-polycythemia. J Mol Med (Berl), 93(1):93-104. 2015. [PubMed]

Yong RL, Yang C, Lu J, Wang H, Schlaff CD, Tandle A, Graves CA, Elkahloun AG, Chen X, Zhuang Z, Lonser RR. Cell transcriptional state alters genomic patterns of DNA double-strand break repair in human astrocytes. Nat Commun, 5:5799. 2014. [PubMed]

Williams KA, Lee M, Hu Y, Andreas J, Patel SJ, Zhang S, Chines P, Elkahloun A, Chandrasekharappa S, Gutkind JS, Molinolo AA, Crawford NP. A systems genetics approach identifies CXCL14, ITGAX, and LPCAT2 as novel aggressive prostate cancer susceptibility genes. PLoS Genet, 20(11). 2014. [PubMed]

Connelly JP, Kwon EM, Gao Y, Trivedi NS, Elkahloun AG, Horwitz MS, Cheng L, Liu PP. Targeted correction of RUNX1 mutation in FPD patient-specific induced pluripotent stem cells rescues megakaryopoietic defects. Blood, 124(12):1926-30. 2014. [PubMed]

Kaur S, Singh SP, Elkahloun AG, Wu W, Abu-Asab MS, Roberts DD. CD47-dependent immunomodulatory and angiogenic activities of extracellular vesicles produced by T cells. Matrix Biol, 37:49-59. 2014. [PubMed]

Fliedner SM, Engel T, Lendvai NK, Shankavaram U, Nölting S, Wesley R, Elkahloun AG, Ungefroren H, Oldoerp A, Lampert G, Lehnert H, Timmers H, Pacak K. Anti-cancer potential of MAPK pathway inhibition in paragangliomas-effect of different statins on mouse pheochromocytoma cells. PLoS One, 9(5): 2014.[PubMed]

Giubellino A, Shankavaram U, Bullova P, Schovanek J, Zhang Y, Shen M, Patel N, Elkahloun A, Lee MJ, Trepel J, Ferrer M, Pacak K. High-throughput screening for the identification of new therapeutic options for metastatic pheochromocytoma and paraganglioma. PLoS One, 9(4). 2014. [PubMed]

Sen SK, Barb JJ, Cherukuri PF, Accame DS, Elkahloun AG, Singh LN, Lee-Lin SQ; NISC Comparative Sequencing Program, Kolodgie FD, Cheng Q, Zhao X, Chen MY, Arai AE, Green ED, Mullikin JC, Munson PJ, Biesecker LG. Identification of candidate genes involved in coronary artery calcification by transcriptome sequencing of cell lines. BMC Genomics, 15:198. 2014. [PubMed]

Ramos E, Doumatey A, Elkahloun AG, Shriner D, Huang H, Chen G, Zhou J, McLeod H, Adeyemo A, Rotimi CN. Pharmacogenomics, ancestry and clinical decision making for global populations. Pharmacogenomics J, 14(3): 217-22. 2014. [PubMed]
Last updated: June 21, 2023