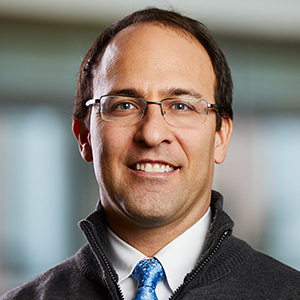 Clinical Director
Office of the Clinical Director
Senior Clinician
Medical Genetics Branch
Head
Medical Genomics Unit
Education
B.A. Brown University, 1996
M.D, Geisel School of Medicine at Dartmouth College, 2005
Pediatrics and Clinical Genetics Residency Children's National Medical Center and National Human Genome Research Institute, 2010
Biography

Dr. Solomon has a bachelor's degree in philosophy from Brown University and a medical degree from Geisel School of Medicine at Dartmouth. He completed medical training in pediatrics and clinical genetics through a joint Children's National/National Human Genome Research Institute program. After completing this program, Dr. Solomon remained at NHGRI for several years as a Staff Clinician; his work focused on understanding the causes and biology of a number of congenital disorders as well as applying emerging technologies and analytic approaches to genomic and phenotypic datasets in order to ask a variety of clinically-relevant research questions.

Dr. Solomon joined the Inova Translational Medicine Institute (ITMI) in 2013 as the Chief of the Division of Medical Genomics. In this role, Dr. Solomon led a team of clinicians, bioinformaticists, and bench-based scientists to deliver clinical care and conduct genomic research. In 2016, Dr. Solomon became the Managing Director of GeneDx, a genetics/genomics diagnostic company with a strong emphasis on research and the discovery of novel causes of disease. In this role, which he held until returning to NHGRI, he led a team of over 400 molecular geneticists, genetic counselors, and laboratory and research staff. Throughout his entire career, he has always continued to be an avid participant in clinical genomics education, including formal and informal teaching of medical students, residents, fellows, postdoctoral and other trainees, as well as re-educating the existing clinical and scientific workforce about genomics. Additionally, since 2017, Dr. Solomon served as deputy editor-in-chief for the American Journal of Medical Genetics. He has authored and co-authored more than 120 peer-reviewed papers, 10 commentaries, and six book chapters. His research interests involve determining the broad implications of human genomic health, including the development and application of high-throughput and novel related technologies to help predict health outcomes and study the causes and optimal management of both rare and common diseases.
Scientific Summary

Medical Genomics Unit

Genetic conditions, though often individually rare, are common in aggregate, and disproportionately impact patients, families, healthcare systems, and society. New and evolving technological approaches continue to yield dramatic changes in the ability to diagnose (and therefore better manage) affected individuals. The capacity to efficiently analyze - as well as produce - genomic data has also increased significantly. Substantial work remains to enable optimal mining of relevant phenotypic as well as genotypic data.

Recent developments in applying computational approaches such as deep learning (DL) (including natural language processing and image processing) to health-related questions suggest strong potential. While these approaches have specifically been applied to genetic conditions, many challenges and questions require further investigation to optimally utilize these methods.

The overall goal of the Medical Genomics Unit (MGU) is to use analytic and computational approaches to develop, test, and implement methods of interrogating datasets relevant to genetic conditions. Types of data to be analyzed include clinical/phenotypic information such as images, data from medical records/electronic health records, as well as genomic and related biologic data. Combining methods to incorporate multiple types of data is anticipated to enable novel insights as well as flexible models of analysis. Improving these methods may allow more efficient and accurate investigations into aspects of many aspects of human health and disease.

These methods and the related results will focus on exploring questions that are directly clinically-relevant in addition to scientifically important, with the goal of yielding or helping lead to tools that can assist researchers to understand genetic conditions and clinicians to better manage patients and families. While some MGU investigations will be conducted using data from specific conditions in proof-of-principle scenarios, the general methods are anticipated to be initially largely agnostic to any particular condition. That is, these methods will enable approaches that can be applied broadly to many types of appropriate datasets. With time, the MGU does plan to focus increasingly on certain types of congenital anomalies and conditions.
Publications

Yan K, Rousseau J, Machol K, Cross LA, Agre KE, Gibson CF, Goverde A, Engleman KL, Verdin H, De Baere E, Potocki L, Zhou D, Cadieux-Dion M, Bellus GA, Wagner MD, Hale RJ, Esber N, Riley AF, Solomon BD, Cho MT, McWalter K, Eyal R, Hainlen MK, Mendelsohn BA, Porter HM, Lanpher BC, Lewis AM, Savatt J, Thiffault I, Callewaert B, Campeau PM, Yang XJ. Deficient histone H3 propionylation by BRPF1-KAT6 complexes in neurodevelopmental disorders and cancer. Sci Adv, 6(4):eaax0021. doi: 10.1126/sciadv.aax0021. 2020. [PubMed]

Knijnenburg TA, Vockley JG, Chambwe N, Gibbs DL, Humphries C, Huddleston KC, Klein E, Kothiyal P, Tasseff R, Dhankani V, Bodian DL, Wong WSW, Glusman G, Mauldin DE, Miller M, Slagel J, Elasady S, Roach JC, Kramer R, Leinonen K, Linthorst J, Baveja R, Baker R, Solomon BD, Eley G, Iyer RK, Maxwell GL, Bernard B, Shmulevich I, Hood L, Niederhuber JE. Genomic and molecular characterization of preterm birth. Proc Natl Acad Sci U S A. 116(12):5819-5827. doi:10.1073/pnas.1716314116. 2019. [PubMed]

Torti E, Keren B, Palmer EE, Zhu Z, Afenjar A, Anderson IJ, Andrews MV, Atkinson C, Au M, Berry SA, Bowling KM, Boyle J, Buratti J, Cathey SS, Charles P, Cogne B, Courtin T, Escobar LF, Finley SL, Graham JM Jr, Grange DK, Heron D, Hewson S, Hiatt SM, Hibbs KA, Jayakar P, Kalsner L, Larcher L, Lesca G, Mark PR, Miller K, Nava C, Nizon M, Pai GS, Pappas J, Parsons G, Payne K, Putoux A, Rabin R, Sabatier I, Shinawi M, Shur N, Skinner SA, Valence S, Warren H, Whalen S, Crunk A, Douglas G, Monaghan KG, Person RE, Willaert R, Solomon BD, Juusola J. Variants in TCF20 in neurodevelopmental disability: description of 27 new patients and review of literature. Genet Med. 21(9):2036-2042. doi: 10.1038/s41436-019-0454-9. 2019. [PubMed].

Ferreira CR, Xia ZJ, Clément A, Parry DA, Davids M, Taylan F, Sharma P, Turgeon CT, Blanco-Sánchez B, Ng BG, Logan CV, Wolfe LA, Solomon BD, Cho MT, Douglas G, Carvalho DR, Bratke H, Haug MG, Phillips JB, Wegner J, Tiemeyer M, Aoki K; Undiagnosed Diseases Network; Scottish Genome Partnership, Nordgren A, Hammarsjö A, Duker AL, Rohena L, Hove HB, Ek J, Adams D, Tifft CJ, Onyekweli T, Weixel T, Macnamara E, Radtke K, Powis Z, Earl D, Gabriel M, Russi AHS, Brick L, Kozenko M, Tham E, Raymond KM, Phillips JA 3rd, Tiller GE, Wilson WG, Hamid R, Malicdan MCV, Nishimura G, Grigelioniene G, Jackson A, Westerfield M, Bober MB, Gahl WA, Freeze HH. A Recurrent De Novo Heterozygous COG4 Substitution Leads to Saul-Wilson Syndrome, Disrupted Vesicular Trafficking, and Altered Proteoglycan Glycosylation. Am J Hum Genet. 103(4):553-567. doi:10.1016/j.ajhg.2018.09.003. 2018. [PubMed]

Roessler E, Hu P, Marino J, Hong S, Hart R, Berger S, Martinez A, Abe Y, Kruszka P, Thomas JW, Mullikin JC; NISC Comparative Sequencing Program, Wang Y, Wong WSW, Niederhuber JE, Solomon BD, Richieri-Costa A, Ribeiro-Bicudo LA, Muenke M. Common genetic causes of holoprosencephaly are limited to a small set of evolutionarily conserved driver genes of midline development coordinated by TGF-β, hedgehog, and FGF signaling. Hum Mutat. 2018 Oct;39(10):1416-1427. doi:10.1002/humu.23590. [PubMed]

Goldmann JM, Seplyarskiy VB, Wong WSW, Vilboux T, Neerincx PB, Bodian DL, Solomon BD, Veltman JA, Deeken JF, Gilissen C, Niederhuber JE. Germline de novo mutation clusters arise during oocyte aging in genomic regions with high double-strand-break incidence. Nat Genet. 50(4):487-492. doi: 10.1038/s41588-018-0071-6. 2018. [PubMed]

Roberts ME, Jackson SA, Susswein LR, Zeinomar N, Ma X, Marshall ML, Stettner AR, Milewski B, Xu Z, Solomon BD, Terry MB, Hruska KS, Klein RT, Chung WK. MSH6 and PMS2 germ-line pathogenic variants implicated in Lynch syndrome are associated with breast cancer. Genet Med. 20(10):1167-1174. doi:10.1038/gim.2017.254. 2018. [PubMed]

Guillen-Sacoto MJ, Martinez AF, Abe Y, Kruszka P, Weiss K, Everson JL, Bataller R, Kleiner DE, Ward JM, Sulik KK, Lipinski RJ, Solomon BD, Muenke M. Human germline hedgehog pathway mutations predispose to fatty liver. J Hepatol. 67(4):809-817. doi: 10.1016/j.jhep.2017.06.008. 2017. [PubMed]

Pavey AR, Bodian DL, Vilboux T, Khromykh A, Hauser NS, Huddleston K, Klein E, Black A, Kane MS, Iyer RK, Niederhuber JE, Solomon BD. Utilization of genomic sequencing for population screening of immunodeficiencies in the newborn. Genet Med. 19(12):1367-1375. doi: 10.1038/gim.2017.57. 2017. [PubMed]

Goldmann JM, Wong WS, Pinelli M, Farrah T, Bodian D, Stittrich AB, Glusman G, Vissers LE, Hoischen A, Roach JC, Vockley JG, Veltman JA, Solomon BD, Gilissen C, Niederhuber JE. Parent-of-origin-specific signatures of de novo mutations. Nat Genet. 48(8):935-9. doi: 10.1038/ng.3597. 2016. [PubMed]

Bornstein AT, McLoughlin MH, Aguilar J, Wong WS, Solomon BD. Tracking medical genetic literature through machine learning. Mol Genet Metab. 118(4):255-8. doi: 10.1016/j.ymgme.2016.05.016. 2016. [PubMed]

Solomon BD. Genomics ruins a genre. Per Med. 13(3):221-224. doi:10.2217/pme-2016-0001. 2016. [PubMed]

Wong WS, Solomon BD, Bodian DL, Kothiyal P, Eley G, Huddleston KC, Baker R, Thach DC, Iyer RK, Vockley JG, Niederhuber JE. New observations on maternal age effect on germline de novo mutations. Nat Commun. 7:10486. doi: 10.1038/ncomms10486. 2016. [PubMed]

Bodian DL, Klein E, Iyer RK, Wong WS, Kothiyal P, Stauffer D, Huddleston KC, Gaither AD, Remsburg I, Khromykh A, Baker RL, Maxwell GL, Vockley JG, Niederhuber JE, Solomon BD. Utility of whole-genome sequencing for detection of newborn screening disorders in a population cohort of 1,696 neonates. Genet Med. 18(3):221-30. doi: 10.1038/gim.2015.111. 2016. [PubMed]

Johnston JJ, Lewis KL, Ng D, Singh LN, Wynter J, Brewer C, Brooks BP, Brownell I, Candotti F, Gonsalves SG, Hart SP, Kong HH, Rother KI, Sokolic R,
Solomon BD, Zein WM, Cooper DN, Stenson PD, Mullikin JC, Biesecker LG. Individualized iterative phenotyping for genome-wide analysis of loss-of-function
mutations. Am J Hum Genet. 96(6):913-25. doi: 10.1016/j.ajhg.2015.04.013. 2015. [PubMed]

Stittrich AB, Lehman A, Bodian DL, Ashworth J, Zong Z, Li H, Lam P, Khromykh A, Iyer RK, Vockley JG, Baveja R, Silva ES, Dixon J, Leon EL, Solomon BD, Glusman G, Niederhuber JE, Roach JC, Patel MS. Mutations in NOTCH1 cause Adams-Oliver syndrome. Am J Hum Genet. 95(3):275-84. doi:
10.1016/j.ajhg.2014.07.011. 2014. [PubMed]

Solomon BD. Incidentalomas in genomics and radiology. N Engl J Med. 370(11):988-90. doi: 10.1056/NEJMp1310471. 2014.[PubMed]

Solomon BD, Baker LA, Bear KA, Cunningham BK, Giampietro PF, Hadigan C, Hadley DW, Harrison S, Levitt MA, Niforatos N, Paul SM, Raggio C, Reutter H,
Warren-Mora N. An approach to the identification of anomalies and etiologies in neonates with identified or suspected VACTERL (vertebral defects, anal atresia,
tracheo-esophageal fistula with esophageal atresia, cardiac anomalies, renal anomalies, and limb anomalies) association. J Pediatr. 164(3):451-7.e1.
doi: 10.1016/j.jpeds.2013.10.086. 2014. [PubMed]

Saisawat P, Kohl S, Hilger AC, Hwang DY, Yung Gee H, Dworschak GC, Tasic V, Pennimpede T, Natarajan S, Sperry E, Matassa DS, Stajić N, Bogdanovic R, de
Blaauw I, Marcelis CL, Wijers CH, Bartels E, Schmiedeke E, Schmidt D, Märzheuser S, Grasshoff-Derr S, Holland-Cunz S, Ludwig M, Nöthen MM, Draaken M, Brosens E, Heij H, Tibboel D, Herrmann BG, Solomon BD, de Klein A, van Rooij IA, Esposito F, Reutter HM, Hildebrandt F. Whole-exome resequencing reveals recessive mutations in TRAP1 in individuals with CAKUT and VACTERL association. Kidney Int. 85(6):1310-7. doi: 10.1038/ki.2013.417. 2014. [PubMed]

Solomon BD, Nguyen AD, Bear KA, Wolfsberg TG. Clinical genomic database. Proc Natl Acad Sci U S A. 110(24):9851-5. doi: 10.1073/pnas.1302575110. 2013. [PubMed]

Solomon BD, Muenke M. When to suspect a genetic syndrome. Am Fam Physician. 86(9):826-33. 2012. [PubMed]

Solomon BD, Bear KA, Wyllie A, Keaton AA, Dubourg C, David V, Mercier S, Odent S, Hehr U, Paulussen A, Clegg NJ, Delgado MR, Bale SJ, Lacbawan F, Ardinger
HH, Aylsworth AS, Bhengu NL, Braddock S, Brookhyser K, Burton B, Gaspar H, Grix A, Horovitz D, Kanetzke E, Kayserili H, Lev D, Nikkel SM, Norton M, Roberts R, Saal H, Schaefer GB, Schneider A, Smith EK, Sowry E, Spence MA, Shalev SA, Steiner CE, Thompson EM, Winder TL, Balog JZ, Hadley DW, Zhou N, Pineda-Alvarez DE, Roessler E, Muenke M. Genotypic and phenotypic analysis of 396 individuals with mutations in Sonic Hedgehog. J Med Genet. 49(7):473-9. doi:
10.1136/jmedgenet-2012-101008. 2012. [PubMed]

Talkowski ME, Rosenfeld JA, Blumenthal I, Pillalamarri V, Chiang C, Heilbut A, Ernst C, Hanscom C, Rossin E, Lindgren AM, Pereira S, Ruderfer D, Kirby A,
Ripke S, Harris DJ, Lee JH, Ha K, Kim HG, Solomon BD, Gropman AL, Lucente D, Sims K, Ohsumi TK, Borowsky ML, Loranger S, Quade B, Lage K, Miles J, Wu BL, Shen Y, Neale B, Shaffer LG, Daly MJ, Morton CC, Gusella JF. Sequencing chromosomal abnormalities reveals neurodevelopmental loci that confer risk across diagnostic boundaries. Cell. 149(3):525-37. doi: 10.1016/j.cell.2012.03.028. 2012. [PubMed]

Solomon BD, Mercier S, Vélez JI, Pineda-Alvarez DE, Wyllie A, Zhou N, Dubourg C, David V, Odent S, Roessler E, Muenke M. Analysis of genotype-phenotype
correlations in human holoprosencephaly. Am J Med Genet C Semin Med Genet. 154C(1):133-41. doi: 10.1002/ajmg.c.30240. 2010. [PubMed]

25: Solomon BD, Lacbawan F, Mercier S, Clegg NJ, Delgado MR, Rosenbaum K, Dubourg C, David V, Olney AH, Wehner LE, Hehr U, Bale S, Paulussen A, Smeets HJ, Hardisty E, Tylki-Szymanska A, Pronicka E, Clemens M, McPherson E, Hennekam RC, Hahn J, Stashinko E, Levey E, Wieczorek D, Roeder E, Schell-Apacik CC, Booth CW, Thomas RL, Kenwrick S, Cummings DA, Bous SM, Keaton A, Balog JZ, Hadley D, Zhou N, Long R, Vélez JI, Pineda-Alvarez DE, Odent S, Roessler E, Muenke M. Mutations in ZIC2 in human holoprosencephaly: description of a novel ZIC2 specific phenotype and comprehensive analysis of 157 individuals. J Med Genet. 47(8):513-24. doi: 10.1136/jmg.2009.073049. 2010. [PubMed]
Last updated: August 27, 2020