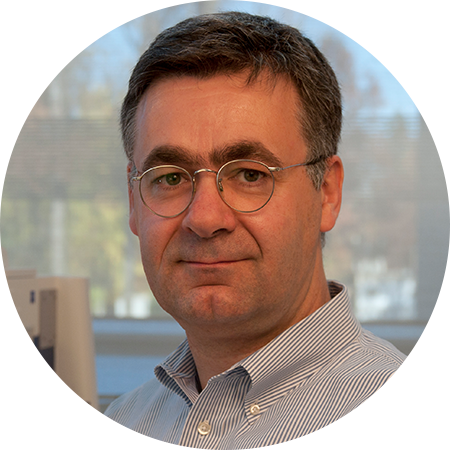 Carsten G. Bonnemann, M.D.
Adjunct Investigator
Medical Genetics Branch
Senior Investigator and Chief - Neuromuscular and Neurogenetic Disorders of Childhood Section
Neurogenetics Branch, NINDS
Education
M.D. Albert Ludwig University of Freiburg, Germany
Biography

Dr. Bönnemann's clinical and laboratory interests focus on genetically-caused neuromuscular disorders of childhood. In his clinical practice, formerly at Children's Hospital of Philadelphia and currently at the National Institutes of Health, his efforts have been devoted to diagnosing and treating children with complex neuromuscular and neurogenetic conditions. His team uses next-generation genomic tools to identify new genetic disorders, as well as to carefully establish phenotypic spectra and the natural history of known genetic conditions. Their focus is on early-onset muscle disease, including the congenital myopathies, congenital muscular dystrophies, and the often rapidly progressive reducing-body myopathy, for which his research team recently identified the causative gene.

In its basic research, Dr. Bönnemann's laboratory team explores the role of interactions between muscle and its extracellular matrix in development, maintenance and regeneration of voluntary muscle. Using animal models and human cells in vitro, the group also looks at how these interactions are perturbed in muscular dystrophy and other muscle disorders. Their overriding goal - in both the laboratory and the clinic - is to define opportunities for therapeutic interventions for patients who are affected by congenital muscle disorders.
Publications

C.G. Bönnemann: The Collagen VI related myopathies: Muscle meets its matrix. Nat Rev Neurol, 21:379-90. 2011. [PubMed]

R.R. Foley, Y. Hu, Y. Zou, M. Yang, L. Medne, M. Leach, L.K. Conlin, N. Spinner, T. H. Shaikh, M. Falk, A. M. Neumeyer, L. Bliss, B.S. Tseng, T.L. Winder, C.G. Bönnemann. Large genomic deletions: A novel cause of Ullrich congenital muscular dystrophy. Ann Neurol, 69:206-11. 2011. [PubMed]

J. Schessl, A.L. Taratuto, C. Sewry, R. Battini, S.S. Chin, A.L Dubrowsky, M.G. Erro, B. Maiti, P. Olmos, M. Robertella, M. Saccoliti, M, Scavina, Y. Zou, Y. Hu, H.H. Goebel, K.M. Flanigan, F. Muntoni, C.G. Bönnemann. Clinical, histological and genetic characterization of reducing body myopathy caused by mutations in FHL1.. Brain, 132:452-64. 2009. [PubMed]

J. Schessl, N.M. Goemans, A.M.I Magold, Y. Zou, Y. Hu, J. Kirschner, R. Sciot, C.G. Bönnemann. Predominant fiber atrophy and fiber type disproportion in early Ullrich disease. Muscle & Nerve, 38:1184-91. 2008. [PubMed]

J. Schessl, Y. Zou, M. McGrath, B. Cowling, Y. Hu, J. Kirschner, D. Cottle, H.H. Goebel, M. Rosenblatt, A. Judkins, A. Gupta , J. Golden, K. Flanigan, F. Muntoni, C. Mitchell, C.G. Bönnemann. Proteomic identification of the LIM domain protein FHL1 as the gene-product mutated in reducing body myopathy. J Clin Invest, 118:904-912. 2008. [PubMed]

Y. Zou, R. Zhang, P. Petrinin, M.L. Chu, C. G. Bönnemann. Muscle interstitial fibroblasts are the main source of collagen VI synthesis in skeletal muscle. J Neuropathol Exp Neurol, 67:1544-54 2008. [PubMed]

A.R. Foley, Y. Hu, Y. Zou, A. Columbus, J. Shoffner, D.M. Dunn, R.B. Weiss, C.G. Bonnemann. Autosomal recessive inheritance of classic Bethlem myopathy. Neuromuscul Disord, 19:813-7. 2009. [PubMed]

A. Ferreiro, C. Ceuterick - de Groote, N. J. Marks, Goemans, G., Schreiber, F., Hanefeld, J., J. Martin, M. Fardeau, H.H. Goebel, P. Richard, P. Guicheney, C.G. Bönnemann. SEPN1 mutations cause the Mallory body-like form of desmin-myopathy: From desminopathy to selenopathy. Ann Neurol, 55: 676-686. 2004.

T.C. Pan, R.Z. Zhang, D.G. Sudano, S.K. Marie, C.G. Bönnemann, M.L. Chu. New molecular mechanism for Ullrich congenital muscular dystrophy: A heterozygous in-frame deletion in the COL6A1 gene causes a severe phenotype. Am J Hum Genet, 73:355-369. 2003. [PubMed]

C.G. Bönnemann, G.F. Cox, F. Shapiro, J.J. Wu, C.A. Feener, T.G. Thompson, D.C. Anthony, D.R. Eyre, B.T. Darras, L.M. Kunkel. A mutation in the alpha 3 chain of type IX collagen causes autosomal dominant multiple epiphyseal dysplasia with mild myopathy. Proc Natl Acad Sci USA , 97: 1212-1217. 2000. [PubMed]

C.G. Bönnemann, R. Modi, S. Noguchi, Y. Mizuno, M. Yoshida, E. Gussoni, E.M. McNally, D.J. Duggan, C. Angelini, E.P. Hoffman, E. Ozawa, L.M. Kunkel. beta-sarcoglycan (A3b) mutations cause autosomal recessive muscular dystrophy with loss of the sarcoglycan complex. Nature Genet,11:266-273. 1995. [PubMed]
Last updated: August 27, 2013