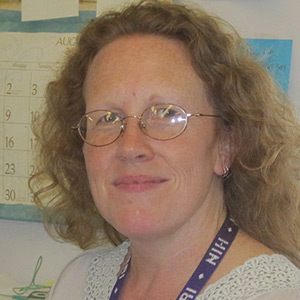 Associate Investigator
Cancer Genetics and Comparative Genomics Branch
Education
Ph.D., University of Washington
Biography

Dr. Heidi Parker is an associate Investigator in the Comparative Genetics Section of the Cancer Genetics and Comparative Genomics Branch at the National Human Genome Research Institute of NIH. She earned her Ph.D. from the University of Washington in 2004 where she studied the population structure of the domestic dog. Her thesis research, completed in the laboratory of Dr. Elaine Ostrander at the Fred Hutchinson Cancer Research Center, established the first classification of dog breeds using genetic data and showed that each breed carries a genetic signature that can be used for identification.

Dr. Parker came to NHGRI in 2004, where she has combined her knowledge of population and breed structure with in-depth investigation of the dog genome to identify genes and genomic loci involved in complex morphological traits and cancer susceptibility. Dr. Parker has capitalized on the purebred structure of the domestic dog by combining information from multiple dog breeds to find the genetic elements responsible for major breed defining traits. She continues to use the breed model to understand the history of dogs and canine variation. Dr. Parker applies genomic methodologies to understanding the inheritance of cancer risk. This led to the discovery of the first cancer associated locus found through population-based analyses in the dog. She is now working to combine multi-omic datasets to address the issue of inherited, non-coding mutations and their role in increasing the risk and development of cancer.

Dr. Parker is also interested in promoting the dog as an accessible platform for learning about genetics. She works with colleagues to create educational exercises for children and takes advantage of every opportunity to present dog genetics to community-based audiences from elementary school through adulthood.
Scientific Summary
For nearly two decades, Dr. Parker has studied the genome of the dog and what it can tell us about how and where the breeds developed and how they relate to each other. From the early days of microsatellite markers and physical maps to present in-depth analyses of whole genome sequences, population studies have provided the foundation for many canine genome milestones including the creation of the initial canine reference sequence as well as a classification of dog breeds that serves as a background for identifying variants associated with common traits and diseases. She has led studies of genomic architecture, canine breed structure, simple and complex trait mapping and genomic analysis of canine tumors.
The primary goal of Dr. Parker's research is to use the population structure of the domestic dog to unravel the genetic components of simple and complex traits and diseases. The dog provides an optimal system for the study of non-deleterious variation in development. Dr. Parker has led and contributed to numerous studies aimed at elucidating the genetics of physical form and function in the dog. These studies have revealed new types of genomic variants such as the active fgf4-retrogene that contributes to leg length in 19 different breeds of dog. These studies also support the hypothesis that small numbers of genes of large effect are responsible for the vast range of phenotypes exhibited within the domestic dog. With the availability of large whole genome sequencing libraries, Dr. Parker is now extending her search for morphological trait associated variants to rare cases represented by small numbers of individuals as well as the common traits shared across breeds.
Because dogs receive regular medical care and live well into their elder years, they also develop many forms of cancer. Often in dogs these cancers show breed associated risk suggesting a significant heritable component to the disease. Dr. Parker has both led and supported multiple cancer studies by assessing breed predisposition and breed sharing combined with genome-wide association, to find the inherited loci associated with high risk of cancer. She is now combining that information with whole tumor sequence, RNA-seq and ChIP-seq to identify not only variants that cause disease but also markers of disease that may be targeted for early diagnosis, risk assessment and treatment.
Publications
Barrio N, Gonzalez-Lagos C, Dreger DL, Parker HG, Nourdin-Galindo G, Hogan AN, Gomez MA, Ostrander EA. Patagonian sheepdog: Genomic analyses trace the footprints of extinct UK herding dogs to South America. PLoS Genetics, In Press. 2022.
Plassais J, vonHoldt BM, Parker HG, Carmagnini A, Derrien T, Hennelly LM, Harris AC, Hogan AN, Fest T, Sacks BN, Larson G, Frantz L, Ostrander EA. Natural and human-driven selection of a single non-coding body size variant in ancient and modern canids. Current Biol in press 2022.
Evans JM, Parker HG, Rutteman GR, Plassais J, Grinwis GCM, Harris AC, Lana SE, Ostrander EA. Multi-omics approach identifies germline regulatory variants associated with hematopoietic malignancies in retriever dog breeds. PLOS Genet May 13; 17(5):e1009543, 2021.
Surbatki S*, Parker HG*, Maury H, Cairns KM, McIntyre JK, Ostrander EA, Davis BW. New Guinea highland wild dogs are the original New Guinea singing dogs. Proc Natl Acad Sci U S A 117(39):24369-76, 2020.
Parker HG, Dhawan D, Harris A, Ramos-Vera JA, Davis BW, Knapp DW, and Ostrander EA. RNAseq expression patterns of canine invasive urothelial carcinoma reveal two distinct tumor clusters and shared regions of dysregulation with human bladder tumors. BMC Cancer 24;20(1):251, 2020.
Parker HG*, Whitaker DT*, Harris AC, Ostrander EA. Whole genome analysis of a single Scottish deerhound dog family provides independent corroboration that a SGK3 coding variant leads to hairlessness. G3 10(1):293-297, 2020.
Plassais J, Kim J, Davis BW, Karyadi DM, Hogan AN, Harris AC, Decker B, Parker HG, Ostrander EA. Whole genome sequencing of canids reveals genomic regions under selection and variants influencing morphology. Nature Communications 10(1):1489, 2019.
Kim J, Williams FJ, Dreger DL, Plassais J, Davis BW, Parker HG, Ostrander EA. Genetic selection of athletic success in sport-hunting dogs. Proceedings of the National Academy of Science USA 115(30): E7212-21, 2018.
Parker HG, Dreger DL, Rimbault M, Davis BW, Mullen AB, Carpintero-Ramirez G, Ostrander EA. Genomic analyses reveal the influence of geographic origin, immigration, and cross-breed hybridization on modern dog breed development. Cell Reports 19(4):697-708, 2017.
Decker B*, Parker HG*, Dhawan D, Kwon EM, Karlins E, Davis BW, Ramos-Vara JA, Bonney PL, McNiel EA, Knapp DW, Ostrander EA. Homologous mutation to human BRAF V600E Is common in naturally occurring canine bladder cancer -Evidence for a relevant model system and urine based diagnostic test. Mol Cancer Res 13(6):993-1002, 2015.
Freedman AH, Gronau I, Schweizer RM, Ortega-Del Vecchyo D, Han E, Silva PM, Galaverni M, Fan Z, Marx P, Lorente-Galdos B, Beale H, Ramirez O, Hormozdiari F, Alkan C, Vilà C, Squire K, Geffen E, Kusak J, Boyko AR, Parker HG, Lee C, Tadigotla V, Siepel A, Bustamante CD, Harkins TT, Nelson SF, Ostrander EA, Marques-Bonet T, Wayne RK, Novembre J. Genome sequencing highlights the dynamic early history of dogs. PLoS - Genet 10(1); e1004016, 2014.
Karyadi DM, Karlins E, Decker B, vonHoldt BM, Carpintero-Ramirez C, Parker HG, Wayne RK, Ostrander EA. A copy number variant at the KIT ligand locus confers risk for canine squamous cell carcinoma of the digit. PLoS – Genet 9(3):e1003409, 2013.
Shearin AL, Hedan B, Cadieu E, Erich SA, Schmidt EV, Faden DL, Cullen J, Abadie J, Kwon E, Gröne A, Devauchelle P, Rimbault M, Karyadi DM, Lynch M, Galibert F, Breen M, Rutteman GR, Andre C, Parker HG and Ostrander EA. The MTAP-CDKN2A locus confers susceptibility to a naturally occurring canine cancer. Cancer Epidemiol Biomarkers Prev 21(7):1019-27, 2012.
VonHoldt BM, Pollinger JP, Earl DA, Knowles JC, Boyko AR, Parker HG, Geffen E, Pilot M, Jedrzejewski W, Jedrzejewska B, Sidorovich V, Greco C, Randi E, Musiani M, Kays R, Bustamante CD, Ostrander EA, Novembre J, Wayne RK. A genome-wide perspective on the evolutionary history of enigmatic wolf-like canids. Genome Res 21(8):1294-305, 2011.
Boyko AR, Quignon P, Li L, Schoenebeck JJ, Degenhardt JD, Lohmueller KE, Zhao K, Brisbin A, Parker HG, vonHoldt BM, Cargill M, Auton A, Reynolds A, Elkahloun AG, Castelhano M, Mosher DS, Sutter NB, Johnson GS, Novembre J, Hubisz MJ, Siepel A, Wayne RK, Bustamante CD, Ostrander EA. A simple genetic architecture underlies morphological variation in dogs. PLoS - Biology 8(8): e1000451, 2010.
VonHoldt BM, Pollinger JP, Lohmueller KE, Han E, Parker HG, Quignon P, Degenhardt JD, Boyko AR, Earl DA, Auton A, Reynolds A, Bryc K, Brisbin A, Knowles J, Mosher DS, Spady TC, Elkahloun A, Geffen E, Pilot M, Jedrzejewski W, Greco C, Randi E, Bannasch D, Wilton A, Shearman J, Cargill M, Jones PG, Qian Z, Huang W, Ding Z-L, Zhang Y-P, Bustamante CD, Ostrander EA, Novembre J, Wayne RK. Genome-wide SNP and haplotype analyses reveal a rich history underlying dog domestication. Nature 464(7290):898-902, 2010.
Cadieu E, Neff MK, Quignon P, Walsh K, Chase K, Parker HG, VonHoldt BM, Rhue A, Boyko A, Byers A, Wong A, Mosher DS, Elkahloun AG, Spady TC, André C, Lark KG, Cargill M, Bustamante CD, Wayne RK, Ostrander EA. Coat variation in the domestic dog is governed by variants in three genes. Science 326(5949): 150-3, 2009.
Boyko AR, Boyko RH, Boyko CM, Parker HG, Castelhano M, Corey L, Degenhardt J, Auton A, Hedimbi M, Kityo R, Ostrander EA, Schoenebeck J, Todhunter RJ, Jones P, Bustamante CD. Complex population structure in African village dogs and its implications for inferring dog domestication history. Proc Natl Acad Sci USA 106(33):13903-8, 2009.
Parker HG, VonHoldt BM, Quignon P, Margulies EH, Shao S, Mosher DS, Spady TC, Elkahloun A, Cargill M, Jones PG, Maslen CL, Acland GM, Sutter NB, Kuroki K, Bustamante CD, Wayne RK, Ostrander EA. An expressed Fgf4 retrogene is associated with breed-defining chondrodysplasia in domestic dogs. Science 325(5943):995-8, 2009.
Parker HG, Kukekova AV, Akey DT, Goldstein O, Kirkness EF, Baysac KC, Mosher DS, Aguirre GD, Acland GM, Ostrander EA. Breed relationships facilitate fine mapping studies: a 7.8Kb deletion cosegregates with collie eye anomaly across multiple dog breeds. Genome Res 17(11): 1562-71, 2007.
Mosher DS, Quignon P, Bustamante CD, Sutter NB, Mellersh CS, Parker HG, Ostrander EA. A mutation in the myostatin gene increases muscle mass and enhances racing performance in heterozygote dogs. PLoS - Genet 3(5):e79, 2007.
Sutter NB, Bustamante CD, Chase K, Gray MM, Zhao K, Lan Zhu, Padhukasahasram B, Karlins E, Davis S, Jones PG, Quignon P, Johnson GS, Parker HG, Fretwell NX, Mosher DS, Lawler DF, Satyaraj E, Nordborg M, Lark KG, Wayne RK, Ostrander EA. A single ancient IGF1 allele causes small size in dogs. Science 316(5821):112-5, 2007.
Parker HG, Kruglyak L, Ostrander EA. Molecular genetic analysis of a putative domestic dog clone. Nature 440(7081):E1-2, 2006.
Lindblad-Toh K, Wade CM, Mikkelsen TS, Karlsson EK, Jaffe DB, Kamal M, Clamp M, Chang JL, Kulbokas EJ III, Zody MC, Mauceli E, Xie X, Breen M, Wayne RK, Ostrander EA, Ponting CP, Galibert F, Smith DR, deJong PJ, Kirkness E, Alvarez P, Biagi T, Brockman W, Butler J, Chin C-W, Cook A, Cuff J, Daly MJ, DeCaprio D, Gnerre S, Grabherr M, Kleber M, Bardeleben C, Goodstadt L, Heger A, Hitte C, Kim L, Koepfli K-P, Parker HG, Pollinger J, Searle SMJ, Sutter NB, Thomas R, Webber C, Broad Inst. Genome Sequencing Platform, Lander ES. Genome sequence, comparative analysis and haplotype structure of the domestic dog. Nature 438(7069):803-19, 2005.
Parker HG, Kim LV, Sutter NB, Carlson S, Lorentzen TD, Malek TB, Johnson GS, DeFrance HB, Ostrander EA, Kruglyak L. Genetic structure of the purebred domestic dog. Science 304(5674):1160-4, 2004.
Last updated: March 2, 2022