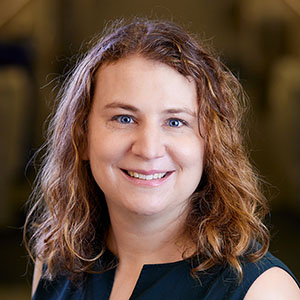 Associate Investigator
Social and Behavioral Research Branch
Head
Health Communication and Behavior Unit
Director
Immersive Simulation Program
Education
B.A. Northwestern University
M.A. University of California, Santa Barbara
Ph.D. University of California, Santa Barbara
Biography

Dr. Susan Persky is an associate investigator and head of the Health Communication and Behavior Unit. She also directs the Immersive Simulation Program (ISP) within the Social and Behavioral Research Branch (SBRB) at the National Human Genome Research Institute (NHGRI), National Institutes of Health (NIH). She earned a B.A. in psychology from Northwestern University and an M.A. and Ph.D. in social psychology from the University of California, Santa Barbara, where she studied at the Research Center for Virtual Environments and Behavior. After conducting postdoctoral research at Columbia University, she came to the SBRB in 2005. Here, she built an immersive virtual reality-based experimental research lab, founded in 2006, which is now the central hub of the ISP.

Dr. Persky splits her effort between providing leadership for the ISP and conducting her programmatic research. Her substantive work investigates the function of new genomic knowledge about common, complex health conditions like obesity and diabetes in interactions between healthcare providers and patients and in public and online discourse. Dr. Persky has published extensively in the areas of health communication, genomics and virtual reality methods and has presented in venues such as the Smithsonian Institution and the National Academies of Sciences, Engineering and Medicine. She is a member of the World Economic Forum Global Future Council on Virtual and Augmented Reality.
Scientific Summary

Throughout her career, Dr. Susan Persky has examined the integration of technological advancements into society. She trained as a social psychologist at the Research Center for Virtual Environments and Behavior at the University of California, Santa Barbara. There, she honed her expertise in examining virtual reality (VR) as an object of inquiry and as a research tool. Her early work demonstrated the unique capabilities of VR for heightening the immersion and psychological influence of media. This work underscores the potential of immersive tools for the study of human behavior, for behavior change, and for therapeutic applications.

In 2005, Dr. Persky was recruited to the Social and Behavioral Research Branch to apply her methodological expertise to advance social and behavioral research on the translation of emerging genomic technologies for health benefit. Since then, she has split her effort between building a research program and leading the Immersive Simulation Program (ISP) and its VR-based research facility in the NIH Clinical Center.

As the head of the ISP, Dr. Persky provides scientific oversight for projects conducted in partnership with the program. She serves as a methodological expert and liaison and as a behavioral science expert and collaborator. She also leads efforts to refine and extend the methodological and measurement approaches supported by the program. She has conducted research on immersive VR techniques and affordances in health and medicine, and she has authored conceptual and review papers to push these areas forward. For example, she and her colleagues have developed and validated VR-based behavioral measurement approaches and have evaluated VR as a potential platform for future communication of complex genomics information.

Dr. Persky's substantive research program sits at the edge of multiple emerging technologies. Her work, conducted within the Health Communication and Behavior Unit, is based on the notion that it is essential to prepare for and optimally shape the diffusion of genomic information about common, complex health conditions into clinical and public contexts. However, rather than exacerbate disparities, genomic advancements should be shaped to benefit underserved and stigmatized populations. To this end, Dr. Persky focuses on three interrelated areas:

Developing strategies to maximize benefits and minimize risks associated with incorporating genomic information in health care encounters.
Investigating existing genomics communication through social and other media channels and evaluating potential ways to leverage media for conveying genomics information.
Evaluating the impact of genomic knowledge dissemination on stigmatization, bias, discrimination and related processes.


Dr. Persky's investigations of the clinical encounter employ immersive VR clinical simulations which allow use of randomized, experimental approaches even while the research setting retains elements of a realistic clinical encounter. This approach also affords crucial nonverbal behavior measurement opportunities. Dr. Persky's previous work has shown that providing information about genomic underpinnings of obesity risk can significantly reduce the extent to which medical students stereotype and avoid eye contact with a virtual patient with obesity. However, findings from this work also raise concerns that dissemination of genomic knowledge could undercut providers' efforts to engage patients in health-promoting behaviors. From the perspective of the patient, Dr. Persky's research has shown that patients are interested in engaging in genomics-informed weight management care. Her work has also demonstrated that provider-initiated communication of obesity-related genomic information tends to be variable with respect to its influence on the attitudes and beliefs that underlie patient health behavior, and discussing this information can reduce patients' perceptions that providers stigmatize them based on weight and thereby benefit patient-provider relationships. Response to learning complex genomic information about obesity, however, does not influence all patients in the same way. Dr. Persky and her colleagues have identified moderators of these effects such as patient emotional state and social differences between patients and providers (e.g., racial concordance). These factors are of particular importance when communicating about conditions that are stigmatized or that disproportionally affect minority populations.

Individuals increasingly learn about and discuss genomic advancements and associated health-relevant information outside of the clinical context in physical and digital communities. Dr. Persky's research has shown that individuals apply the genetic information they encounter through online social media to their own health beliefs and decisions. Furthermore, this line of work elucidates the influence of the broader genomics-related media and cultural environment on individuals' beliefs about weight, eating behavior, obesity, and diabetes. These processes can have important implications for psychological and physical well-being. Encounters with genomics information online and in daily life can also alter the understanding (or misunderstanding) that individuals bring to their self-identity as patients. Dr. Persky's work investigates the information environment (e.g., through message boards, Twitter, or mass media) that give rise to these beliefs. She also explores how beliefs about genetic causal factors in health conditions influence health identity, health behavior motivation, and multi-faceted experiences of stigma. For example, recent work found that the nature of genetic causal attributions made by individuals with diabetes varied in their fundamental meaning between individuals affected by type 1 versus type 2 diabetes. Genetic causal attributions were associated with less self-blame and stigma among those affected by type 2 diabetes, but with more blame and stigma among those with type 1 diabetes, both of which initiated a cascade of processes relating to health status and life satisfaction.

Dr. Persky's work underscores potential difficulties and benefits in communicating complex concepts related to processes like gene-environment interactions, polygenic risk, genomic influence on health-relevant behavior (e.g., eating), and epigenetics processes. At times, these messages can backfire, causing individuals to engage in defensive processing, or weakening their perceptions of efficacy and control. Other times, these messages can effect change or bolster well-being. For example, one line of work examines the influence of genomic obesity risk information presented to a parent about their child, and the conditions under which this information can lead to alterations in child feeding behavior. This work suggests that when communicating to parents about their child's risk factors, a gene-environment interaction approach may be particularly helpful. In addition to being more accurate than gene- or environment-only approaches, it highlights that risk is simultaneously shaped by both construable and uncontrollable factors.

Finally, Dr. Persky's work identifies opportunities for communication strategies identified as successful in her basic research to be translated to help shape the clinical and public discourse around genomics and health. She is designing communication approaches leveraging emerging media such as VR, social media, and other public health-relevant channels.
Publications

Persky S, Costable KA, Telaak S. Diabetes causal attributions: Pathways to stigma and health. Stigma and Health, 2021. [Full Text]

Martingano AJ, Persky S. Virtual reality expands the toolkit for conducting health psychology research. Social and Personality Psychology Compass, 2021, 10.1111/spc3.12606. [Full Text]

Persky S, Yaremych HE, Goldring MR, Ferrer RA, Rose, MK, Hollister BM. Investigating the efficacy of genetic, environmental, and multifactorial risk information when communicating obesity risk to parents of young children. Annals of Behavioral Medicine, 2020, 10.1093/abm/kaaa103. [PubMed]

Persky S, Yaremych HE. Parents' genetic attributions for children's eating behaviors: Relationships with beliefs, emotions, and food choice behavior. Appetite, 2020, 155, 104824. [PubMed]

Hagerman CJ, Ferrer RA, Klein WMP, Persky S. Association of parental guilt with harmful versus healthful eating and feeding from a virtual reality buffet. Health Psychology, 2020, 39, 199-208. [PubMed]

Hollister BM, Yaremych HE, Goldring MR, Persky S. Mothers' and fathers' cognitive and affective responses to epigenetics concepts. Environmental Epigenetics, 2019, 5, dvz021. [PubMed]

Agurs-Collins T, Persky S, Paskett E, Barkin S, Meissner H, Artega S, Nansel T, Zhang, X, Das R, Farhat T. Designing and Assessing Multilevel Interventions to Improve Minority Health and Reduce Health Disparities. American Journal of Public Health, 109:S86-S93. 2019. [PubMed]

Persky S, Kistler WD, Klein WMP, Ferrer RA. Internet versus virtual reality settings for genomics information provision. Cyberpsychology, Behavior, and Social Networking, 22, 7-14. 2019. [PubMed]

Persky S, Goldring MR, Turner SA, Cohen RW, Kistler WD. Validity of assessing child feeding with virtual reality. Appetite, 123, 201-207. 2018. [PubMed]

Persky S, Goldring MR, Cohen RW. Genomics-informed weight management in primary care: anticipated public interest. Personalized Medicine, 15, 271-278. 2018. [PubMed]

Bouhlal S, McBride CM, Trivedi NS, Agurs-Collins T, Persky S. Identifying eating behavior phenotypes and their correlates: A novel direction toward improving weight management interventions. Appetite, 111, 142-150. 2017. [PubMed]

Persky S, Bouhlal S, Goldring M, McBride CM. Beliefs about genetic influences on eating behaviors: Characteristics and associations with weight management confidence. Eating Behaviors, 26, 93-98. 2017. [PubMed]

Persky S, Ferrer RA, Klein WMP. Nonverbal and paraverbal behavior in (simulated) medical visits related to genomics and weight: A role for emotion and race. Journal of Behavioral Medicine, 39, 804-814. 2016. [PubMed]

Persky S, Ferrer RA, Klein WMP. Genomic information may inhibit weight-related behavior change inclinations among individuals in a fear state. Annals of Behavioral Medicine, 50, 452-459. 2016. [PubMed]

Beekman JA, Ferrer RA, Klein WMP, Persky S. Effects of perceived weight discrimination on willingness to adopt unhealthy behaviors: Influence of genomic information. Psychology & Health, 31, 334-348. 2016. [PubMed]

Persky, S., McBride CM, Faith MS, Wagner LK, Ward DS. Mothers' guilt responses to children's family history-based obesity risk feedback. Journal of Health Psychology, 20, 649-658. 2015. [PubMed]

McBride CM, Persky S, Wagner LK, Faith MS, Ward DS. Effects of a providing personalized feedback of child's obesity risk on mothers' food choices using a virtual reality buffet. International Journal of Obesity, 37:1307-1313. 2013. [PubMed]

Persky S, Kaphingst KA, Allen Jr VC, Senay I. Effects of patient-provider race concordance and smoking status on lung cancer risk perception accuracy among African Americans. Annals of Behavioral Medicine, 45:308-317. 2013. [PubMed]

Persky S, Sanderson SC, Koehly LM. Online discussions about genetics and body weight: Implications for health behavior and internet-based education. Journal of Health Communication, 18,:241-249. 2013. [PubMed]

Persky, S and Eccleston, CP. Impact of genetic causal information on medical students' clinical encounters with an obese virtual patient: Health promotion and social stigma. Annals of Behavioral Medicine, 41, 363-372. 2011. [PubMed]

Persky, S and Eccleston, CP. Medical student bias and care recommendations for an obese versus non-obese virtual patient.International Journal of Obesity, 35, 728-735. 2011. [PubMed]

Persky S. Employing immersive virtual environments for innovative experiments in health care communication. Patient Education and Counseling, 82:313-317. 2011. [PubMed]

Persky S. Application of virtual reality methods to obesity prevention and management research. Journal of Diabetes Science and Technology, 5:333-339. 2011. [PubMed]

Persky S, McBride CM. Immersive virtual environment technology: A promising tool for future social and behavioral genomics research and practice. Health Communication, 24(8):677-82. 2009. [PubMed]

Kaphingst KA, Persky S, McCall C, Lachance C, Loewenstein J, Beall AC, Blascovich J. Testing the effects of educational strategies on comprehension of a genomic concept using virtual reality technology. Patient Education and Counseling, 77(2), 224-230. 2009. [PubMed]

McCall C, Blascovich J, Young A, Persky S. Proxemic behaviors as predictors of aggression towards black (but not white) males in an immersive virtual environment. Social Influence, 4:138-154. 2009.

Persky S, Blascovich J. Immersive virtual video game play and presence: influences on aggressive feelings and behavior. Presence: Teleoperators and Virtual Environments, 17:57-72. 2008.

Persky S, Kaphingst KA, Condit CM, McBride CM. Assessing hypothetical scenario methodology in genetic susceptibility testing analog studies: a quantitative review. Genet Med, 9:272-738. 2007. [PubMed]

Persky S, Blascovich J. Immersive virtual environments versus traditional platforms: effects of violent and nonviolent video game play. Media Psychology, 10:135-156. 2007.
Staff
Health Communication and Behavior Unit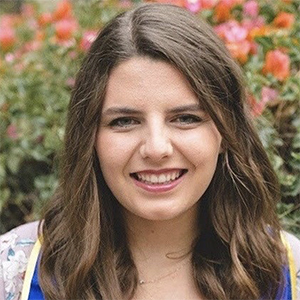 Emma Schopp
Pre-Doctoral IRTA
Genetic Counseling Training Program
Immersive Simulation Program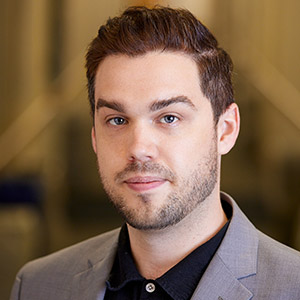 Christopher Fortney
Lab Manager
Immersive Simulation Program
Last updated: December 6, 2021