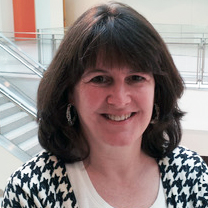 Deputy Director
Medical Genetics and Genomic Medicine Training Program
Education
A.A. Diablo Valley College
B.S. California State University
Ph.D. Virginia Commonwealth University
Biography

Suzanne Hart received her B.S. in biology from California State University, Hayward (now called East Bay University) in 1985. She earned her Ph.D. in Human Genetics from the Medical College of Virginia (now called Virginia Commonwealth University) in 1990. Her doctoral thesis was "Biochemical and Immunological Characterization of Serum Biotinidase in Normal and Biotinidase-deficient States." She is an ABMG board-certified clinical biochemical and medical geneticist. She completed her postdoctoral training with Larry Tabak, D.D.S., Ph.D., at the University of Rochester.

Her first faculty position was at Eastman Dental Center. Subsequently she joined Wake Forest University as an assistant professor, where she directed three of the diagnostic laboratories: Maternal Serum Screening, Biochemical Genetics and Molecular Genetics. While at Wake Forest, she established a multidisciplinary clinic for Prader-Willi syndrome. She then joined the faculty at the University of Pittsburgh as an associate professor where she was the director of the Genetics and Proteomics Core Facilities. She joined NHGRI in 2003.

She is currently the deputy director of the Medical Genetics and Genomic Medicine Fellowship Training Program. Dr. Hart is the coordinator or co-coordinator of four graduate level courses offered through the Foundation for Advanced Education in the Sciences office. She uses molecular and biochemical techniques to understand genetic diseases of the teeth, the oral cavity and the kidney.
Scientific Summary

Dr. Hart uses molecular and biochemical techniques to understand genetic diseases of the teeth, oral cavity and kidney.

Gum tissue is important in tooth development, with gum health contributing to overall well-being, appearance and the ability to eat and speak properly. Gum overgrowth can occur as an isolated inherited condition, as part of a genetic syndrome, or as a side effect of certain medications. Dr. Hart and colleagues discovered the only gene, SOS1, known to be involved in isolated hereditary gingival fibromatosis, a rare autosomal dominant form of gum overgrowth. She is also studying syndromic forms of gum overgrowth, such as Zimmerman-Laband syndrome and juvenile hyaline fibromatosis, as well as gum overgrowth attributed to various medications.

Dr. Hart also investigates disorders that affect the enamel or dentin inside teeth. Dr. Hart's group has discovered mutations in a number of genes (e.g., AMELX, ENAM, KLK4, MMP20, and DSPP). A large collection of samples compiled by her group since 1991 are routinely re-examined as new technologies become available, enabling the identification of additional genes involved in the development of tooth defects.

Dr. Hart's group identified the CTCS gene defect in Papillon-Lefevre syndrome, an autosomal recessive disorder characterized by keratosis of the palms and soles of the feet, as well as pronounced periodontal disease. Children with this condition suffer mouth inflammation and problems with their newly erupted teeth. Primary teeth are typically lost by age 4, with loss of permanent teeth by age 20.

Dr. Hart also studies medullary cystic kidney disease (MCKD), an inherited disorder associated with gradual loss of kidney function. Dr. Hart and colleagues identified MUC1 and UMOD as the causative genes in MCKD types 1 and 2, respectively. They have also identified REN mutations as the cause of one form of anemia and chronic kidney failure. Understanding the genetic causes of various forms of kidney disease may lead to new therapies.
Publications

Hart PS, Michalec MD, Seow WK, Hart TC, Wright JT. Identification of the enamelin (g.8344delG) mutation in a new kindred and presentation of a standardized ENAM nomenclature. Arch Oral Biol, 48:589-96. 2003. [PubMed]

Hart TC, Hart PS, Gorry MC, Michalec MD, Ryu OH, Uygur C, Ozdemir D, Firatli S, Aren G, Firatli E. Novel ENAM mutation responsible for autosomal recessive amelogenesis imperfecta and localised enamel defects. J Med Genet, 40:900-6. 2003. [PubMed]

Hart PS, Hart TC, Michalec MD, Ryu OH, Simmons D, Hong S, Wright JT . Mutation in kallikrein 4 causes autosomal recessive hypomaturation amelogenesis imperfecta. J Med Genet, 41:545-9. 2004. [PubMed]

Kim JW, Simmer JP, Hart TC, Hart PS, Ramaswami MD, Bartlett JD, Hu JCC. MMP-20 Mutation in Autosomal Recessive Pigmented Hypomaturation Amelogenesis Imperfecta. J Med Genet, 42:366-70. 2005. [PubMed]

Jang SI, Lee EJ, Hart PS, Ramaswami M, Pallos D, Hart TC. Germ Line Gain of Function with SOS1 Mutation in Hereditary Gingival Fibromatosis. J Biol Chem, 282(28):20245-55. 2007. [PubMed]

McKnight DA, Hart PS, Hart TC, Hartsfield JK, Wilson A, Wright JT, Fisher LW. A comprehensive analysis of normal variation and disease-causing mutations in the human DSPP gene. Hum Mutat, 29(12):1392-404. 2008. [PubMed]

McKnight DA, Simmer JP, Hart PS, Hart TC, Fisher LW. Overlapping DSPP mutations cause dentin dysplasia and dentinogenesis imperfecta. J Dent Res, 87:8-11, 2008. [PubMed]

Wright JT, Hart TC, Hart PS, Simmons D, Suggs C, Daley B, Simmer J, Hu J, Bartlett JD, Li Y, Yuan ZA, Seow WK, Gibson CW. Human and mouse enamel phenotypes resulting from mutation or altered expression of AMEL, ENAM, MMP20 and KLK4. Cells Tissues Organs, 189:224-9. 2009. [PubMed]

Hart PS, Becerik S, Cogulu D, Emingi G, Ozenen DO, Han ST, Sulima PP, Firatli E, Hart TC. Novel FAM83H mutations in Turkish families with autosomal dominant hypocalified amelogenesis imperfecta. ClinGenet, 75:401-4. 2009. [PubMed]

Becerik S, Cogulu D, Emingi G, Hart PS, Hart TC. Exclusion of candidate genes in seven Turkish families with autosomal recessive amelogenesis imperfecta. Am J Med Genet, 149A:1392-8. 2009. [PubMed]

Wright JT, Simmons D, Frazier-Bowers S, Hart PS, Hart TC. Phenotypic variation of autosomal dominant hypocalcified amelogenesis imperfecta associated with different FAM83H mutations. J Dent Res, 88:356-60. 2009. [PubMed]

Hart TC, Hart PS. Genetic studies of craniofacial anomalies: clinical implications and applications. Orthod Craniofac Res, 12:212-20. 2009. [PubMed]

Zivná M, H?lková H, Matignon M, Hodanová K, Vylet'al P, Kalbácová M, Baresová V, Sikora J, Blazková H, Zivný J, Ivánek R, Stránecký V, Sovová J, Claes K, Lerut E, Fryns JP, Hart PS, Hart TC, Adams JN, Pawtowski A, Clemessy M, Gasc JM, Gübler MC, Antignac C, Elleder M, Kapp K, Grimbert P, Bleyer AJ, Kmoch S. Dominant renin gene mutations associated with early-onset hyperuricemia, anemia, and chronic kidney failure. Am J Hum Genet, 85:204-13, 2009. [PubMed]

Schäffer P, Gombos E, Meichelbeck K, Kiss A, Hart PS, Bleyer AJ. Childhood course of renal insufficiency in a family with a uromodulin gene mutation. Pediatr Nephrol, 25(7):1355-60. 2010. [PubMed]

Pallos D, Acevedo AC, Mestrinho HD, Cordeiro I, Hart PS, Hart TC. Novel CTSC mutation in a Brazilian family with Papillon-Lefevre Syndrome: case report and mutation update. J Dentistry for Children, 77(1):36-41. 2010. [PubMed]

Jaureguiberry G, De la Dure-Molla M, Parry D, Quentric M, Himmerkus N, Koike T, Poulter J, et al. Nephrocalcinosis (enamel renal syndrome) caused by autosomal recessive FAM20A mutations. Nephron Physiol, 122(1-2):1-6. 2012. [PubMed]

Kirby A, Gnirke A, Jaffe DB, Barešová V, Pochet N, Blumenstiel B, Ye C, et al. Mutations causing medullary cystic kidney disease type 1 lie in a large VNTR in MUC1 missed by massively parallel sequencing. Nat Genet, 45(3):299-303. 2013. [PubMed]


Bleyer AJ, Kmoch S, Antignac C, Robins V, Kidd K, Kelsoe JR, Hladik G , et al. Variable clinical presentation of an MUC1 mutation causing medullary cystic kidney disease type 1. Clin J Am Soc Nephrol, 9(3):527-35. 2014. [PubMed]
Last updated: March 15, 2022