2012 News Feature Nhgri To Host Symposium On Model Organism Encyclopedia Of Dna Elements Project
NHGRI to host symposium on model organism Encyclopedia of DNA Elements project
By Jeannine Mjoseth
Deputy Communications Chief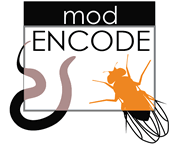 As the model organism Encyclopedia of DNA Elements (modENCODE) project draws to completion this year, the National Human Genome Research Institute (NHGRI) is hosting a special symposium to celebrate the project's accomplishments. Genomics of model organisms and human biology: Insights from the modENCODE Project, will be held on June 20-21, 2012 at NIH's Natcher Auditorium. The goal of modENCODE was to create a comprehensive catalog of functional elements in the Drosophila melanogaster (fruit fly) and Caenorhabditis elegans (worm) genomes and to ensure those data are freely available to the biomedical research community at www.modencode.org.
At the symposium, modENCODE consortium members will showcase modENCODE findings and highlight the power of model organisms to enhance our understanding of:
The biology of these organisms
Fundamental biological processes such as the regulation of gene expression
Human health and disease
Confirmed Speakers
Jason Lieb (University of North Carolina at Chapel Hill)
To watch the symposium online, visit: http://videocast.nih.gov/launch.asp?17323.
The event will take place at the Ruth L. Kirschstein Auditorium in the Natcher Conference Center (Building 45), located on the main campus of the National Institutes of Health (9000 Rockville Pike, Bethesda, MD 20892), from 1 p.m. to 6 p.m. on Wednesday, June 20 and from 8:30 a.m. to 12:30 p.m. on Thursday, June 21.
For questions, please contact Kurd Ali.
This symposium is being held in conjunction with the Model Organisms to Human Biology (MOHB): Cancer Genetics Conference, sponsored by the Genetics Society of America, which is being held in Washington, D.C. on June 17-20, 2012. The MOHB: Cancer Genetics meeting will bring together basic scientists studying cancer relevant biology in model organisms with investigators studying human cancer For more information about the MOHB: Cancer Genetics meeting see: www.mohb.org/2012.
Please follow ENCODE and modENCODE news on Twitter [twitter.com] and "like" us on Facebook [facebook.com].
Last Updated: May 2, 2016
Last updated: May 02, 2016