American Society of Human Genetics' Meeting Showcases NHGRI Research
American Society of Human Genetics' Meeting Showcases NHGRI Research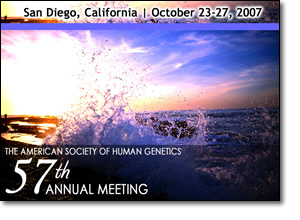 Investigators from the National Human Genome Research Institute (NHGRI) will figure prominently at the 57th annual meeting of the American Society of Human Genetics (ASHG) taking place Oct. 23-27, 2007 in San Diego.
ASHG is the primary professional membership organization for human geneticists in the Americas, representing more than 8,000 researchers, clinicians, genetic counselors and nurses. This year's meeting will include 286 platform presentations, 2,228 posters, 14 invited speakers and other special symposia.
The NHGRI Division of Intramural Research will be represented at the meeting in diverse presentations by researchers from each of its seven branches. Additional NHGRI presenters from the Office of the Director also will be on hand. More than 30 NHGRI researchers are first authors of research being presented, with an additional 35 first authors from other institutes at the National Institutes of Health (NIH).
"The ASHG annual meeting has consistently been an outstanding venue for NHGRI intramural researchers to present their latest genetics and genomic studies to highly receptive colleagues," said NHGRI Scientific Director Eric Green, M.D., Ph.D.
NHGRI Director Francis S. Collins, M.D., Ph.D., will moderate the education session, "Genome-Wide Association Studies in the Era of Open Data Access and Collaboration," at 8 a.m., Wednesday, Oct. 24. He also will participate in a press briefing, "Successful Treatment of Genetic Disorders," with NHGRI Clinical Director William A. Gahl, M.D., Ph.D., and Howard Hughes Medical Institute/NIH Research Scholar Brian Capell at 4 p.m., Friday, Oct. 26. The NHGRI researchers will discuss several promising new treatments for genetic disorders being tested in mouse models of human genetic disease or in human volunteers.
Dr. Collins and Capell will report on an experimental therapy that prevents cardiovascular disease in a mouse model of Hutchinson-Gilford progeria syndrome (HGPS). HGPS is a dramatic form of premature aging that, in humans, usually results in death from heart attack or stroke around age 13. In their studies, the NHGRI researchers found administration of tipifarnib, a farnesyltransferase inhibitor already being tested as a cancer drug in humans, prevented cardiovascular symptoms in mice that were genetically engineered to harbor the HGPS mutation.
Dr. Gahl will discuss his research into a rare genetic kidney disorder, called nephropathic cystinosis, that affects lysosomal storage. The drug cysteamine, or Cystagon, is approved by the Federal Drug Administration for cystinosis patients awaiting kidney transplants, and long-term use has been shown to reduced morbidity and mortality. Based on the drug's success and recent research findings, Dr. Gahl's team recommends that all cystinosis patients receive oral cysteamine therapy. In addition, Dr. Gahl and his colleagues want to strengthen efforts to diagnose and treat cystinosis as early in life as possible, suggesting screening of newborn infants as one possible tool.
Additional NHGRI highlights from the ASHG annual meeting include:
Barbara Biesecker, associate investigator in the Social and Behavioral Research Branch, will present "Lessons Learned from Hurricane Katrina: Policy Needs," at 9 a.m., Wednesday, October 24.
 
Emily L. Harris, Ph.D., M.P.H., an epidemiologist in the NHGRI Office of Population Genomics, will moderate an education session on "Study Design Issues in Population-based Genetics and Genomics Research," from 10-11:30 a.m. Wednesday, Oct. 24.
 
The Genome Technology Branch will be represented in a plenary presentation on "Comparative Sequence Analysis of Primate Subtelomeres," at 1:30 p.m., Wednesday, Oct. 24.
 
Two young researchers affiliated with NHGRI's Medical Genetics Branch - Mahim Jain, a pre-doctoral fellow, and Daniel Urban, formerly a post-baccalaureate trainee - have been chosen as presentation finalists to compete against 17 other researchers for ASHG Training Awards. Jain will present a plenary presentation at 1:50 p.m., Wednesday, Oct. 24; Urban will present a poster during the 4:30 - 6:30 p.m. poster session, also on Wednesday, Oct. 24. An awards program will be held at 2 p.m., Saturday, Oct. 27.
 
Elaine A. Ostrander, Ph.D., senior investigator and chief of the Cancer Genetics Branch will deliver an invited presentation titled, "Mapping Complex Traits of Concern for Humans in Dogs," at an 11:30 a.m. session on Thursday, Oct. 25. Her branch also will participate in the poster sessions on Evolution and Population Genetics and Cancer Genetics.
 
The Genetics and Molecular Biology Branch contributed to research that will be presented in a platform talk in the "Regulatory Element Discovery and Function Session," at 8 a.m., Saturday, Oct. 27.
 
The Office of the Director's Education and Community Involvement Branch will present a poster on "Methods of Educating the Next Generation in Genetics and Genomics Science."
 
Posters from the Genetic Disease Research Branch posters will include those describing recent developments in the understanding of Proteus syndrome and other rare conditions.
 
The Inherited Disease Research Branch will present posters representing six projects that focus on inherited diseases, including prostate cancer, endometriosis and scoliosis.
 
Members of the Medical Genetics Branch will deliver platform talks and poster presentations on advances in studying several rare diseases, including Hermansky-Pudlak syndrome and hereditary inclusion body myopathy.
 
NHGRI Abstracts

for the NHGRI research being presented at the ASHG annual meeting.
To view this PDF you will need Adobe Acrobat Reader.

Last Reviewed: February 26, 2012
Last updated: February 26, 2012