Up, Up and Away! - NHGRI Postdocs Receive Two-Stage Pathway to Independence Awards
Up, Up and Away!
NHGRI Postdocs Receive Two-Stage Pathway to Independence Awards
Three National Human Genome Research Institute (NHGRI) postdoctoral fellows — Anthony Antonellis, Ph.D.; Santhi Ganesh, M.D.; and Kan Cao, Ph.D. — are among the first wave of about 170 awardees of the new National Institutes of Health (NIH) Pathway to Independence (PI) Award program. NIH created the new program to advance the research careers of selected young investigators as they embark on academic research careers.
"We are all celebrating their achievements. Not only do these awards recognize the extraordinary promise of each of these postdoctoral fellows, but they also reflect positively on the quality of the training they have received within the NHGRI intramural program," said NHGRI Scientific Director Eric Green, M.D., Ph.D.
The PI Award represents a prestigious recognition of the career potential for each recipient. Also referred to as the K99/R00 program, the award packages two, uninterrupted phases of support over five years so that the awardee can achieve a strong foundation for building their own independent research program. Over 1,000 applicants per year have applied for this program from institutions around the country since it began in 2006. NIH plans to issue between 150 and 200 awards per year.
The initial two-year component of the award — the Scholar Development Phase (or K99) — provides support for supervised research work. A subsequent award period — the Faculty Transition Phase (or R00) — lasts up to three years and provides support for the grantee as an independent tenure-track or equivalent researcher. During the R00 phase of support, grantees establish research independence, publish their results and are expected to prepare an application for grant support for an NIH Research Project (R01) .
For each PI awardee, the program facilitates the transition from mentored postdoctoral research status to a stable, independent research position, hopefully earlier than is currently the norm. The program also aims to help NIH increase and maintain a strong cohort of biomedical investigators.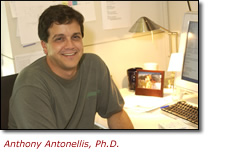 Dr. Antonellis, a postdoctoral fellow in the Physical Mapping Section of the Genome Technology Branch, will apply his PI Award for pursuing "Genetic and Genomic Approaches for Studying Inherited Peripheral Neuropathies." He completed a bachelor's degree at the University of Massachusetts, Amherst, Mass., and earned a Ph.D. from the George Washington University and National Institutes of Health Joint Program in Genetics. His is currently being co-mentored by Dr. Green and William J. Pavan, Ph.D., senior investigator in the Genetic Disease Research Branch.
The major focus of Dr. Antonellis's research is to identify and characterize genetic variants responsible for the two major subtypes of peripheral nerve disorders. One disorder subtype is caused by defects of the nerve axons that carry electric pulses and signal external environmental stimuli. The other disorder subtype is an impairment of Schwann cells that are associated with maintenance of the myelin protective sheaths around axons.
Peripheral neuropathies, which impair motor function and cause sensory loss in the extremities, impact 2.4 percent of the general population but are difficult to diagnose and treat. Dr. Antonellis plans to study the role played by the essential enzymes aminoacyl-tRNA synthetases (ARSs) in normal neuronal function and neurodegenerative disease.
Dr. Antonellis also is interested in identifying genetic variants involved in inherited demyelinating peripheral neuropathies. Some of these variants reside within binding sites and their associated genes for the SRY-box containing 10 (SOX10) transcription factor. SOX10 has a critical role in the development and function of neural crest derivatives, including Schwann cells, melanocytes and enteric neurons.
"Accomplishing the objectives detailed in my research plan will yield a better understanding of the role of ARSs in neurodegenerative disease, a more complete repertoire of genes regulated by SOX10 in Schwann cells, and additional candidate genes underlying inherited peripheral neuropathies," Dr. Antonellis said. "These studies are likely to be broadly important for understanding the developmental and functional complexities of the peripheral nervous system."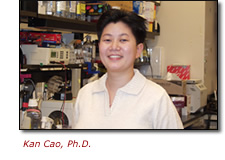 Dr. Cao is being mentored by NHGRI Director Francis Collins, M.D., Ph.D. in the Molecular Genetics Section of the Genome Technology Branch. She is engaged in the study of Hutchinson-Gilford progeria syndrome (HGPS), a rare genetic disorder characterized by dramatic premature aging. She received a B.S. degree from Nanjing University, China, in 1997, and a. Ph.D. from Johns Hopkins University in Baltimore in 2005.
"The work we are doing on the cellular mechanisms of progeria is important for the ongoing clinical treatments of this premature aging disease," Dr. Cao said. "Our data suggests that specific genes and pathways are affected in progeria and we hope this information will lead to novel therapies for progeria and advance our knowledge of the normal aging process." The title of Dr. Cao's PI Award is "Cellular Mechanisms in Hutchinson-Gilford Progeria Syndrome and Normal Aging."
Dr. Cao's long-term research objective is to uncover the cellular mechanisms underlying HGPS and normal aging. Classic HGPS is caused by a de novo point mutation in the LMNA gene, resulting in a mutant version of a lamin A protein called progerin. Her research goal is to functionally characterize progerin during mitosis and analyze the potential mitotic defects caused by progerin accumulation. She will also investigate the role of progerin in the normal aging process.
Dr. Cao is collecting data from high-resolution, genome-wide maps of the alterations of chromatin structure and gene expression in HGPS cells using chromatin immunoprecipitation, DNA microarray technology and expression microarrays. She anticipates that high-resolution maps of alterations in epigenetic modifications and gene expression in these cells will provide a framework for understanding important genes and pathways involved in HGPS and normal aging. Such information may also prove valuable in developing therapeutic strategies for HGPS.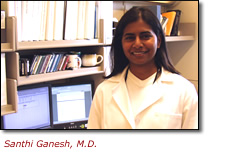 Dr. Ganesh received a bachelor's degree from Northwestern University in Evanston, Ill., and her medical degree from the Feinberg School of Medicine at Northwestern University in Chicago. She trained in internal medicine at the University of Michigan in Ann Arbor, and then was a cardiology fellow at the Johns Hopkins University School of Medicine and the National Heart, Lung and Blood Institute (NHLBI). She is currently a postdoctoral fellow at NHGRI and an assistant clinical investigator at NHLBI.
Dr. Ganesh studies the genetics of complex cardiovascular diseases under the mentorship of NHLBI Director and NHGRI Senior Investigator Elizabeth Nabel, M.D. The title of her PI Award is "Genetics of Vascular Remodeling." Her research plan includes exploring why individual patients respond differently to vascular injury by analyzing genetic variants and RNA expression data in human subjects.
"The research we are doing on restenosis is important for understanding how to better treat patients affected with this disease," Dr. Ganesh said. "We also hope that by studying the genetic basis for differences in how individuals respond to treatments like stenting, we can gain some insights into why vascular remodeling occurs differently in some patients. This may be important for understanding other vascular diseases, such as atherosclerosis."
In addition to the above three PI Awards thus far granted to NHGRI intramural trainees this year, the NHGRI Division of Extramural Research will fund an additional four PI Awards to trainees at institutions around the country. The recipients are Yun Song, Ph.D., University of California, Davis, studying "Novel Methods for Characterizing Recombination and Selection;" Charles Schroeder, Ph.D., Harvard University, studying "Single Molecule Technology for Genome-Wide Association Studies;" Holly Tabor, Ph.D., Stanford University, studying "Ethical and Social Issues in the Study of Genetics of Complex Traits;" and Zhirong Bao, Ph.D., University of Washington, studying "Automated Single-Cell Gene Expression and Phenotype Analysis in C. elegans."
NIH has committed approximately $390 million to the PI Award program over the next five years. Upcoming application submission dates for NIH PI Awards are February 12, June 12 and October 12, 2008.
Last updated: April 28, 2011