The 2011-2012 Genomics in Medicine Lecture Series
The 2011-2012 Genomics in Medicine Lecture Series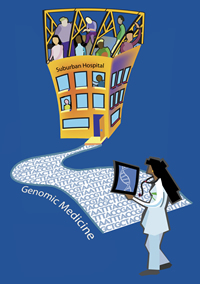 The inaugural Genomics in Medicine Lecture Series was sponsored by NHGRI, in collaboration with Suburban Hospital and Johns Hopkins. Each lecture was held at Suburban Hospital's lower level auditorium at 8600 Old Georgetown Road in Bethesda, Md. The hour-long lectures began at 8 a.m. on the first Friday of the month, from December 2011 through June 2012.
The lectures were recorded and posted on GenomeTV and on NHGRI's YouTube channel.
Advanced registration was not required; however, those requesting continuing medical education (CME) credits were asked to sign in.
For more information about the Genomics in Medicine lecture series, please contact Michelle Christ at the Suburban Hospital, mchrist@suburbanhospital.org, or Alice Bailey at NHGRI, baileyali@mail.nih.gov.
 
---
2011-2012 Lectures
July 13, 2012
The heart of the matter: genomics and cardiovascular disease
Les Biesecker, M.D., Genetic Disease Research Branch, NHGRI

View the Lecture Video | View Slides

Cardiovascular disease (CVD) is a common cause of morbidity and mortality. While we understand many components of this risk, the ability to provide individualized treatment that maximizes efficacy and minimizes side effects is an elusive goal. Because CVD has high heritability, genomic diagnostic approaches can provide the basis for this by dissecting out the genetically distinct components of this risk.
Learning objectives:
Describe the wide variety of gene variants that predispose to CVD.
Show how clinicians can use current genetic testing to customize therapy and better. take care of patients and their families.
Give examples of specific types of CVD that warrant referral for genetic evaluation.
---
June 1, 2012
Genomics in maternal child health
Barbara Biesecker, Ph.D., Social and Behavioral Research Branch, NHGRI

View the Lecture Video | View Slides

Diagnostic prenatal testing was one of the first promises of genetics. Recent advances have introduced a plethora of genomic technologies offered prior to pregnancy, during pregnancy and in the newborn period. These new applications present bioethical, practical and financial challenges. This talk will explore their implications for individuals, couples, families and communities.
Learning objectives:
To review the historical use of preconception, prenatal and newborn genetic screening and testing.
To explore contemporary use of newer technologies in reproductive care.
To deliberate the bio-ethical, practical and financial challenges of implementation.
To consider the impact of these new genomic technologies on the individual, couple, family or community that may use them.
---
May 4, 2012
Rational therapeutics for genetic conditions
Hal Dietz, M.D., Johns Hopkins University School of Medicine

View the Lecture Video | View Slides

The field of human genetics is undergoing a rapid and exciting transition from a largely diagnostic to a therapeutic discipline. Historically, the treatment of genetic disorders has focused on nutritional limitations of a substrate, the purging of a toxic metabolite or compensatory expression of a protein whose deficiency causes disease through gene delivery. More recent therapeutic strategies build upon a precise understanding of the pathogenesis of disease and often exploit basic science discoveries regarding fundamental cellular processes. Examples will be provided that illustrate the strengths and limitations of each approach.
Learning objectives:
Illustrate an emerging paradigm for the development of rational therapeutic strategies for genetic disorders.
Provide specific examples that demonstrate both the potential and inherent limitations of each approach.
Reinforce the concept that the study of rare but tractable Mendelian disorders will result in the development of novel treatments with broad application.
---
April 13, 2012
The Shape of Things: Genetics of Complex Traits in Dogs
Elaine Ostrander, Ph.D., Cancer Genetics Branch, NHGRI
Dr. Elaine Ostrander, chief and senior investigator in NHGRI's Cancer Genetics Branch, studies genes important in growth regulation, particularly as it pertains to disease states in humans and canines. She will explain how her group aims to find genes that control the morphologic body plan of the domestic dog - which shows an extraordinary level of variation between breeds - and seeks to identify disease susceptibility genes in dogs. Her group works on the identification of genes that relate to susceptibility to, progression of, and specific outcomes in, individuals with breast and prostate cancer.
---
March 2, 2012
What's bugging you? The intersection of genomics and infectious disease
Jonathan Zenilman, M.D., Chief, Infectious Diseases Division, Johns Hopkins University, Bayview Medical Center

View the Lecture Video | View Slides

Genomics has revolutionized the tools used by clinicians to detect and treat infectious diseases. By sequencing the human microbiome, researchers have identified scores of previously unidentified species, which coexist with their human host, and exploration has begun to understand how disease states alter the host microbial flora. Genomic-based diagnostic testing is more rapid and accurate than traditional cultures, and dramatically changed the clinician and public health approach to sexually transmitted and hospital-acquired infections. Diseases like HIV and hepatitis C are managed using direct measures of viral burden, determined by genomics. Finally, microbial genomics has had a key role in understanding and responding to increased antibiotic resistance.
Learning objectives:
Describe the human microbiome and its role in human health and disease.
Review the role of genomics based diagnostic testing in detecting infections.
Describe the impact of microbial and viral genomics in managing HIV, hepatitis C and other infections.
Review case studies of the role of genomics in epidemic investigations and understanding new pathogens.
---
Feb. 3, 2012
An introduction to genomics: breast cancer diagnosis and treatment
Stanley Lipkowitz, M.D., Ph.D., Laboratory of Cellular and Molecular Biology, National Cancer Institute

View the Lecture Video | View Slides

An introduction to genomics: breast cancer diagnosis and treatment will introduce the genomic characterization of breast cancer as currently used in the clinic to define breast cancer subtypes, stratify risk and determine treatment. It will also discuss how these are likely to impact the future management of breast cancer.
Learning objectives:
Understand the types of genomic tests currently in use or being developed for characterization of breast cancer.
Understand how these tests can be used to characterize breast cancer.
Understand how these tests can be used to stratify risk and determine treatment.
---
Jan. 6, 2012
An introduction to genomics: breast cancer genes, risk assessment and screening
Lawrence Brody, Ph.D., Genome Technology Branch, NHGRI

View the Lecture Video | View Slides

While several factors can influence a woman's risk of breast cancer, the makeup of her genes is the strongest determinant. Rare variants in a small number of breast cancer genes can be associated with a strong family history of breast cancer. A larger number of genes contain common variants that contribute to breast cancer risk in the general population. This lecture will cover how genetics and genomics are used to identify genes associated with breast cancer risk. The current landscape of breast cancer genetics will be described and linked to gene-driven advances in clinical care.
Learning objectives:
Understand the genetic contribution to breast cancer risk.
Describe how knowledge of breast cancer genes has influenced breast cancer screening and treatment.
Be able to distinguish between the genetics of tumors and inherited variants.
---
Dec. 2, 2011
The human genome and individualized medicine
David Valle, M.D., Johns Hopkins University School of Medicine

View the Lecture Video | View Slides

The Human Genome Project, completed in 2003, and subsequent projects aimed at identifying common human genetic variation, such as the ongoing 1000 Genomes Project, have provided great insights into the genetic makeup of humans. Studies are now underway to determine the contribution of genetic variation to human health and disease and the utility of this information for clinical practice. In his talk, Dr. Valle will summarize the current knowledge of the genome as it relates to human biology and discuss the challenges and opportunities afforded by individualized medicine.
Learning objectives:
Review features of the human genome.
Describe variations in human genome sequences and how they might play a role in medical practice.
Review the challenges and benefits of individualizing care for our patients.
To view the PDF document(s) on this page, you will need Adobe Reader.

Last Updated: February 5, 2015
Last updated: February 05, 2015