What happens after my protocol is accepted?
How do I send my data to the SGFS?
When an SGFS staff member notifies you of your acceptance to the SGFS, you will also receive an SGFS Data Submission Form with the top part completed. Prior to submitting a batch of data, please complete and initial the bottom part of this form and send it back to the SGFS staff member. We ask both the PI and data submitter to initial this form to ensure everyone is on the same page about what data is actually being sent over. This exchange will happen prior to data transmission with each batch.
After a completed data submission form has been received, please use NIH Secure Email to send the VCF file to Henoke Shiferaw. If your data submitter is a non-NIH collaborator, please email Henoke to ask for a Globus endpoint. Globus is available to any investigator sending files to NIH (No license required).
How do I know the preliminary results?
After the SGFS has received your data in the form of a .vcf file, we will commence annotation. Each project can vary greatly but typically annotation can take roughly 3-6 months. Upon completion of annotation of all samples in the batch, an SGFS staff member will send the PI a detailed report explaining the process and results of annotation. This report will indicate which samples had a preliminary pathogenic or likely pathogenic secondary finding.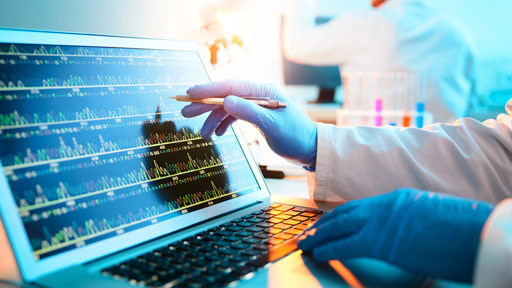 How does the SGFS confirm preliminary results?
If a pathogenic or likely pathogenic (P/LP) variant is identified in one of the ACMG 59 genes, we will confirm this result by Sanger sequencing. In order to accomplish this, we need a new DNA sample from these participants and an order in CRIS for confirmation testing.
Ordering a new DNA sample
We will ask a member of your team to re-identify the coded sample(s) that had a P/LP variant and provide the SGFS team with the name, contact information, and a little bit of background information for each of these participants. An SGFS staff member will reach out to these participants to state that there is a potential genetic finding that your team would like to learn more about and that this will require submission of a new sample. They will FedEx the participant a DNA saliva kit with instructions for saliva collection and return shipping material.
Alternatively, your team is welcome to contact your participants and collect and submit these new DNA samples.
Although saliva is strongly preferred as the source of a new DNA sample, in rare instances a blood sample or previously isolated DNA can be accepted. Direct submission of previously isolated DNA can only be accepted for confirmation of secondary findings if:
There is documentation that the new sample and the original sample were collected at different times (i.e. independently of one another).
The new sample was processed in a CLIA certified lab.
Blood will only be accepted if the participant cannot physically spit into the saliva collection tube.
Ordering a confirmation test in CRIS
An ordering clinician from your team should use one of the following two CRIS orders to request confirmation testing in CRIS from a second DNA sample (see screenshot below as well):
"Exome-Confirmation, Saliva, NHGRI"
"Exome-Confirmation, Blood, NHGRI"

A printout of this order must accompany sample submissions for confirmation testing. If the SGFS is coordinating obtaining a new sample, they can print this order out as long as a member from your team places the order.
How does the SGFS return results to my participants?
The SGFS genetic counselor (Julie Sapp) will inform the research participant of the result and provide genetic counseling. A brief outline of the results return counseling session includes:
Disclosure of result
Communication of recommendations for healthcare
Family history and risk assessment
Psychosocial assessment
Referral to appropriate provider near the patient's home
A genetic counseling letter and the result will be sent to the patient and a genetics consult will be entered into CRIS
The return of results will generally be done via telephone. If the research team prefers that these visits take place in person at the NIHCC, the research team is responsible for arranging and/or supporting the travel of the participant to the NIHCC at a time that is coordinated with the SGFS.
If the secondary finding is refuted by the confirmatory analysis, then a CLIA report will be issued that explains that the research data showed a variant that was not confirmed by clinical testing (e.g., was a false alarm) and the SGFS genetic counselor will communicate this to the participant.