Phenotypes and Exposures (PhenX) Toolkit
The PhenX Toolkit is a freely available, web-based catalog of standard protocols for collecting data in biomedical and epidemiologic research.
Overview

Funded by the National Human Genome Research Institute (NHGRI), the PhenX Toolkit currently includes more than 500 measures from 24 research domains, with additional depth (measures) for substance abuse and addiction, mental health, tobacco regulatory, and sickle cell disease research. For each measure, the toolkit provides detailed instructions (e.g., required training and equipment); features (e.g., Spanish language versions); and bioinformatics support (e.g., data dictionaries, REDCap compatible modules) to facilitate implementation of the measures and data analysis downstream.

Studies that use PhenX (consensus measures for Phenotypes and eXposures) measures benefit from the ability to perform cross-study analyses to increase statistical power and to replicate results. The use of PhenX measures facilitates collaboration and data sharing, thus increasing the impact of individual studies.

The PhenX Toolkit is widely used, with more than 2,500 registered users worldwide and an average of 755 visitors per day. PhenX measures have been recommended in more than 200 NIH funding opportunity announcements.
Project Structure

The Steering Committee is the governing body for the PhenX program and includes the PhenX Principal Investigator (Carol Hamilton, Ph.D., RTI International), the NIH project scientist, and members of the extramural community with expertise in genomics, epidemiology and biostatistics. The Steering Committee Chairs are Mary Marazita, University of Pittsburgh (Co-chair), and Catherine McCarty, Essentia Institute of Rural Health (Co-chair).

The NIH IC Liaisons are scientists from the various NIH Institute and Centers (IC) that participate in shaping PhenX by providing content-specific input and overall guidance for the program.

PhenX Working Groups were assembled for each PhenX Domain (e.g., Demographics, Neurology, Social Environments) to select and prioritize the measures included in the PhenX Toolkit. Members of the Working Groups have expertise in phenotyping, epidemiology, and genomics.
Program Staff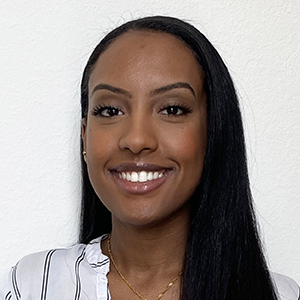 Weini Ogbagiorgis, B.S.
Scientific Program Analyst
Office of the Director/Division of Genomic Medicine
Last updated: September 17, 2023