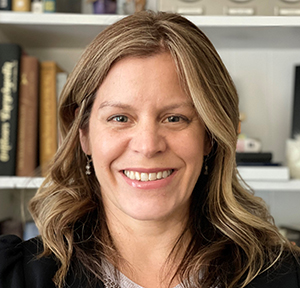 Erin M. Ramos, Ph.D., M.P.H.
Deputy Director
Division of Genomic Medicine
Education
M.P.H. University of Washington, 2001
Ph.D. University of Washington, 2006
Biography

Dr. Erin Ramos is the Deputy Director of the Division of Genomic Medicine at the National Human Genome Research Institute (NHGRI). She joined NHGRI in 2006 and is committed to advancing the application of genomics to medical science and clinical care. Dr. Ramos received her M.P.H. and Ph.D. in the multidisciplinary field of public health genetics from the University of Washington where her research focused on the genetic epidemiology of Alzheimer's disease and the ethical, legal, and social implications (ELSI) that surround genomics research. Dr. Ramos is a Project Scientist for Clinical Genome Resource (ClinGen), a consortium of nearly 2,000 clinicians and scientists from 40 countries who are building a central resource that classifies the clinical relevance of genes and variants for use in precision medicine and research.

Dr. Ramos contributes to data sharing (GDS) activities across the NIH. She is a co-Chair of NHGRI's GDS Governance Committee, chaired the Data Access Committee (DAC) for the Genetic Association Information to provide access to some of the first genome-wide association studies in dbGaP, and currently serves on the National COVID Cohort Collaborative DAC. Her research interests include incorporating genomic findings into clinical care and improving methods for complex disease research including genome-wide association studies, gene-environment interactions, genomic risk assessment and the application of multi-omics technologies for health and disease.
Publications

Azzariti DR, Riggs ER, Niehaus A, Rodriguez LL, Ramos EM, Kattman B, Landrum MJ, Martin CL, Rehm HL. Points to consider for sharing variant-level information from clinical genetic testing with ClinVar. Cold Spring Harb Mol Case Stud. Genet Med. 2018 Feb 1;4(1). [PubMed]

Riggs ER, Azzariti DR, Niehaus A, Goehringer SR, Ramos EM, Rodriguez LL, Knoppers B, Rehm HL, Martin CL; Clinical Genome Resource Education Working Group. Development of a consent resource for genomic data sharing in the clinical setting. Genet Med. 2018 Jun 13. [PubMed]

Strande NT, Riggs ER, Buchanan AH, Ceyhan-Birsoy O, DiStefano M, Dwight SS, Goldstein J, Ghosh R, Seifert BA, Sneddon TP, Wright MW, Milko LV, Cherry JM, Giovanni MA, Murray MF, O'Daniel JM, Ramos EM, Santani AB, Scott AF, Plon SE, Rehm HL, Martin CL, Berg JS. Evaluating the Clinical Validity of Gene-Disease Associations: An Evidence-Based Framework Developed by the Clinical Genome Resource. Am J Hum Genet, 100(6):895-906. 2017. [PubMed]

Manolio TA, Fowler DM, Starita LM, Haendel MA, MacArthur DG, Biesecker LG, Worthey E, Chisholm RL, Green ED, Jacob HJ, McLeod HL, Roden D, Rodriguez LL, Williams MS, Cooper GM, Cox NJ, Herman GE, Kingsmore S, Lo C, Lutz C, MacRae CA, Nussbaum RL, Ordovas JM, Ramos EM, Robinson PN, Rubinstein WS, Seidman C, Stranger BE, Wang H, Westerfield M, Bult C. Bedside Back to Bench: Building Bridges between Basic and Clinical Genomic Research. Cell, 169(1):6-12. 2017. [PubMed]

Wong KM, Langlais K, Tobias GS, Fletcher-Hoppe C, Krasnewich D, Leeds HS, Rodriguez LL, Godynskiy G, Schneider VA, Ramos EM, Sherry ST. The dbGaP data browser: a new tool for browsing dbGaP controlled-access genomic data. Nucleic Acids Res, 45(D1): D819-D826. 2017. [PubMed]

Paltoo DN, Rodriguez LL, Feolo M, Gillanders E, Ramos EM, Rutter JL, Sherry S, Wang VO, Bailey A, Baker R, Caulder M, Harris EL, Langlais K, Leeds H, Luetkemeier E, Paine T, Roomian T, Tryka K, Patterson A, Green ED; National Institutes of Health Genomic Data Sharing Governance Committees. Data use under the NIH GWAS data sharing policy and future directions. Nat Genet, 46(9):934-8. 2014. [PubMed]

Ramos EM, Din-Lovinescu C, Berg JS, Brooks LD, Duncanson A, Dunn M, Good P, Hubbard TJ, Jarvik GP, O'Donnell C, Sherry ST, Aronson N, Biesecker LG, Blumberg B, Calonge N, Colhoun HM, Epstein RS, Flicek P, Gordon ES, Green ED, Green RC, Hurles M, Kawamoto K, Knaus W, Ledbetter DH, Levy HP, Lyon E, Maglott D, McLeod HL, Rahman N, Randhawa G, Wicklund C, Manolio TA, Chisholm RL, Williams MS. Characterizing genetic variants for clinical action. Am J Med Genet C Semin Med Genet, 166C (1):93-104. 2014. [PubMed]

McCarty CA, Huggins W, Aiello AE, Bilder RM, Hariri A, Jernigan TL, Newman E, Sanghera DK, Strauman TJ, Zeng Y, Ramos EM, Junkins HA; PhenX RISING network. PhenX RISING: real world implementation and sharing of PhenX measures. BMC Med Genomics,7:16. 2014. [PubMed]

Ramos EM, Hoffman D, Junkins HA, Maglott D, Phan L, Sherry ST, Feolo M, Hindorff LA. Phenotype-Genotype Integrator (PheGenI): synthesizing genome-wide association study (GWAS) data with existing genomic resources. Eur J Hum Genet, 22(1):144-7. 2014. [PubMed]

Ramos EM, Din-Lovinescu C, Bookman EB, McNeil LJ, Baker CC, Godynskiy G, Harris EL, Lehner T, McKeon C, Moss J, Starks VL, Sherry ST, Manolio TA, Rodriguez LL. A mechanism for controlled access to GWAS data: experience of the GAIN Data Access Committee. Am J Hum Genet, 92(4):479-88. 2013. [PubMed]

Pan H, Tryka KA, Vreeman DJ, Huggins W, Phillips MJ, Mehta JP, Phillips JH, McDonald CJ, Junkins HA, Ramos EM, Hamilton CM. Using PhenX measures to identify opportunities for cross-study analysis. Hum Mutat, 33(5):849-57. 2012. [PubMed]

Hamilton CM, Strader LC, Pratt JG, Maiese D, Hendershot T, Kwok RK, Hammond JA, Huggins W, Jackman D, Pan H, Nettles DS, Beaty TH, Farrer LA, Kraft P, Marazita ML, Ordovas JM, Pato CN, Spitz MR, Wagener D, Williams M, Junkins HA, Harlan WR, Ramos EM, Haines J. The PhenX Toolkit: get the most from your measures. Am J Epidemiol, 174(3):253-60. 2011 Aug 1. [PubMed]

Clayton EW, Smith M, Fullerton SM, Burke W, McCarty CA, Koenig BA, McGuire AL, Beskow LM, Dressler L, Lemke AA, Ramos EM, Rodriguez LL; Consent and Community Consultation Working Group of the eMERGE Consortium. Confronting real time ethical, legal, and social issues in the Electronic Medical Records and Genomics (eMERGE) Consortium. Genet Med, 12(10):616-20. 2010. [PubMed]

Manolio TA, Collins FS, Cox NJ, Goldstein DB, Hindorff LA, Hunter DJ, McCarthy MI, Ramos EM, Cardon LR, Chakravarti A, Cho JH, Guttmacher AE, Kong A, Kruglyak L, Mardis E, Rotimi CN, Slatkin M, Valle D, Whittemore AS, Boehnke M, Clark AG, Eichler EE, Gibson G, Haines JL, Mackay TF, McCarroll SA, Visscher PM. Finding the missing heritability of complex diseases. Nature, 461(7265):747-53. 2009. [PubMed]

Hindorff LA, Sethupathy P, Junkins HA, Ramos EM, Mehta JP, Collins FS, Manolio TA. Potential etiologic and functional implications of genome-wide association loci for human diseases and traits. Proc Natl Acad Sci U S A, 106(23):9362-7. 2009. [PubMed]
Last updated: June 28, 2022