Dr. Laura Koehly to lead the Social and Behavioral Research Branch at NHGRI
Laura Koehly, Ph.D., has been named chief of the Social and Behavioral Research Branch (SBRB) in the Intramural Research Program at the National Human Research Institute (NHGRI), part of the National Institutes of Health. Dr. Koehly is the second chief to lead SBRB since it was established in 2003 to potentially transform healthcare through the integration of genomic medicine into the clinic.
Bringing Genomics to the Clinic
SBRB research includes a focus on disorders that have major public health impact such as attention deficit hyperactivity disorder (ADHD) and rare genetic conditions with a significant impact on affected families such as methylmalonic acidemia.
"Dr. Koehly brings out the best in individual researchers and then discovers ways to weave together their talents and research," said Dan Kastner, M.D., Ph.D., NHGRI scientific director. "Her ability to cultivate a collaborative environment is particularly important in this branch because it touches every other branch within NHGRI."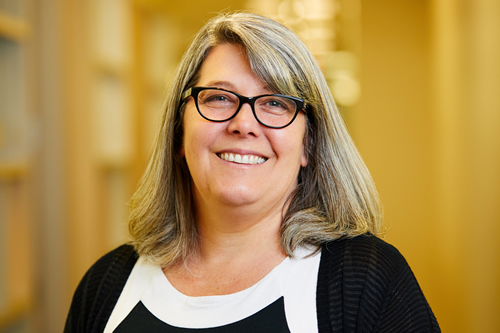 "I try to build consensus and encourage an energy in the branch where we feel excited about sharing our ideas and collaborating with each other," Dr. Koehly said. "I want to leverage the expertise we have here to have scientific outcomes that are stronger than what's possible in siloed labs. Our research focuses on bringing genomics into health clinics, which will potentially transform healthcare."
Under Dr. Koehly's leadership, the branch recently embarked on a strategic planning process to determine if the branch mission had changed and to establish priorities moving forward. "One of our central goals is to increase public awareness of the branch as the home of social and behavioral science at NHGRI and as leaders in the field at large," Dr. Koehly said.
Genomics wasn't always the end goal for Dr. Koehly. As an undergrad, Dr. Koehly set her sights on becoming a clinical psychologist. She began taking classes where she learned that many theories can be offered to explain a given phenomenon. She realized that her interests were more focused on modeling the complexities that give rise to a variety of explanations.
She switched her major and studied statistics while maintaining an interest in the social sciences. That led to a Bachelor of Science in psychology with a minor in statistics from the University of California, Davis. Between 1994 and 1996, she earned her Master of Arts, a Master of Science and a doctorate in quantitative psychology and statistics, from the University of Illinois at Urbana-Champaign. Rather than pursue a career in academia right after her doctoral studies, she chose to fully immerse herself in other scientific enterprises.
In 1996, she joined the MD Anderson Cancer Center in Houston as a research associate. There, she facilitated grant writing and provided research support. She also shared an office with newly-minted genetic counselor, Jill Sawyer, M.S., who was supporting a study led by Dr. Ellen Gritz on the psychosocial impact of genetic testing for Lynch Syndrome-associated cancer. The genes associated with Lynch syndrome had just been discovered.
"Jill was working on a protocol to address a social network problem, which was my area of expertise," Dr. Koehly said. "I offered to help and the rest, as they say, is history."
People with identified Lynch syndrome mutations were waiting a long time before informing their family members of their potential risk. Study staff were not permitted to disclose these test results to the families.
"We were the first to use social network methods to map the pathways through which health information flowed in these families," she said. "While information tended to flow to first degree relatives, an important next step was to inform second degree relatives of the family mutation. The only way that information got to them, assuming their affected parent was deceased, was when there was a strong positive interpersonal relationship. This suggested we needed to develop educational programs that facilitated risk conversations with broader reach when there weren't close ties among extended family members."
Dr. Koehly and her MD Anderson colleagues published a paper on this research in 2003, just when then-NHGRI Director Francis Collins, M.D., Ph.D., established SBRB. At that time, Dr. Koehly taught at the Texas A&M University until Colleen McBride, Ph.D., SBRB's founding chief, recruited her to the branch in 2005. Dr. Koehly earned tenure in the NIH Intramural Research Program in 2011.
"Don Hadley, who was also with SBRB when I came to the NHGRI, had this amazing cohort of families affected by Lynch syndrome so I was able to continue to look at their long-term responses to genetic services and how they were functioning," Dr. Koehly said. "I added a component to his protocol that helped capture information about interpersonal relationships among family members so we could advance our understanding of barriers to communication."
Dr. Koehly's scientific perspective was further influenced while caring for her mother who had a high-risk cancer that was possibly hereditary.
"I found myself in the middle of my own family's inherited disease risk journey," Dr. Koehly said. "What I found through my own experience is that family members caring for someone affected by disease, maybe even transitioning to the end of life, are facing their own health risks. Balancing caring for a loved one affected by inherited conditions while facing one's own risk is going to impact the conversations they have with each other about risk and prevention."
Dr. Koehly began researching how family members support each other when they're caring for someone affected by a genomic illness. She continues to conduct and support research on how genomic risk information can be used to activate social networks to improve families' health.
Outside her own research interests, Dr. Koehly is focused on creating a rich training experience for SBRB's post-baccalaureate and post-doctoral fellows. The branch is committed to training a diverse workforce and providing fellows opportunities for cross-training in a variety of research methods, including experimental, quantitative and qualitative approaches, as well as laboratory techniques, she said.
Dr. Koehly said that her overarching goal for the branch is to build bridges across disciplines, including fields within the social and behavioral sciences and the biological and genomic sciences.
"SBRB can shine a light on all the different NHGRI branches that are engaged in basic genomic research," she said. "We're using social and behavioral science to improve clinical and community translation of such discoveries. For patients and communities, our research can give meaning to what is happening at a molecular level."
Last updated: May 16, 2017