Jeffery Schloss, a pioneer of genome sequencing technology, retires
After an extraordinary career at the National Human Genome Research Institute (NHGRI), Jeffery Schloss, Ph.D., founding director of the Division of Genome Sciences, is embarking on a new journey: retirement.
A Lasting Legacy
A public servant at the National Institutes of Health (NIH) for 24 years, Dr. Schloss retires from a successful career that included leading NHGRI's DNA Sequencing Technology Development Program. He also aided in the launch of the Centers of Excellence in Genomics Sciences (CEGS) program, which aims to stimulate new, interdisciplinary approaches to genomic research and technology development.
"Jeff's intellect, leadership, dedication and contributions have created a lasting legacy that have profoundly benefited NHGRI and the entire field of genomics," said Eric Green, M.D., Ph.D., NHGRI director. "His presence will be missed around NIH and in the extramural genomics research community. We wish him all the best with his new adventures in retirement."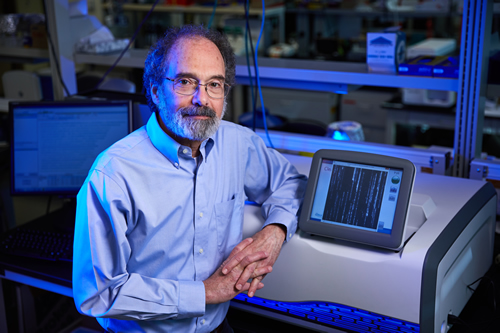 Before arriving at NHGRI in 1992, Dr. Schloss was at the University of Kentucky, studying non-muscle cell movement and the factors that determine how much mRNA is made. He envisioned spending his years conducting research and preparing the next generation of researchers. But his plans changed drastically after he was denied tenure.
"This was one of those events that feels like the worst thing for your career, but ends up being the best," said Dr. Schloss.
The roadblock caused him to search for opportunities elsewhere. While attending the American Society for Cell Biology annual meeting, he saw a job posting for a program director at the National Center for Human Genome Research (NCHGR), what is now known as NHGRI. He immediately applied and was offered a position in the Extramural Research Program.
"At the time of my recruitment, I considered myself a cell biologist and thought the move to genomics and to extramural administration and management would be a challenge," said Dr. Schloss.
He accepted that challenge and quickly thrived. As a program director, Dr. Schloss made many contributions to the field of genomics. In 1996, he was asked to take on the leadership of the technology development efforts in the NCHGR Extramural Research Program. Since then, he has skillfully managed a diverse portfolio of grants involved in developing a range of nucleic acids-related technologies - in particular, DNA sequencing technology and the well-known $1,000 Genome Program.
Dr. Schloss' scientific contributions as a program director have been recognized across the NIH, but it could be argued that his accomplishments as division director shine just as brightly. During his four-year term, Dr. Schloss and his division reorganized the informatics program; refreshed and renewed several large programs, like the sequencing centers, the ENCyclopedia Of DNA Elements (ENCODE) Project and the technology development program; and reinforced a strong, open relationship with his program directors.
"Though this was a challenging time with a flat budget, this role allowed me to not only have a different relationship with staff, but most importantly a broader view of the programs," said Dr. Schloss. "And I am quite proud of those positive relationships and our progress."
As he moves on to his next phase, Dr. Schloss said his success as both a program and division director couldn't have happened without the support from his colleagues.
"Whether it's the staff at NHGRI, the number of people I met across NIH, or the hundreds of investigators, students and advisors in the community, the people are the core of my experience and that's what I will miss the most," he said.
Dr. Schloss' future plans will focus on devoting time to traveling, family and hiking. He's also looking forward to picking up a new hobby. "I've started along the path of learning to play the guitar," he added. "I've been waiting for years and now I have the time to actually do it!"
Last updated: February 13, 2017