NHGRI's Dr. Jeffery Schloss honored with HHS Career Achievement Award
Jeffery Schloss, Ph.D., director of the Division of Genome Sciences at the National Human Genome Research Institute (NHGRI), was honored with the U.S. Department of Health and Human Services (HHS) Career Achievement Award for his work in genome sequencing technology. HHS Secretary Sylvia Mathews Burwell presented the award to Dr. Schloss during the 2014 HHS Departmental Awards Ceremony held in The Great Hall of the Hubert H. Humphrey Building in Washington, D.C. on November 17. The award recognizes HHS employees with ten or more years of service for their dedication and loyalty to the department.
A Focus on Genome Sequencing
"For 19 years, Jeff has developed and overseen novel initiatives within NHGRI's Extramural Research Program that aim to develop DNA analysis technologies," said Eric Green, M.D., Ph.D., NHGRI director. "For more than a decade, he has led NHGRI's Advanced DNA Sequencing Technology Program that has resulted in a reduction in DNA sequencing costs by nearly a million-fold."
"Bringing the cost of high-quality human genome sequencing down to $1,000 or less was considered a crazy but aspirational goal," said Dr. Schloss. "We believed lowering costs would have a positive impact on biology and medicine. And that's been borne out."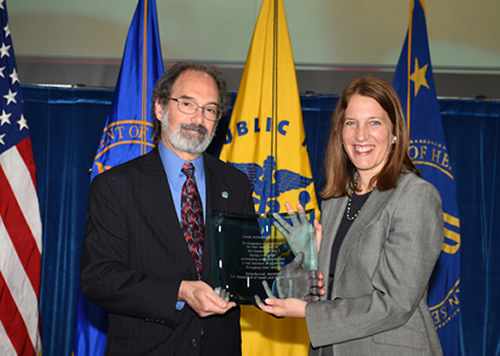 Dr. Schloss joined NHGRI in 1992 as a program director for centers that were building genetic and physical maps of human and model organism genomes. These included physical maps of the model organism Drosophila melanogaster (the fruit fly), and of several individual human chromosomes, and a genetic map of the entire human genome. The human genome maps were essential for assembling the sequence for the Human Genome Project.
He also helped NHGRI initiate its large-scale genome sequencing pilot projects, which became the flagship NHGRI Genome Sequencing Program that produced much of the U.S. contribution to the Human Genome Project. Dr. Schloss transitioned to the technology development program where he ran extramural programs to accelerate the development and availability of genomics technologies. He also helped start the Centers of Excellence in Genomic Science program, which aims to stimulate new interdisciplinary approaches to genomic research and technology development. Subsequently, Dr. Schloss was appointed to lead the division within the Extramural Research Program that supports basic genomic science research.
As part of his role managing NHGRI's technology development program, Dr. Schloss also coordinated interdisciplinary programs in bioengineering and nanotechnology research across the National Institutes of Health (NIH) and U.S. federal science agencies through the trans-NIH Bioengineering Consortium, which he helped found. He gives credit for his success to the teams on which he has worked.
"The projects and programs we undertook could not have been done without the support of my colleagues, NHGRI leadership and our advisory council," said Dr. Schloss. "I feel a bit odd receiving awards for the work I do because, after all, it's my job. But it's nice to have recognition that the research we are supporting is making a real difference."
Last updated: December 1, 2015