This Thanksgiving, share your family health history
As you celebrate Thanksgiving with your family, remember that this special day is also National Family Health History Day.
Collect and Act on Family Health History
Family health history is important to your health. It can help you detect disease risks that are unique to your family and take steps to prevent them before you become sick. It might also help you find the right diagnoses and treatments should you develop certain diseases. Collecting and acting on your family health history is also important to your loved ones, who could benefit from improved knowledge of their health risks and those of their children.
In the past, collecting and sharing family health information was not easy or automatic. But a free and reliable software tool, My Family Health Portrait, eases the process. Developed by the National Human Genome Research Institute and managed by the Office of the U.S. Surgeon General, this online tool lets you save your family health information. When the time comes, you can print it out to share with health care providers, the hospital, your doctor's office or a cancer risk clinic.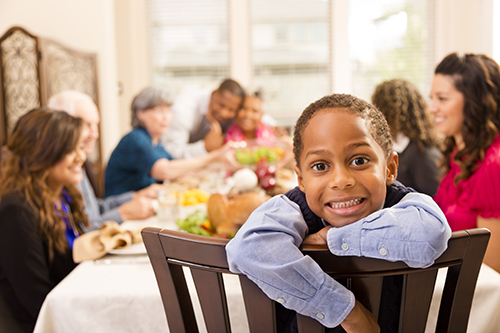 Watch a video from NHGRI Director Eric Green, M.D., Ph.D., that talks about the importance of your family health history and the My Family Health Portrait tool.
My Family Health Portrait: Start the Conversation
This Thanksgiving, start a new tradition that can help keep you and your family healthy. While gathering with your loved ones, collect your family health history.
Happy Thanksgiving from our family to yours!
Last updated: November 21, 2017