Training docs to be researchers, too.
As an eager medical student in his first pediatrics rotation, Peter McGuire treated a child suffering from glutaric aciduria type I - at the time, and still to date, a rare genetic disease with no known cure. Today, Dr. McGuire is one of the world's leading experts in the disease, and, armed with training from the National Human Genome Research Institute's (NHGRI) Physician-Scientist Development Program, he now brings that expertise to NHGRI as the newest faculty member to join its Division of Intramural Research.
Connect Laboratory Work with Patient Care
The Physician-Scientist Development Program, which began in 2003, helps physicians develop research programs dedicated to the disorders they specialize in. The program trains fellows to use the tools that unlock information in the human genome for real world applications, such as finding a cure for glutaric aciduria type I.
"The patients I'm seeing in the clinic are teetering between well and unwell, and infections push them over the edge," said Dr. McGuire referring to a phenomenon known as metabolic decompensation - a biochemical instability that is associated with a cluster of genetic diseases (including glutaric aciduria type I) known as "inborn errors of metabolism" (IEM).
Patients with IEM have an inherited deficiency of a required protein (or proteins) needed to keep their metabolism churning properly. This absence can lead to a build-up of toxins in the body, such as ammonia or lactate, which can be life threatening if the build-up is severe. Infections, like the flu, are the most common cause of metabolic decompensation in patients with IEM.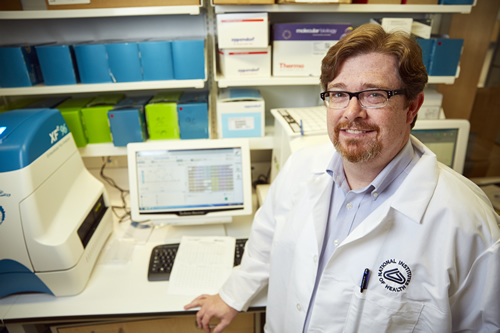 After medical school, residency and a fellowship in clinical biochemical genetics, Dr. McGuire landed a job at a New York academic medical center where he jump-started his research program.
However, developing a research program at academic medical centers is challenging because the clinical demands are skyrocketing and very sick patients, like patients with IEM, require much care.
"I decided that in order for me to serve my patients in a way that matched my skills, my focus needed to be on clinical research," he said. To fill that need, he applied for the Physician-Scientist Development Program.
Physician-Scientist Development Program fellows are selected from a competitive pool of applicants for a three- to five-year, pre-tenure track junior faculty position, where they are paired with mentors. Through this mentorship, they are trained to be trendsetting researchers - a supplement to the skills they received from their medical training.
Leslie Biesecker, M.D., chief of NHGRI's Medical Genomics and Metabolic Genetics Branch, who leads the program, explained that the program recruits fellows with medical training as a way to promoting thinking outside the box when studying human diseases. A physician might approach the problem differently than a basic scientist.
"The physicians have actually seen the disorders they are studying in their patients," said Dr. Biesecker. "The clinical problems are close enough at hand."
Charles Venditti, M.D., Ph.D., himself an alumnus of the program, is one of Dr. McGuire's mentors and also specializes in metabolic disorders.
His expertise lies in a disorder known as methylmalonic academia (MMA), in which the body cannot break down certain fats and proteins. Unfortunately for those suffering from MMA, current therapies to treat the disorder are limited.
Dr. Venditti said that for physician-scientists, finding a cure is the most important motivator for doing research. "We are not going to develop new treatments for patients unless we have research; that is, animal models and experiments that lead to an understanding of what goes wrong," he said. "Without translational insights, we will not be able to develop better therapies."
The program frees fellows from devoting their time to writing grants and provides a better balance of research and patient care. It also provides support for a full-time laboratory technician and clinical support person, money to support research expenses, and access to the many resources of the National Institutes of Health (NIH) Clinical Center.
Dr. Venditti said that NIH provides a unique environment for physicians interested in doing translational research.
"The support provided here allows us to use the NIH Clinical Center to carefully study a group of patients with rare diseases that are, in themselves, rare," he said. "We can then assemble a large cohort of patients which allows us to make connections between the laboratory and the patients."
The program at NHGRI has been so successful that other institutes at NIH have launched similar programs.
"We're not the only institute that has mimicked it," said the National Eye Institute's (NEI) Brian Brooks, M.D., Ph.D., who participated in NEI's program when it began in 2005 and is now chief of the Ophthalmic Genetics and Visual Function Branch. "These programs give fellows protected time to develop an independent research program."
Last updated: October 3, 2016