Population Descriptors
Appropriate use of population descriptors in scientific research is critical for the advancement of genomic science and human health for all.
Genetic and genomic information has become far more accessible, and research using human genetic data has grown exponentially over the past decade. Genetics and genomics research is now being conducted by a wide range of investigators across disciplines, who often use population descriptors inconsistently and/or inappropriately to capture the complex patterns of continuous human genetic variation.
Report: Using Population Descriptors in Genetics and Genomics Research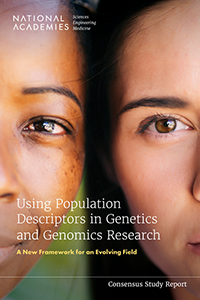 In response to a request from the National Institutes of Health, the National Academies assembled an interdisciplinary committee of expert volunteers to conduct a study to review and assess existing methodologies, benefits, and challenges in using race, ethnicity, ancestry, and other population descriptors in genomics research. The resulting report focuses on understanding the current use of population descriptors in genomics research, examining best practices for researchers, and identifying processes for adopting best practices within the biomedical and scientific communities.
Statement from Eric Green
NHGRI Director Eric Green's statement on how historical misuse of population descriptors in biomedical research has reinforced long-standing and pernicious prejudices, perpetuated bias and produced inaccurate and misleading research.
Today, @theNASEM released a report describing best practices in using population descriptors in genetic and genomics research. (Thread) https://t.co/ttr2lDVXYC

— Eric Green (@NHGRI_Director) March 14, 2023
Last updated: March 24, 2023