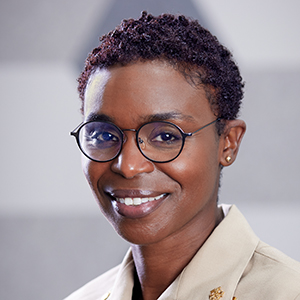 Iman Martin, Ph.D., M.P.H., M.Sc.
Program Director
Division of Genomic Medicine
Epidemiologist and Biostatistician
Lieutenant Commander, United States Public Health Service
Education
Ph.D. University of Illinois Chicago
M.Sc. University of Michigan
M.P.H. University of Ghana
Biography
LCDR Iman Martin recently joined NHGRI's Division of Genomic Medicine in August 2022. Although she comes from DoD Defense Health Agency and DHS US Coast Guard, she has been stationed at NIH previously at the National Heart Lung and Blood Institute and the National Cancer Institute. She is passionate about the NHGRI mission, program development, grants management and brings depth and breadth in research areas, including: genetic epidemiology, multiplex omics, quantitative methods, health equity, social determinants of health emerging infections, and complex chronic diseases.
Last updated: September 28, 2022