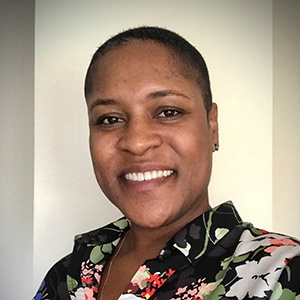 Rene Sterling, Ph.D., M.H.A.
Program Director
Division of Genomics and Society
Education
B.A. University of California, Santa Barbara, 1995
M.H.A. University of North Carolina, Chapel Hill, 1997
Ph.D. University of North Carolina, Chapel Hill, 2008
Biography

Dr. Rene Sterling joined National Human Genome Research Institute (NHGRI) in June 2020 as a program director in the Division of Genomics and Society. She oversees a portfolio of research and career development grants related to the ethical, legal, and social implications (ELSI) of genomic research. Dr. Sterling also serves as an ELSI advisor on the Electronic Medical Records and Genomics (eMERGE) Genomic Risk Assessment and Management Network.

Dr. Sterling has over 15 years of federal service with the Health Resources and Services Administration (HRSA), first joining the agency as a presidential management fellow in 1997. She has held program officer, senior advisor, and deputy director positions in several HRSA programs, including the Organ Donation and Transplantation Program, the Health Center Program, and the Ryan White HIV/AIDS Program, and brings expertise in healthcare and public health systems, health policy and health disparities.

Her academic training is in sociology, healthcare administration, and health policy and management; and she completed a post-doctoral fellowship at one of NHGRI's Centers for Excellence in ELSI Research (CEER), where she focused on public opinion, direct to consumer marketing and biobanking.

Visit the ELSI Research Areas webpage for more information on areas of ELSI research.
Last updated: April 8, 2021