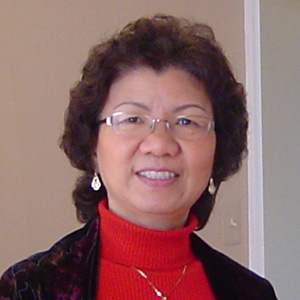 Rongling Li, M.D., Ph.D., M.P.H.
Epidemiologist and Program Director
Division of Genomic Medicine
Education
M.D. West China University of Medical Sciences
Ph.D. University of North Carolina at Chapel Hill
M.P.H. University of North Carolina at Chapel Hill
Biography
Dr. Li is a genetic epidemiologist and the program director for the International Hundred Thousand Cohort Consortium (IHCC). Prior to working on IHCC, she was the lead program director for the electronic Medical Records and Genomics (eMERGE) Network from January 2009 to January 2019>. She has a longstanding interest in public health, especially genetic and genomic research on complex diseases and health-related phenotypes. As the lead program director for eMERGE, she was instrumental in facilitating the Network's genomic discovery research efforts through both electronic phenotyping using electronic medical records (EMRs) and genotyping/sequencing using biorepository linked to those EMRs. Dr. Li has also been overseeing the application of genetic and genomic knowledge to clinical practice in the past 10 years.
Prior to joining the National Human Genome Research Institute in February 2009, Dr. Li worked at Rho, a biostatistics consulting firm/contract research organization (Chapel Hill, N.C.), as an epidemiologist. She was also on the faculty of Morehouse School of Medicine (Atlanta) and was a tenured professor at the University of Tennessee Health Science Center within the School of Medicine, Department of Preventive Medicine, and Center for Genomics and Bioinformatics (Memphis, Tenn.). She created and taught genetic epidemiology course as the lead professor as well as taught other epidemiology courses. She was a mentor to graduate students, junior faculty members and clinicians. Dr. Li was the principal investigator and co-investigator for NIH- and organization-funded grants. She also served as a grant reviewer for NIH and other funding organizations.
Dr. Li came to the United States in 1991. In China, she had been working at the Chinese Academy of Medical Sciences (Beijing) and the Chinese Academy of Preventive Medicine (Beijing) for about 8.5 years on the National Vaccine Action Plan, infectious diseases outbreak, and prevention of rapidly increased chronic diseases.
Dr. Li has published over 100 peer-reviewed journal articles. She was an associate editor of the American Journal of Epidemiology in 2006-2018.
Dr. Li obtained her medical degree (MD) from the West China University of Medical Sciences, her Master of Public Health degree (MPH) on cardiovascular disease epidemiology and Doctor of Philosophy degree (PhD) on genetic epidemiology from the University of North Carolina at Chapel Hill. She completed her post-doctoral training at Glaxo and her residency at Glaxo-Wellcome, Research Triangle Park, NC.
Publications
AH Matheny Antommaria, KB Brothers, JA Myers, YB Feygin, SA Aufox, MH Brillant, D Campos, DS Carrell, J Connolly, P Conway, SM Fullerton, NA Garrison, CR Horowitz, GP Jarvik, D Kaufamn, TE Kitchner, R Li, EJ Ludman, CA McCarthy, JB McCormick, VD McManus, ND Mercaldo, MF Myers, SC Sanderson, A Scrol, JL Williams, MJ Shrubsole, JS Schildcrout, ME Smith, EW Clayton, IA Holm on behalf of the Consent, Education, Regulation and Consultation (CERC) Workgroup of the Electronic Medical Records and Genomics (eMERGE) Network. Parents' attitudes toward consent and data sharing in biobanks: A multisite experimental survey. AJOB Empir Bioeth. 9 (3):128-142. doi: 10.1080/23294515.2018.1505783. Epub 2018. [PubMed]
Stanaway IB, Hall TO, Rosenthal EA, Palmer M, Naranbhai V, Knevel R, Namjou-Khales B, Carroll RJ, Kiryluk K, Gordon AS, Linder J, Howell KM, Mapes BM, Lin FTJ, Joo YY, Hayes MG, Gharavi AG, Pendergrass SA, Ritchie MD, de Andrade M, Croteau-Chonka DC, Raychaudhuri S, Weiss ST, Lebo M, Amr SS, Carrell D, Larson EB, Chute CG, Rasmussen-Torvik LJ, Roy-Puckelwartz MJ, Sleiman P, Hakonarson H, Li R, Karlson EW, Peterson JF Kullo IJ, Chisholm R, Denny JC, Jarvik GP; eMERGE Network, Crosslin DR. The eMERGE genotype set of 83,717 subjects imputed to ~40?million variants genome wide and association with the herpes zoster medical record phenotype. Genet Epidemiol. doi: 10.1002/gepi.22167. 2018 Oct 8. [Epub ahead of print] [PubMed]
Fernández-Rhodes L, Gong J, Haessler J, Franceschini N, Graff M, Nishimura KK, Wang Y, Highland HM, Yoneyama S, Bush WS, Goodloe R, Ritchie MD, Crawford D, Gross M, Fornage M, Buzkova P, Tao R, Isasi C, Avilés-Santa L, Daviglus M, Mackey RH, Houston D, Gu CC, Ehret G, Nguyen KH, Lewis CE, Leppert M, Irvin MR, Lim U, Haiman CA, Le Marchand L, Schumacher F, Wilkens L, Lu Y, Bottinger EP, Loos RJL, Sheu WH, Guo X, Lee WJ, Hai Y, Hung YJ, Absher D, Wu IC, Taylor KD, Lee IT, Liu Y, Wang TD, Quertermous T, Juang JJ, Rotter JI, Assimes T, Hsiung CA, Chen YI, Prentice R, Kuller LH, Manson JE, Kooperberg C, Smokowski P, Robinson WR, Gordon-Larsen P, Li R, Hindorff L, Buyske S, Matise TC, Peters U, North KE. Trans-ethnic fine-mapping of genetic loci for body mass index in the diverse ancestral populations of the Population Architecture using Genomics and Epidemiology (PAGE) Study reveals evidence for multiple signals at established loci. Hum Genet. 2017 Jun;136(6):771-800. doi: 10.1007/s00439-017-1787-6. Epub 2017 Apr 8. [PubMed]
Fossey R, Kochan D, Winkler E, Pacyna J, Olson J, Thibodeau S, Connolly J, Harr M, Behr M, Prows C, Cobb B, Myers M, Leslie N, Namjou-Khales B, Rasouly HM, Wynn J, Fedotov A, Chung W, Gharavi A, Williams J, Pais L, Holm I, Aufox S, Smith M, Scrol A, Leppig K, Jarvik G, Wiesner G, Li R, Stroud M, Smoller J, Sharp R, Kullo I. Ethical Considerations of Return of Results from Genomic Medicine Projects: The eMERGE Network (Phase III) Experience. Journal of Personalized Medicine 8, 2; doi:10.3390/jpm8010002. 2018. [PubMed]
Nadkarni GN, Galarneau G, Ellis SB, Nadukuru R, Zhang J, Scott SA, Schurmann C, Li R, Rasmussen-Torvik LJ, Kho AN, Hayes MG, Pacheco JA, Manolio TA, Chisholm RL, Roden DM, Denny JC, Kenny EE, Bottinger EP. Apolipoprotein L1 Variants and Blood Pressure Traits in African Americans. J Am Coll Cardiol. 69(12):1564-1574. doi: 10.1016/j.jacc. 2017 Mar 28. [PubMed]
Dumitrescu L, Ritchie MD, Denny JC, El Rouby NM, McDonough CW, Bradford Y, Ramirez AH, Bielinski SJ, Basford MA, Chai HS, Peissig P, Carrell D, Pathak J, Rasmussen LV, Wang X, Pacheco JA, Kho AN, Hayes MG, Matsumoto M, Smith ME, Li R, Cooper-DeHoff RM, Kullo IJ, Chute CG, Chisholm RL, Jarvik GP, Larson EB, Carey D, McCarty CA, Williams MS, Roden DM, Bottinger E, Johnson JA, de Andrade M, Crawford DC. Genome-wide study of resistant hypertension identified from electronic health records. PLoS One, 12(2):e0171745. doi: 10.1371/journal.pone.0171745. 2017. [PubMed]
Sanderson SC, Brothers KB, Mercaldo ND, Clayton EW, Antommaria AH, Aufox SA, Brilliant MH, Campos D, Carrell DS, Connolly J, Conway P, Fullerton SM, Garrison NA, Horowitz CR, Jarvik GP, Kaufman D, Kitchner TE, Li R, Ludman EJ, McCarty CA, McCormick JB, McManus VD, Myers MF, Scrol A, Williams JL, Shrubsole MJ, Schildcrout JS, Smith ME, Holm IA. Public attitudes toward consent and data sharing in biobank research: a large multi-site experimental survey in the US. Am J Hum Genet, pii: S0002-9297(17)30021-6. doi: 10.1016/j.ajhg.2017.01.021. 2017. [PubMed]
Heit JA, Armasu SM, McCauley BM, Kullo IJ, Sicotte H, Pathak J, Chute CG, Gottesman O, Bottinger EP, Denny JC, Roden DM, Li R, Ritchie MD, de Andrade M. Identification of unique venous thromboembolism-susceptibility variants in African-Americans. Thromb Haemost. doi: 10.1160/TH16-08-0652. 2017 Feb 16. [PubMed]
CN Simonti, B Vernot, L Bastarache, E Bottinger, DS Carrell, RL Chisholm, DR Crosslin, SJ Hebbring, GP Jarvik, IJ Kullo, R Li, J Pathak, JD Prato, MD Ritchie, DM Roden, SS Sharma, G Tromp, WS Bush, JM. Akey, JC Denny, JA Capra. The phenotypic legacy of admixture between modern humans and Neanderthals. Science, 351(6274):737. 2016. [PubMed]
SV Driest, Q Wells, S Stallings, W Bush, A Gordon, D Nickerson, J Kim, D Crosslin, G Jarvik, D Carrell, J Ralston, E Larson, S Bielinski, J Olson, Z Ye, I Kullo, N Abul-Husn, S Scott, E Bottinger, B Almoguera, J Connolly, R Chiavacci, H Hakonarson, L Rasmussen-Torvik, V Pan, S Persell, M Smith, R Chisolm, T Kitchner, M He, M Brilliant, J Wallace, K Doheny, M Shoemaker, R Li, T Manolio, T Callis, D Macaya, M Williams, D Carey, J Kapplinger, M Ackerman, M Ritchie, J Denny, D Roden. Association of Arrhythmia-Related Genetic Variants With Phenotypes Documented in Electronic Medical Records. JAMA, 315(1):47. 2016. [PubMed]
Mosley JD, Shaffer CM, Van Driest SL, Weeke PE, Wells QS, Karnes JH, Velez Edwards DR, Wei WQ, Teixeira PL, Bastarache L, Crawford DC, Li R, Manolio TA, Bottinger EP, McCarty CA, Linneman JG, Brilliant MH,Pacheco JA, Thompson W, Chisholm RL, Jarvik GP, Crosslin DR, Carrell DS, Baldwin E, Ralston J,Larson EB, Grafton J, Scrol A, Jouni H, Kullo IJ, Tromp G, Borthwick KM, Kuivaniemi H, Carey DJ,Ritchie MD, Bradford Y, Verma SS, Chute CG, Veluchamy A, Siddiqui MK, Palmer CN, Doney A,MahmoudPour SH, Maitland-van der Zee AH, Morris AD, Denny JC, Roden DM. A genome-wide association study identifies variants in KCNIP4 associated with ACE inhibitor-induced cough. Pharmacogenomics, J.doi: 10.1038/tpj.2015.51. 2015. [PubMed]
Shirts BH, Salama JS, Aronson SJ, Chung WK, Gray SW, Hindorff LA, Jarvik GP, Plon SE, Stoffel EM, Tarczy-Hornoch PZ, Van Allen EM, Weck KE, Chute CG, Freimuth RR, Grundmeier RW, Hartzler AL, Li R, Peissig PL, Peterson JF, Rasmussen LV, Starren JB, Williams MS, Overby CL. CSER and eMERGE: current and potential state of the display of genetic information in the electronic health record. J Am Med Inform Assoc, 22(6):1231-42. 2015 Nov. [PubMed]
O Gottesman, H Kuivaniemi, G Tromp, WA Faucett, R Li, TA Manolio, SC Sanderson, J Kannry, R Zinberg, MA Basford, M Brilliant, DJ Carey, RL Chisholm, CG Chute, JJ Connolly, D Crosslin, JC Denny, CJ Gallego, JL Haines, H Hakonarson, J Harley, GP Jarvik, I Kohane, IJ Kullo, EB Larson, C McCarty, MD Ritchie, DM Roden, ME Smith, EP Böttinger and MS Williams and The eMERGE Network. The Electronic Medical Records and Genomics (eMERGE) Network: past, present, and future. Genetics in Medicine, 15:761. 2013. [PubMed]
MD Fesinmeyer, KE North, MD Ritchie, U Lim, N Franceschini, LR Wilkens, MD Gross, P Buzkova, K Glenn, PM Quibrera, L Fernandez-Rhodes, Q Li, JH Fowke, R Li, CS Carlson, RL Prentice, LH Kuller, JE Manson, TC Matise, SA Cole, CTL Chen, BV Howard, LN Kolonel, BE Henderson, KR Monroe, DC Crawford, LA Hindorff, S Buyske, CA Haiman, L Le Marchand, U Peters. Genetic risk factors for body mass index and obesity in an ethnically diverse population: results from the population architecture using genomics and epidemiology (PAGE) study. Obesity, 21:835. 2013. [PubMed]
MD Ritchie, JC Denny, RL Zuvich, DC Crawford, JS Schildcrout, L Bastarache, AH Ramirez, JD Mosley, JM Pulley, MA Basford, Y Bradford, LV Rasmussen, J Pathak, CG Chute, IJ Kullo, CA McCarty, RL Chisholm, AN Kho, CS Carlson, EB Larson, GP Jarvik, N Sotoodehnia, on behalf of the CHARGE QRS Group, TA Manolio, R Li, DR Masys, JL Haines, and DM Roden. Genome- and phenome-wide analysis of cardiac conduction identifies markers of arrhythmia risk. Circulation, 127:1377. 2013. [PubMed]
U Peters, KE North, P Sethupathy, S Buyske, J Haessler, M Fesinmeyer, R Jackson, L Kuller, A Rajkovic, U Lim, I Cheng, F Schumacher, L Wilkens, R Li, K Monda, G Ehret, K-DH Nguyen, R Cooper, CE Lewis, M Leppert, MR Irvin, C C Gu, D Houston, P B?žkova, M Ritchie, TC Matise, LL Marchand, LA Hindorff, D Crawford, CA Haiman, C Kooperberg. "A Systematic Mapping Approach of 16q12.2/FTO and BMI in More Than 20,000 African Americans Narrows in on the Underlying Functional Variation: Results from the Population Architecture using Genomics and Epidemiology (PAGE) Study. PLOS Genetics, 9:1-10. 2013. [PubMed]
Crosslin DR, McDavid A, Weston N, Zheng X, Hart E, de Andrade M, Kullo IJ, McCarty CA, Doheny KF, Pugh E, Kho A, Hayes MG, Ritchie MD, Saip A, Crawford DC, Crane PK, Newton K, Carrell DS, Gallego CJ, Nalls MA, Li R, Mirel DB, Crenshaw A, Couper DJ, Tanaka T, van Rooij FJ, Chen MH, Smith AV, Zakai NA, Yango Q, Garcia M, Liu Y, Lumley T, Folsom AR, Reiner AP, Felix JF, Dehghan A, Wilson JG, Bis JC, Fox CS, Glazer NL, Cupples LA, Coresh J, Eiriksdottir G, Gudnason V, Bandinelli S, Frayling TM, Chakravarti A, van Duijn CM, Melzer D, Levy D, Boerwinkle E, Singleton AB, Hernandez DG, Longo DL, Witteman JC, Psaty BM, Ferrucci L, Harris TB, O'Donnell CJ, Ganesh SK; CHARGE Hematology Working Group, Larson EB, Carlson CS, Jarvik GP; electronic Medical Records and Genomics (eMERGE) Network. Genetic variation associated with circulating monocyte count in the eMERGE Network. Hum Mol Genet, 15: 2119. 2013. [PubMed]
LJ Rasmussen-Torvik, JA Pacheco, RA Wilke, WK Thompson, MD Ritchie, AN Kho, A Muthalagu, M G Hayes, LL Armstrong, DA Scheftner, JT Wilkins, RL Zuvich, D Crosslin, DM Roden, JC Denny, GP Jarvik, CS Carlson, IJ Kullo, SJ Bielinski, CA McCarty, R Li, TA Manolio, DC Crawford, RL Chisholm. High density GWAS for LDL cholesterol in African Americans using electronic medical records reveals a strong protective variant in APOE. Clinical and Translational Science, 5:394. 2012. [PubMed]
OT Njajou, RM Cawthon, EH Blackburn, TB Harris, R Li, AB Newman, MNalls, S Cummings, W Hsueh for the Health ABC study. Shorter telomeres are associated with obesity and weight gain in the elderly. International Journal of Obesity, 36:1176. 2012. [PubMed]
P An, R Li, JM Wang, T Yoshimura, M Takahashi, R Samudralal, SJ. O'Brien, J Phair, JJ Goedert, GD Kirk, JL Troyer, E Sezgin, S Buckbinder, S Donfield, GW Nelson, and Cheryl A. Winkler. Role for exonic variation in chemokine receptor genes on AIDS: CCRL2 F167Y associated with pneumocystis pneumonia. PLos Genetics, 7: e1002328. 2011. [PubMed]
C McCarty, C Chute, I Kullo, G Jarvik, EB Larson, R Li, D Masys, D Roden, J Struewing, W Wolfe, R Chisholm for the eMERGE Network. The eMERGE Network: a consortium of biorepositories linked to electronic medical records data for conducting genomic studies. BMC Medical Genomics, 4:13. 2011. [PubMed]
JM Devaney, BT Harmon, H Gordish-Dressman, P Zhao, T Harris, PD Thompson, PM. Clarkson, TB Price, TJ Angelopoulos, PM Gordon, NM Moyna, LS Pescatello, PS Visich, RF. Zoeller, RL Seip , E Reeves, S Bilbie, J Seo, BH Kim, J Uthurralt, C Tesi-Rocha, L Tosi, M Garcia, R Li, J Zmuda, A Kanaya, EP Hoffman. AKT1 polymorphisms are associated with risk for metabolic syndrome. Human Genetics, 129:129. 2011. [PubMed]
AN Kho, JA Pacheco, PL Peissig, L Rasmussen, KM Newton, N Weston, PK Crane, J Pathak, CG. Chute, SJ Bielinski, IJ. Kullo, R Li, TA Manolio, RL Chisholm, JC Denny. "Electronic medical records for genetic research: Results of the eMERGE consortium. Science Translational Medicine, 20:79. 2011. [PubMed]
S Turner, LL Armstrong, Y Bradford, CS Carlson, DC Crawford, AT Crenshaw, M de Andrade, KF Doheny, JL Haines, G Hayes, G Jarvik, L Jiang, IJ Kullo, R Li, H Ling, TA Manolio, M Matsumoto, CA McCarty, AN McDavid, DB Mirel, JE Paschall, EW Pugh, LV Rasmussen, RA Wilke, RL Zuvich, MD Ritchie. Quality control procedures for genome wide association studies. Current Protocols in Human Genetics, SUPPL.68: 1.19. 2011. [PubMed]
AL McGuire, M Basford, LG Dressler, SM Fullerton, BA Koenig, R Li, CA McCarty, E Ramos, ME Smith, CP Somkin, C Waudby, WA Wolf, EW Clayton. Ethical and practical challenges of sharing data from genome-wide association studies: the eMERGE consortium experience. Genome Research, 21: 1001. 2011. [PubMed].
JC Denny, DC Crawford, MD Ritchie, SJ Bielinski, MA Basford, Y Bradford, HS Chai, L Bastarache, R Zuvich, P Peissig, D Carrell, AH Ramirez, J Pathak, RA Wilke, L Rasmussen, X Wang, JA Pacheco, AN Kho, MG Hayes, N Weston, M Matsumoto, PA Kopp, KM Newton, GP Jarvik, R Li, TA Manolio, IJ Kullo, CG Chute, RL Chisholm, EB Larson, CA McCarty, DR Masys, DM Roden, M De Andrade. Variants near FOXE1 are associated with hypothyroidism and other thyroid conditions: Using electronic medical records for genome- and phenome-wide studies. American Journal of Human Genetics, 89: 529. 2011. [PubMed]
RL Zuvich, LL Armstrong, SJ Bielinski, Y Bradford, CS Carlson, DC Crawford, AT Crenshaw, M de Andrade, KF Doheny, JL Haines, MG Hayes, GP Jarvik, L Jiang, IJ Kullo, R Li, H Ling, TA Manolio, ME Matsumoto, CA Mccarty, AN Mcdavid, DB Mirel, LM Olson, JE Paschall, EW Pugh, LV Rasmussen, LJ Rasmussen-Torvik, SD Turner, RA Wilke, MD Ritchie. Pitfalls of merging GWAS data: lessons learned in the eMERGE network and quality control procedures to maintain high data quality. Genetic Epidemiology, 35: 887. 2011. [PubMed]
Manini, KV Patel, DC Bauer, E Ziv, DA Schoeller, DC Mackey, R Li, AB Newman, M Nalls, JM Zmuda, TB Harris for the Health, Aging and Body Composition Study. European ancestry and resting metabolic rate in older African Americans. European Journal of Clinical Nutrition, 65:663. 2011. [PubMed]
R Kumar, MA Seibold, MC Aldrich, LK Williams, AP Reiner, L Colangelo, S Sen, S Choudhry, J Galanter, EL Peterson, J Rodriguez-Santana, W Rodriguez-Cintron, MA Nalls, TS Leak, E O'Meara, B Meibohm, SB Kritchevsky, R Li, TB Harris, DA Nickerson, P Enright, E Ziv, LJ Smith, K Liu, E González Burchard. Genetic ancestry in lung-function predictions. New England Journal of Medicine, 363:321. 2010. [PubMed]
CM. El Saleeby, R Li, GW. Somes, MK. Dahmer, MW. Quasney and JP. DeVincenzo. Surfactant protein A2 polymorphisms and disease severity in a respiratory syncytial virus infected population. Journal of Pediatrics, 156:409. 2010. [PubMed]
AJ Fiocco, K Lindquist, R Ferrell, R Li, EM Simonsick, M Nalls, TB Harris, K Yaffe, for the Health ABC Study. COMT genotype and cognitive function: an eight-year longitudinal study in white and black elders. Neurology. 74 (16):1296-302. 2010. [PubMed]
ML Scherer, MA Nalls, L Pawlikowska, E Ziv, G Mitchell, S Huntsman, D Hu, K Sutton-Tyrrell, EG Lakatta, WC Hsueh, AB Newman, A Tandon, L Kim, PY Kwok, A Sung, R Li, B Psaty, AP Reiner, T Harris. Admixture mapping of ankle - arm index: identification of a candidate locus associated with peripheral arterial disease. Journal of Medical Genetics, 47(1):1-7. 2010. [PubMed]
K Yaffe, K Lindquist, S Sen, JA Cauley, RE Ferrell, B Penninx, T Harris, R Li, SR Cummings for the Health ABC Study. Estrogen receptor genotype and risk of cognitive impairment in elders: findings from the health ABC study. Neurobiology of Aging, 30:607, 2009. [PubMed]
D Reich, MA Nalls, WH Kao, EL Akylbekova, A Tandon, N Patterson, J Mullikin, W Hsueh, C Cheng, J Coresh, E Boerwinkle, M Li, A Waliszewska, J Neubauer, R Li, L Ekunwe, JC Files, CL. Hardy, JM Zmuda, HA Taylor, E Ziv, TB Harris and JG Wilson. Reduced neutrophil count in people of African descent is due to a regulatory variant in the duffy antigen receptor for chemokines gene. PLoS Genetics, 5(1): e1000360. 2009. [PubMed]
CY Cheng, WH Kao, N Patterson, A Tandon, CA Haiman, TB Harris, C Xing, CB Ambrosone, EM John, FL Brancati, J Coresh, MiF Press, RS Parekh, MJ Klag, LA Meoni, W Hsueh, L Fejerman, L Pawlikowska, ML Freedman, LH Jandorf, EV Bandera, GL Ciupak, MA Nalls, EL Akylbekova, ES Orwoll, TS Leak, I Miljkovic, R Li, G Ursin, L Bernstein, K Ardlie, HA Taylor, E Boerwinckle, JM Zmuda, BE Henderson, JG. Wilson, D Reich. Admixture mapping of 15,280 African Americans finds obesity loci on chromosome 5 and X. PLoS Genetics, 5(5): e1000490. 2009. [PubMed]
R Li, PA Richey, TG. DiSessa, BS Alpert, DP Jones. Blood aldosterone-to-renin ratio, ambulatory blood pressure, and left ventricular mass in children. Journal of Pediatrics, 155:170. 2009. [PubMed]
OT Njajou, W Hsueh, E Blackburn, AB. Newman, P Kwok, N Schork, R Li, EM Simonsick, J Zmuda, TM Harris, SR Cummings, RM Cawthon. Association between telomere length, specific causes of death and years of healthy life in Health ABC, a population-based cohort study. Journal of Gerontology: Biological Sciences, 64:860. 2009. [PubMed]
R Li, MJ O'sullivan, J Robinson, M Safford, D Curb, K Johnson. Family history of myocardial infarction predicts incident coronary heart disease in postmenopausal women with diabetes: the women's health initiative observational study." Metabolism Research and Reviews. 25:725. 2009 [PubMed]
D Melzer, JRB Perry, D Hernandez, AM Corsi, K Stevens, I Raffety, F Lauretani, A Murray, JR Gibbs, G Paolisso, S Rafiq, J Simon-Sanchez, H Lango, S Scholz, MN Weedon, S Arepalli, N Rice, N Washecka, A Hurst, A Britton, W Henley, J van de Leemput, R Li, AB Newman, G Tranah, T Harris, V Paniker, C Dayan, A Bennet, M McCarthy, MR Jarvelin, J Guralnik, S Bandinelli, TM Frayling, A Singleton, L Ferrucci. A genome wide association study identifies protein quantitative trait loci (pQTLs). PLoS Genetics, 4(5): e1000072. 2008. [PubMed]
MA Nalls, JG Wilson, NJ Patterson, A Tandon, JM Zmuda, S Huntsman, M Garcia, D Hu, R Li, B Beamer, K Patel, EL Akylbekova, J Files, C Hardy, S Buxbaum, H Taylor, D Reich, TB Harris, and E Ziv. Admixture mapping of white cell count: genetic locus responsible for lower white blood cell count in the Health ABC and Jackson Heart studies. American Journal of Human Genetics, 82:81. 2008. [PubMed]
MJ Delmonico, JM Zmuda, BC Taylor, JA Cauley, TB Harris, T Manini, A Schwarz, R Li, SM Roth, BF Hurley, RE Ferrell, and AB Newman; Health ABC and MrOS Studies. Association of the ACTN3 genotype and physical functioning with aging in older adults. J Gerontology: Medical Sciences, 63:1227. 2008. [PubMed]
K Yaffe, AM Kanaya, K Lindquist, WC Hsueh, SR Cummings, B Beamer, A Newman, C Rosano, R Li, T Harris. PPAR-gamma Pro12Ala genotype and risk of cognitive decline in elders. Neurobiology of Aging, 29:78. 2008. [PubMed]
R. Li and L Chambless. Test for additive interaction in proportional hazards models. Annals of Epidemiology, 17:227. 2007. [PubMed]
R Li, B Alpert, S Walker, M Barnard, G Somes. Longitudinal relationship of parental hypertension with body mass index, blood pressure, and cardiovascular reactivity in children. Journal of Pediatrics, 150:498. 2007. [PubMed]
R Li, B Nicklas, M Pahor, A Newman, K Sutton-Tyrrell, D Bauer, J Ding, Tamara Harris, E Lakatta, S Satterfield, SB Kritchevsky. Polymorphisms of angiotensinogen and angiotensin-converting enzyme associated with lower extremity arterial disease in the health, aging and body composition ctudy. Journal of Human Hypertension, 21:673. 2007. [PubMed]
CL Wassel-Fyr, AM Kanaya, SR. Cummings, D Reich, WC Hseuh, AP Reiner, TB Harris, S Moffett, R Li, J Ding, I Miljkovic-Gacic, E Ziv. Genetic admixture, adipocytokines and adiposity in Black Americans: the health, aging and body composition study, Human Genetics. 121:615. 2007. [PubMed]
D Reich, N Patterson, V Ramesh, PL. De Jager, GJ. McDonald, A Tandon, E Choy, D Hu, B Tamraz, L Pawlikowska, C Wassel-Fyr, S Huntsman, A Waliszewska, E Rossin, R Li, M Garcia, A Reiner, R Ferrell, S Cummings, PY. Kwok, T Harris, JM. Zmuda and E Zivl. Admixture mapping of an allele affecting soluble IL6 receptor and IL6 levels. American Journal of Human Genetics, 80:716. 2007. [PubMed]
S Yende, DC Angus, J Ding, AB Newman, JA Kellum, R Li, RE Rerrell, J Zmuda, SB Kritchevsky, TB Harris, M Garcia, K Yaffe, RG Wunderink. 4G/5G plasminogen activator inhibitor-1 polymorphisms and haplotypes are associated with pneumonia. American Journal of Respiratory and Critical Care Medicine, 176:1129. 2007. [PubMed]
J Ding, BJ Nicklas, MD Fallin, N de Rekeneire, SB Kritchevsky, M Pahor, N Rodondi, R Li, J Zmuda, TB. Harris. Plasminogen activator inhibitor type 1 gene polymorphisms and haplotypes are associated with plasma plasminogen activator inhibitor type 1 levels but not with myocardial infarction or stroke. American Heart Journal, 152:1109-1115. 2006. [PubMed]
R Lapu-Bula, A Quarshie, D Lyn, A Oduwole, C Pack, J Morgan, S Nkemdiche, P Igho-Pemu, A Onuwanyi, R Li, E Ofili. "The 894T allele of endothelial nitric oxide synthase gene is related to left ventricular mass in African Americans with high-normal blood pressure. Journal of National Medical Association, 97:197. 2005. [PubMed]
A Katsiaras, AB Newman, A Kriska, J Brach, S Krishnaswami, E Feingold, SB Kritchevsky, R Li, TB Harris, A Schwartz, BH Goodpaster. Skeletal muscle fatigue, strength, and quality in the elderly: the Health ABC Study. Journal of Applied Physiology, 99:210. 2005. [PubMed]
R. Li, D Lyn, R Lapu-Bula, A Oduwole, P Igho-Pemu, B Lankford, J Morgan, S Nkemdechi, G Liu, C Pack, N Silvestrov, IK Abukhalaf, Q Song, E Ofili. Relation of endothelial nitric oxide synthase gene to plasma nitric oxide level, endothelial function and blood pressure in African Americans. American Journal of Hypertension, 17:560. 2004. [PubMed]
R Li, E Boerwinkle, D Bell, M Bray, L Chambless, J Pankow, GS Pittman, H Tyroler, A Olshan, G Heiss. Glutathione S-transferase genotype as a susceptibility factor in smoking-related coronary heart disease. Atherosclerosis, 149:451. 2000. [PubMed]
R Li, JT Bensen, RG Hutchinson, MA Province, I Hertz-Picciotto, JM Sprafka, HA Tyroler. Family risk score of coronary heart disease (CHD) as a predictor of CHD: the Atherosclerosis Risk in Communities (ARIC) study and the NHLBI family heart study. Genetic Epidemiology, 18:236. 2000. [PubMed]
Last updated: February 14, 2019