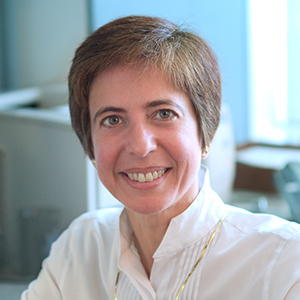 Teri Manolio, M.D., Ph.D.
Director
Division of Genomic Medicine
Unit Head
Clinical Implementation Unit
Education
M.D. University of Maryland, Baltimore
Ph.D. Johns Hopkins University
Biography

As a physician and epidemiologist, Teri Manolio, M.D., Ph.D. has a deep interest in discovering genetic changes associated with diseases by conducting biomedical research on large groups of people. As the Director of the Division of Genomic Medicine, a position she has held since 2012, Dr. Manolio leads efforts to support research translating those discoveries into diagnoses, preventive measures, treatments and prognoses of health conditions.

"I see our division as a unique undertaking at NHGRI. We apply the rapidly expanding knowledge base of genetic associations and genome-scale analytic technologies to clinical problems of disease diagnosis and treatment" said Dr. Manolio. "This knowledge will enable us to meld clinical and genomic research for rapid improvements in clinical care."

Dr. Manolio envisions a day when patients have ready access to affordable, reliable genetic tests enabling them to avoid rare, sometimes devastating complications of common drug treatments. She also hopes to find ways of using a patient's genomic information to enhance diagnostic strategies and improve treatment outcomes by examining comprehensive databases of patients whose physical characteristics and genomic variants match those of the patient at hand.

Dr. Manolio joined NHGRI in 2005 as senior advisor to the NHGRI Director for population genomics, and in 2007 established NHGRI's Office of Population Genomics and became its Director. She has led efforts to apply genomic technologies to population and clinical research, including the Population Architecture for Genomics and Epidemiology (PAGE) Network , the Electronic Medical Records and Genomics (eMERGE) Network, the Clinical Sequencing Exploratory Research (CSER) Consortium, the ClinGen Resource, the Implementing Genomics in Practice (IGNITE) Network, and the NHGRI Genome-Wide Association Catalog.

Dr. Manolio came to NHGRI from NIH's National Heart, Lung, and Blood Institute where she was involved in large-scale cohort studies such as the Cardiovascular Health Study and the Framingham Heart Study. Dr. Manolio also maintains an active clinical appointment on the in-patient medical service of the Walter Reed National Military Medical Center, Bethesda, and is a Professor of Medicine on the faculty of the Uniformed Services University of the Health Sciences. She has authored more than 280 research papers and has research interests in genome-wide association studies of complex diseases, ethnic differences in disease risk and incorporating genomic findings into clinical care.

She received her B.S. in biochemistry from the University of Maryland College Park, her M.D. from the University of Maryland at Baltimore, and her Ph.D. in human genetics and genetic epidemiology from the Johns Hopkins School of Hygiene and Public Health.
Publications

Manolio TA, Hutter C, Avigan M, Cibotti R, Davis RL, Denny JC, La Grenade L, Wheatley LM, Carrington MN, Chantratita W, Chung WH, Dalton AD, Hung SI, Lee MT, Leeder JS, Lertora JJL, Mahasirimongkol S, McLeod HL, Mockenhaupt M, Pacanowski M, Phillips EJ, Pinheiro S, Pirmohamed M, Sung C, Suwankesawong W, Trepanier L, Tumminia SJ, Veenstra D, Yuliwulandari R, Shear NH. Research directions in genetically mediated Stevens-Johnson Syndrome/Toxic Epidermal Necrolysis. Clinical Pharmacology and Therapeutics, 103:390-94. 2018. [Full Text]

Manolio TA. Incorporating whole-genome sequencing into primary care: Falling barriers and next steps. Annals of Internal Medicine, 167:204-205. 2017. [PubMed]

Manolio TA. In retrospect: A decade of shared genomic associations. Nature, 546:360-61. 2017. [PubMed]

Rasmussen-Torvik LJ, Almoguera B, Doheny KF, Freimuth RR, Gordon AS, Hakonarson H, Hawkins J, Ivacic L, Kullo IJ, Linderman MJ, Manolio T, Owusu-Obeng A, Pellegrino R, Prows CA, Pugh E, Ritchie ED, Smith M, Stallings SC, Wolf WA, Zhang K, Scott SA. Concordance between research sequencing and clinical pharmacogenetic genotyping in the eMERGE PGx study. Journal of Molecular Diagnostics, S1525-1578:30001-6. 2017. [PubMed]

Manolio TA, Fowler DM, Starita LM, Haendel MA, MacArthur DG, Biesecker LG, Worthey E, Chisholm RL, Green ED, Jacob HJ, McLeod HL, Roden D, Rodriguez LL, Williams MS, Cooper GM, Cox NJ, Herman GE, Kingsmore S, Lo C, Lutz C, MacRae CA, Nussbaum RL, Ordovas JM, Ramos EM, Robinson PN, Rubinstein WS, Seidman C, Stranger BE, Wang H, Westerfield M, Bult C. Bedside back to bench: Building bridges between basic and clinical genomic research. Cell, 169:6-12. 2017. [PubMed]

Bush WS, Crosslin DR, Obeng AO, Wallace J, Almoguera B, Basford MA, Bielinski SJ, Carrell DS, Connolly JJ, Crawford D, Doheny KF, Gallego CJ, Gordon AS, Keating B, Kirby J, Kitchner T, Manzi S, Mejia AR, Pan V, Perry CL, Peterson JF, Prows CA, Ralston J, Scott SA, Scrol A, Smith M, Stallings SC, Veldhuizen T, Wolf W, Volpi S, Wiley K, Li R, Manolio T, Bottinger E, Brilliant ME, Carey D, Chisholm RL, Chute CG, Haines JL, Hakonarson H, Harley JB, Holm IA, Kullo IJ, Jarvik GP, Larson EB, McCarty CA, Williams MS, Denny JC, Rasmussen-Torvik LJ, Roden DM, Ritchie MD. Genetic variation among 82 pharmacogenes: the PGRN-Seq data from the eMERGE Network. Clinical Pharmacology and Therapeutics, 100:160-69. 2016. [PubMed]

Green RC, Goddard KAB, Amendola LM, Appelbaum PS, Berg JS, Bernhardt BA, Biesecker LG, Biswas S, Blout CL, Bowling KM, Brothers KB, Burke W, Caga-Anan CF, Chinnaiyan AM, Chung WK, Clayton EW, Cooper GM, East K, Evans JP, Fullerton SM, Garraway LA, Garrett JR, Gray SW, Henderson GE, Hindorff LA, Holm IA, Lewis MH, Hutter CM, Janne PA, Jarvik GP, Joffe S, Kaufman D, Knoppers BM, Koenig BA, Krantz ID, Manolio T, McCullough L, McEwen J, McGuire A, Muzny D, Myers RM, Nickerson DA, Ou J, Parsons DW, Petersen GM, Plon SE, Rehm HL, Roberts JS, Robinson D, Salama JS, Scollon S, Sharp RR, Shirts B, Spinner NB, Tabor HK, Tarczy-Hornoch P, Veenstra DL, Wagle N, Weck K, Wilfond BS, Wilhelmsen K, Wolf SM, Wynn J, Yu JH, for the CSER Consortium. The Clinical Sequencing Exploratory Research Consortium: Accelerating the evidence-based practice of genomic medicine. American Journal of Human Genetics, 98:1051-66. 2016. [PubMed]

Weitzel KW, Alexander M, Bernhardt BA, Calman N, Carey DJ, Cavallari LH, Field JR, Hauser D; Junkins HA, Levin PA, Levy K, Madden EB, Manolio TA, Odgis J, Orlando LA, Pyeritz R, Wu R, Shuldiner AR, Bottinger EP, Denny JC, Dexter PR, Flockhart DA, Horowitz CR, Johnson JA, Kimmel SE, Levy MA, Pollin TI, Ginsburg GS. The IGNITE Network: A model for genomic medicine implementation and research. BMC Genomics 9:1. 2016. [PubMed]

Van Driest SL, Wells QS, Stallings S, Bush WS, Gordon A, Nickerson D, Kim JH, Crosslin DR, Jarvik GP, Carrell DS, Ralston J, Larson EB, Bielinski SJ, Olson JE, Ye Z, Kullo IJ, Abul-Husn NS, Scott SA, Bottinger E, Almoguera B, Connolly J, Chiavacci R, Hakonarson H, Rasmussen-Torvik LJ, Pan V, Persell SD, Smith M, Chisholm RL, Kitchner TE, He M, Brilliant MH, Wallace JR, Doheny KF, Shoemaker MB, Li R, Manolio TA, Callis TE, Macaya D, Williams MS, Carey D, Kapplinger JD, Ackerman MJ, Ritchie MD, Denny JC, Roden DM. Association of arrhythmia-related genetic variants with phenotypes documented in electronic medical records. JAMA, 315:47-57. 2016. [PubMed]

Metspalu A, Meulien P, Miyano S, Naparstek Y, O'Rourke PP, Patrinos GP, Rehm HL, Relling MV, Rennert G, Rodriguez LL, Roden DM, Shuldiner AR, Sinha S, Tan P, Ulfendahl M, Ward R, Williams MS, Wong JEL, Green ED, Ginsburg GS. Global implementation of genomic medicine: We are not alone. Science Translational Medicine, 7:ps13. 2015. [PubMed]

Rasmussen-Torvik LJ, Stallings SC, Gordon AS, Almoguera B, Basford MA, Bielinski SJ, Brautbar A, Brilliant M, Carrell DS, Connolly J, Crosslin DR, Doheny KF, Gallego CJ, Gottesman O, Kim DS, Leppig KA, Li R, Lin S, Manzi S, Mejia AR, Pacheco JA, Pan V, Pathak J, Perry CL, Peterson JF, Prows CA, Ralston J, Rasmussen LV, Ritchie MD, Sadhasivam S, Scott SA, Smith M, Vega A, Vinks A, Volpi S, Wolf W, Bottinger E, Chisholm RL, Chute CG, Haines JL, Harley JB, Keating B, Holm IA, Kullo IJ, Jarvik GP, Larson EB, Manolio T, McCarty CA, Nickerson DA, Scherer SE, Williams MS, Roden DM, Denny JC. Design and anticipated outcomes of the eMERGE-PGx project: A multi-center pilot for pre-emptive pharmacogenomics in electronic health record systems. Clinical Pharmacology and Therapeutics, 96:482-89. 2014. [PubMed]

Manolio TA, Murray MF, for the Inter-Society Coordinating Committee on Practitioner Education in Genomics. The growing role of professional societies in educating clinicians in genomics. Genetics in Medicine, 16:571-72. 2014. [PubMed]

MacArthur DG, Manolio TA, Dimmock DP, Rehm HL, Shendure J, Abecasis GR, Adams DR, Altman RB, Antonarakis SE, Ashley EA, Barrett JC, Biesecker LG, Conrad DF, Cooper GM, Cox NJ, Daly MJ, Gerstein MB, Goldstein DB, Hirschhorn JN, Leal SM, Pennacchio LA, Stamatoyannopoulos JA, Sunyaev SR, Valle D, Voight BF, Winckler W, Gunter C. Guidelines for investigating causality of sequence variants in human disease. Nature, 508:469-76. 2014. [PubMed]

Manolio TA, Green ED. Leading the way to genomic medicine. American Journal of Medical Genetics C Seminars in Medical Genetics,166:1-7. 2014. [PubMed]

Ramos EM, Din-Lovinescu C, Berg JS, Brooks LD, Duncanson A, Dunn M, Good P, Hubbard T, Jarvik GP, O'Donnell C, Sherry ST, Aronson N, Biesecker L, Blumberg B, Calonge1N, Colhoun HM, Epstein RS, Flicek P, Gordon ES, Green ED, Green RC, Hurles M, Kawamoto K, Knaus W, Ledbetter DH, Levy HP, Lyon E, Maglott D, McLeod HL, Rahman N, Randhawa G, Wicklund C, Manolio TA, Chisholm RL, Williams MS. Characterizing genetic variants for clinical action. American Journal of Medical Genetics C Seminars in Medical Genetics, 166:93-104. 2014. [PubMed]

Welter D, MacArthur J, Morales J, Burdett T, Hall P, Junkins H, Klemm A, Xu M, Flicek P, Manolio T, Parkinson H, Hindorff L. The NHGRI GWAS catalog, a curated resource of SNP-trait associations. Nucleic Acids Research, 42: D1001-06. 2014. [PubMed]

Denny JC, Bastarache L, Ritchie MD, Carroll RJ, Zink R, Mosley JD, Field JR, Pulley JM, Ramirez AH, Bowton E, Basford MA, Carrell D, Peissig PL, Kho AN, Pacheco JA, Rasmussen LV, Crosslin DR, Crane PK, Pathak J, Bielinski SJ, Pendergrass SA, Xu H, Hindorff LA, Li R, Manolio TA, Chute CG, Chisholm RL, Larson EB, Jarvik GP, Brilliant MH, McCarty CA, Kullo IJ, Haines JL, Crawford DC, Masys DR, Roden DM. Systematic comparison of phenome-wide association study of electronic medical record data and genome-wide association study data. Nature Biotechnology, 31:1102-10. 2013. [PubMed]

Manolio TA. Bringing genome-wide association findings into clinical use. Nature Reviews Genetics, 14:549-58. 2013. [PubMed]

Wise AL, Gyi L, Manolio TA. eXclusion: Toward integrating the X chromosome in genome-wide association analyses. American Journal of Human Genetics, 92:643-47. 2013. [PubMed]

Manolio TA, Chisholm RL, Ozenberger B, Roden DM, Williams MS, Wilson R, Bick D, Bottinger EP, Brilliant MH, Eng C, Frazer KA, Korf B, Ledbetter DH, Lupski JR, Marsh C, Mrazek D, Murray MF, O'Donnell PH, Rader D, Relling MV, Shuldiner AR, Valle D, Weinshilboum R, Green ED, Ginsburg GS. Implementing genomic medicine in the clinic: The future is here. Genetics in Medicine,15:258-67. 2013. [PubMed]

Ramos EM, Din-Lovinescu C, Bookman E, McNeil LJ, Baker CC, Godynskiy G, Harris EL, Lehner T, McKeon C, Moss J, Starks VL, Sherry S, Manolio TA, Rodriguez LL. Benefits and risks of NIH controlled data access: Experience of the GAIN Data Access Committee. American Journal of Human Genetics, 92:479-88. 2013. [PubMed]

Laurie CC, Laurie CA, Rice K, Doheny KF, Zelnick LR, McHugh CP, Ling H, Hetrick KN, Pugh EW, Amos C, Wei Q, Wang L, Lee JE, Barnes KC, Hansel NN, Mathias R, Daley D, Beaty TH, Scott AF, Ruczinski I, Scharpf RB, Bierut LJ, Hartz SM, Landi MT, Freedman ND, Goldin LR, Ginsburg D, Li J, Desch KC, Strom SS, Blot WJ, Signorello LB, Ingles SA, Chanock SJ, Berndt SI, Le Marchand L, Henderson BE, Monroe KR, Heit JA, de Andrade M, Armasu SM, Regnier C, Lowe WL, Hayes MG, Marazita ML, Feingold E, Murray JC, Melbye M, Feenstra B, Kang JH, Wiggs JL, Jarvik G, McDavid AN, Seshan VE, Mirel DB, Crenshaw A,Sharopova N, Wise A, Shen J, Crosslin DR, Levine DM, Zheng X, Udren JI, Bennett S, Nelson SC, Gogarten SM, Conomos MP, Heagerty P, Manolio T, Pasquale LR, Haiman CA, Caporaso N, Weir BS. Detectable clonal mosaicism from birth to old age and its relationship to cancer. Nature Genetics, 44:642-50. 2012. [PubMed]

Manolio TA, Chanock SJ. The riddle of intergenic disease-associated loci. Cell Cycle, 11:15-16. 2012. [PubMed]

Denny JC, Crawford DC, Ritchie MD, Bielinski SJ, Basford MA, Bradford Y, Chai HS, Zuvich R, Bastarache L, Peissig P, Carrell D, Pathak J, Wilke RA, Rasmussen L, Wang X, Ramirez AH, Pacheco J, Kho A, Weston N, Matsumoto M, Newton KM, Jarvik GP, Li R, Manolio TA, Kullo IJ, Chute CG, Chisolm RL, Larson EB, McCarty CA, Masys DR, Roden DM, de Andrade M. Variants near FOXE1 are associated with hypothyroidism and other thyroid conditions: using electronic medical records for genome- and phenome-wide studies. American Journal of Human Genetics, 89:529-42. 2011. [PubMed]

Matise TC, Ambite JL, Buyske S, Cole SA, Crawford DC, Haiman CA, Heiss G, Kooperberg C, Le Marchand L, Manolio TA, North KE, Peters U, Ritchie MD, Hindorff LA, Haines JL, for the PAGE Study. The next PAGE in understanding complex traits: study design for analysis of Population Architecture using Genetics and Epidemiology. American Journal of Epidemiology, 174:849-59. 2011. [PubMed]

Manolio TA, Green ED. Genomics reaches the clinic: From basic discoveries to clinical impact. Cell, 2011; 147:14-16. [PubMed]

Craig DW, Goor RM, Wang Z, Paschall J, Ostell J, Feolo M, Sherry ST, Manolio TA. Assessing and managing risk when sharing aggregate genetic variant data. Nature Reviews Genetics, 12:730-36. 2011. [PubMed]

Hindorff LA, Gillanders EM, Manolio TA. Genetic architecture of cancer and other complex diseases: Lessons learned and future directions. Carcinogenesis, 32:945-54. 2011. [PubMed]

Yang J, Manolio TA, Pasquale LR, Boerwinkle E, Caporaso N, Cunningham JM, de Andrade M, Feenstra B, Feingold E, Hayes MG, Hill WG, Landi MT, Lettre G, Lin P, Ling H, Lowe W, Mathias RA, Melbye M, Pugh E, Cornelis MC, Weir BS, Goddard ME, Visscher PM. Genome-partitioning of genetic variation for body mass index and height using common SNPs. Nature Genetics, 43:519-25. 2011. [PubMed]

Bookman EB, McAllister K, Gillanders E, Wanke K, Balshaw D, Rutter J, Reedy J, Shaughnessy D, Agurs-Collins T, Paltoo D, Atienza A, Bierut L, Kraft P, Fallin MD, Perrera F, Turkheimer E, Boardman J, Marazita ML, Rappaport SM, Boerwinkle E, Suomi SJ, Caporaso NE, Hertz-Picciotto I, Jacobsen KC, Lowe WL, Goldman LR, Duggal P, Gunnar MR, Manolio TA, Green ED, Olster DH, Birnbaum LS for the NIH GxE Interplay Workshop participants. Gene-environment interplay in common complex diseases: Forging an integrative model. Genetic Epidemiology, 35:217-25. 2011. [PubMed]
Last updated: April 27, 2023