NHGRI Long-Range Planning
NHGRI Long-Range Planning
The National Human Genome Research Institute (NHGRI) has been guided, since the inception of the Human Genome Project in 1990, by a sequential series of plans, each of which has been developed with considerable input from the scientific community. These plans have always laid out ambitious goals and measurable objectives to gauge progress.
About the 2008-2011 Long-Range Planning Process
NHGRI initiated its most recent planning process in 2008, five years after the publication of the previous plan, Vision for the Future of Human Genome Research. The phenomenal advances that have marked genomics and have allowed genomic applications to transform many important fields made it a good time for the Institute to step back and take a new look at genomics and its future.
The Institute's goal was to conduct a wide-ranging assessment of the state of the art in genomics and where the field should be going in the next several years. These activities were intended to help NHGRI and others plan their research investments to further the contributions of genomics to improvements in human health and other areas of society.
As in previous planning exercises, workshops were a major component of this one. A new feature of the 2008-2011 process was Web-based conversations on genome.gov. NHGRI sought as much input as others were willing to provide through all the means available, including white papers, public comment through the Web site, workshops, and a summary meeting.
NHGRI's new long-range plan was published on February 10, 2011 in Nature.
To read the plan, go to: Charting a course for genomic medicine from base pairs to bedside
To celebrate the launch of the new strategic vision for the field of genomics and the 10th anniversary of the first analysis of the draft human genome, NHGRI held a symposium on February 11, 2011.
To read more about the symposium, go to: A Decade with the Human Genome Sequence: Charting a Course for Genomic Medicine for more information about the symposium.
Timeline for the 2008-2011 Long-Range Planning Process
Mouse over the image for links to specific planning events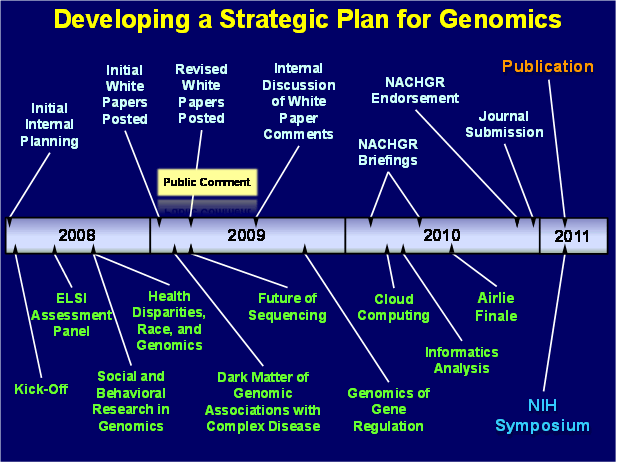 For more information about the NHGRI planning process, please contact:
Alice Bailey
Scientific Program Analyst
National Human Genome Research Institute, NIH
Phone: 301-496-0844
Fax: 301-402-0837
E-mail: baileyali@mail.nih.gov
Last updated: April 03, 2015