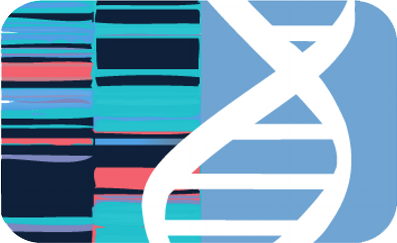 Genotype-Tissue Expression Project (GTEx)
An NIH Common Fund Project
The aim of the Genotype - Tissue Expression (GTEx) Project is to increase our understanding of how changes in our genes contribute to common human diseases, in order to improve health care for future generations.
GTEx Publishes Final Dataset (V8)
On Sept. 11, 2020, the final set of analyses from the GTEx Consortium were published in Science. The latest GTEx data release represents the largest atlas of human gene expression and catalog of trait loci to date.
Overview

Launched by the National Institutes of Health (NIH) in September 2010 (See: NIH launches Genotype-Tissue Expression project), GTEx will create a resource that researchers can use to study how inherited changes in genes lead to common diseases. It will establish a database and a tissue bank that can be used by many researchers around the world for future studies.

GTEx researchers are studying genes in different tissues obtained from many different people. Thus every donor's generous gift of tissues and medical information to the GTEx project makes possible research that will help improve our understanding of diseases, giving hope that we will find better ways to prevent, diagnose, treat and eventually cure these diseases in the future.

In addition, the GTEx project includes a study to explore the effectiveness of the GTEx donor consent process. We hope to better understand how participating in the study might affect the attitudes, beliefs and feelings of donors and the families of deceased donors using interviews and surveys of participants and their families. This study will help ensure that the consent process and other aspects of the project effectively address the concerns and expectations of participants in the study.

GTEx is a pioneering project that uses state-of-the-art protocols for obtaining and storing a large range of organs and tissues and for testing them in the lab. These tissues and organs are collected and stored through the National Cancer Institute's cancer Human Biobank initiative on behalf of GTEx. Until now, no project has analyzed genetic variation and expression in as many tissues in such a large population as planned for GTEx.

GTEx is funded through the NIH Common Fund, which supports innovative projects involving multiple NIH Institutes. GTEx is managed by the NIH Office of the Director, in partnership with the National Human Genome Research Institute, National Institute of Mental Health, National Cancer Institute, and numerous other NIH institutes. Additional information about the NIH Common Fund can be found at http://commonfund.nih.gov.

To learn more about the science behind the GTEx project, we invite you to visit: http://commonfund.nih.gov/GTEx.
Donors

The generosity of donors and donor families make this project possible. The goal of GTEX is to increase our understanding of how changes in genes contribute to common human diseases. This knowledge will improve health care for future generations.

GTEx will create information that will be useful to many researchers, studying many different diseases. The gift of your tissue or your loved one's tissue may lead to research which could help improve treatment for many people in the future.

There are two types of donor groups that participate in the GTEx project: 1) organ and tissue donors, and 2) surgical donors.

Organ and tissue donors include individuals who have agreed to donate organs (like kidneys, heart, and liver) and/or tissues (like bone and cornea) for use as medical transplants after they died. Family members may also make the decision to give consent for organ or tissue donation after their loved one has passed on. These donors or their family members have the opportunity to indicate whether any organs or tissues ineligible for transplants may be donated to benefit research studies like GTEx. Donating to GTEx would not interfere with the use of the organ or tissues for transplantation, which takes priority. Compared to surgical donors, many more types of tissues can be obtained for research studies from organ and tissue donors. People who may not qualify to donate organs or tissue for transplants may still qualify to donate tissues to GTEx for research.

Surgical tissue donors include people who undergo certain kinds of surgery. If a surgery patient agrees ahead of time, tiny amounts of tissue removed during surgery, such as fat, skin, or muscle, can be donated for use in the GTEx project. Only tissue which needs to be removed for medical reasons can be donated to the GTEx project. Donating to the GTEx project will not cause any additional tissue to be removed.


GTEx Findings

It has been said that someone has "good genes" when they are particularly healthy, but what does that mean? How does understanding of genetics translate into better health? NIH designed the Genotype Tissue Expression (GTEx) project to start to answer this question. The project is looking at the differences in people's genes.

Genes are made up of DNA and DNA is made up of different pieces too. One of GTEx's goals is to identify the pieces of DNA that control how genes behave. These pieces of DNA are called expression quantitative trait loci or eQTLs. These eQTLs control the behavior of genes like a thermostat regulates the temperature of a home. GTEx studies found that the number of eQTLs varies from person to person and from tissue to tissue. Researchers also discovered eQTLs act in different ways. Some eQTLs may affect a set of genes in one tissue, while other eQTLs affect genes in many tissues.

The GTEx consortium has also built an eQTL web-browser (http://www.gtexportal.org/home/) to help visualize and discover new relationships between genes and the DNA that affects them. This website provides a resource for the many researchers who are exploring the human genome. Understanding how the eQTLs change gene behavior in different tissues can help us understand how diseases develop in people. This knowledge, in turn, may help us develop new therapies and treatments, improving our health overall.
Progress

As of December 2015, GTEx finished enrollment of the additional donors, for a total of 961 donors. Analysis of the samples and data will continue for another 18 months. Over 30,000 samples have been collected.

In fall of 2015, information on gene expression for over 450 donors was released to the scientific community through the database of Genotype and Phenotype (dbGaP). Additionally, the new version of the GTEx Genome Browser has been launched and features new visualization tools.

In 2014, The National Institutes of Health awarded eight new grants to researchers to use tissues donated to GTEx to explore how human genes are expressed and regulated in different tissues.

In 2020, the GTEx Consortium published its final set of studies analyzing genotype data from approximately 948 post-mortem donors and approximately 17,382 RNA-seq samples across 54 tissue sites and 2 cell lines, with adequate power to detect Expression Quantitative Trait Loci in 48 tissues.
Last updated: September 24, 2020