Cristina Kapustij joins NHGRI as policy chief
Cristina Kapustij, M.S., has been named chief of the Policy and Program Analysis Branch (PPAB) at the National Human Genome Research Institute (NHGRI). In her new role, she will oversee policy activities and evaluation as well as program reporting and assessment to support institute priorities.
Policy and Evaluation
PPAB is a part of the Division of Policy, Communications and Education (DPCE), whose mission is to promote the understanding and application of genomic knowledge to advance human health and society.
"Ms. Kapustij brings an array of experience in genomics policy and legislation to the institute during a time when high profile policy issues related to the application of genomics to health and medicine are at the forefront," said DPCE Director Laura Lyman Rodriguez, Ph.D. "Her experience in academia, the private sector, and Congress provide Cristina with a complement of perspectives that will be vital as genomics continues to advance beyond the research laboratory toward clinical and other applications within society. These diverse perspectives will also enable Cristina to be a strong partner with scientists and policy makers as the Institute works to address challenges and opportunities during this important time for our field."
PPAB's primary responsibility is to examine the policy implications of genomics research and technologies, as well as those related to the dissemination of this knowledge through myriad societal applications. Ms. Kapustij and her team will assess policy needs for the field, track federal and state policies that have potential impact for NHGRI research, and develop policy positions on issues arising from the translation of genomic research discoveries to uses within the public domain.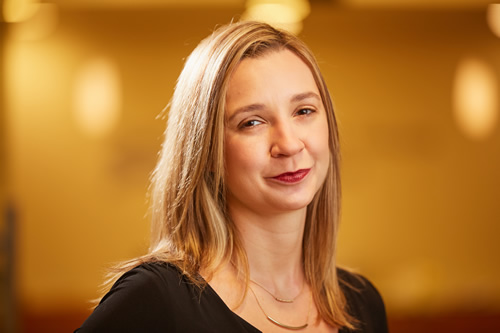 The branch also serves as an informational resource and liaison for parties interested in policy matters related to human genetics and genomics research.
"While working on the Hill, I realized how much policy makers rely on outside experts for quick and reliable information," said Ms. Kapustij. "My goal as chief is to position NHGRI's policy shop as the top resource on genomics research and related policy issues for both policy makers and grantees."
Prior to joining NHGRI, Ms. Kapustij worked at the Institute for Human Genetics at the University of California, San Francisco (UCSF). There she was the program manager for a $5 million dollar, National Institutes of Health cooperative research grant titled, "Sequencing of Newborn Blood Spot DNA to Improve and Expand Newborn Screening." She directed policy responses to potential changes in state and federal legislation; coordinated interactions with the Food and Drug Administration; and researched the ethical, legal and social implications (ELSI) of the DNA sequencing of newborn blood spots.
"A critical part of the NHGRI mission continues to be the study of complex issues at the intersection of genomics research and society," said Eric Green, M.D., Ph.D., director of NHGRI. "Ms. Kapustij has the poise and leadership to provide sound policy analyses and develop policy options to promote the use of genomic information for societal benefit."
Ms. Kapustij completed her master's degree in biotechnology at Georgetown University in May of 2008. "Most of my classmates pursued laboratory work for their internship, but I knew early on that I wanted to leverage being in our nation's capital and explore the myriad policy opportunities," she said.
She went on to complete an internship at the American Association for the Advancement of Science, where she co-authored the "Enhancing Humans" chapter of From Birth to Death and Bench to Clinic: The Hastings Center Bioethics Briefing Book for Journalists, Policymakers, and Campaigns. The chapter explores challenges regarding access and regulation that policymakers are facing around human enhancement technologies.
Kapustij also prepared briefs on congressional hearings for the science and policy directorate. This experience confirmed her passion for policy and led to opportunities as a Christine Mirzayan Science and Technology Policy Graduate Fellow at The National Academies of Sciences, Engineering, and Medicine; a policy analyst at the Institute for Genome Sciences and Policy at Duke University; and the ASHG/NHGRI Genetics and Public Policy Fellowship.
"Being named chief is a standout moment for me," said Ms. Kapustij. "Each position that I took following my graduate work added to my overall knowledge base and has positioned me for success at NHGRI. With experience on Capitol Hill, managing grants, and analyzing policy, I firmly believe I have the skillset required to advance the policy objectives critical to the institute's research mission.
Last updated: December 9, 2015