International gathering highlights challenges, opportunities in genomic medicine
What quickly became clear at the Global Leaders in Genomic Medicine meeting, held January 8-9 at the National Academy of Sciences in Washington, D.C., was that both relatively large countries (Canada and the United Kingdom) and small (Singapore, Estonia, Kuwait and Israel) were creating innovative programs and plans for implementing genomic medicine.
Using Genomics in Medicine
A goal of the two-day international gathering of more than 50 leaders in genomic medicine from more than 25 countries, sponsored by the National Human Genome Research Institute (NHGRI) as part of its series of Genomic Medicine meetings, was to recommend ways to improve the use of genomics in medicine.
"We're united globally by a passion to see how genomic information might inform us about the biology of disease and the potential of the genome to raise the quality of lives around the world," said Geoffrey Ginsburg, M.D., Ph.D., meeting co-organizer and director of Genomic Medicine at the Institute for Genome Sciences and Policy and executive director, Center for Personalized and Precision Medicine at Duke University in Durham, N.C. "Each of us has a vision of genomic information incorporated into healthcare delivery."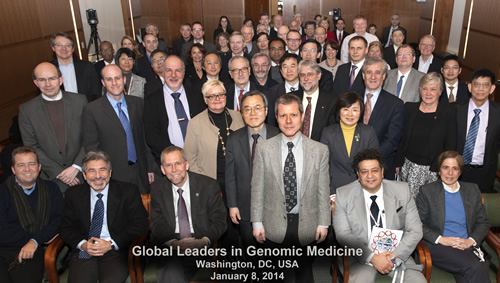 Dr. Ginsburg clicked off a brief list of advances that genomics has produced in medicine:
An improved understanding of the genomics underlying cancers has led to better cancer prognosis, diagnosis and risk assessment, as well as specific targeted treatments.
New discoveries in pharmacogenomics - which examines how individual genetic makeup affects responses to drugs - have led to labeling changes warning of genetic vulnerabilities to medications.
Improvements in DNA sequencing have led to a greater understanding of common and rare diseases.
At the same time, he noted, the use of genomic medicine faces a number of challenges, including proving that using genomics in clinical care is cost effective, and understanding which - and how - variations in genes can affect a person's health. Then there's the problem of managing vast amounts of genomic data, and ongoing privacy and consent issues related to sharing this information with physicians, patients and researchers.
Speakers described their respective nation's systems, their strengths and capabilities, and their visions for developing genomic and precision medicine. They highlighted specific projects - some of which were well on their way to being implemented in patient care - and talked about gaps, challenges and opportunities. In most cases, economic resources and political structures played influential roles.
The systems on display were complex, varied and ambitious. In December 2012, the United Kingdom's (U.K.) Department of Health funded Genomics England to manage the 100,000 Genomes Project. The program is targeting the genomics of rare diseases and cancer as a first step towards the eventual large scale implementation of genomic medicine.
"The mission is to perform whole genome sequencing for 100,000 patients, and for the results to help improve the health of people in the U.K.," said Tim Hubbard, Ph.D., of King's College London, King's Health Partners and the Wellcome Trust Sanger Institute. Whole genome sequencing determines the complete DNA sequence of a genome.
Through contracts with U.K. companies, universities and hospitals, Genomics England will build an infrastructure of 23 genetic testing centers to handle data collection and electronic records, in accordance with existing National Health Service rules designed to protect patient information. The information will be accessible to physicians and, eventually, to researchers, in a limited way, by 2017.
Belgium currently has a network of eight genetic testing centers that are collaborating on a five-year research project targeting rare diseases. It includes a component for studying complex diseases, such as Crohn's disease and irritable bowel syndrome.
"The plan is to use this as a model to investigate how to go from single gene diseases to complex diseases from diagnostic and research standpoints," said Gert Matthijs, Ph.D., head of the Laboratory for Molecular Diagnostics at the Center for Human Genetics at the University of Leuven in Belgium.
The centers plan to also establish standards for DNA sequencing of exomes (the protein-coding region of the genome) and data storage, and to use clinical samples to build a national genetic variant reference database.
At the end of day two, participants broke into interest groups, which included bioinformatics, education, pharmacogenomics, evidence generation and policy. Each of these areas represents key challenges in implementing genomic medicine. For 90 minutes, each group discussed its priorities, obstacles and opportunities to move genomic medicine forward, and developed recommendations.
"How can we show that genomic medicine really works?" asked Heidi Rehm, Ph.D., assistant professor of pathology at Brigham and Women's Hospital and Harvard Medical School in Boston, who co-led the evidence generation group. One way might be through so-called "pragmatic" clinical trials that use
healthcare delivery to carry out research, noted Dr. Ginsburg. A group of physicians might compare the effectiveness of a certain set of genomic tests, for example, to the current (non-genomic) standard of care.
But generating this kind of evidence can be very difficult, Dr. Rehm said. There's often added complexity in genomics, particularly because some genes and diseases are rare. Genomic tests can be complicated and interpreting results is not always straightforward. Other challenges include defining what types of evidence might be needed to prove gene-disease associations and the validity of tests and results.
Perhaps the biggest surprise in bringing world leaders in genomic medicine together under one roof was the sophisticated array of efforts on display from countries of all sizes, said Teri Manolio, M.D., Ph.D., meeting co-organizer and director of NHGRI's Division of Genomic Medicine.
"It was wonderfully encouraging to learn how much activity in genomic medicine is already going on in so many different countries, and how interested they are in collaborating," she said.
Marc S. Williams, M.D., director of the Genomic Medicine Institute at Geisinger Health System in Danville, Pa., was impressed with some of the smaller nations. He cited Estonia for its "incredibly advanced integrated system of electronic health records and patient portals all tied to a single governmental identifier."
Dr. Williams noted several innovative efforts in pharmacogenomics, especially the use of genomic medicine interventions against specific conditions. Thailand is using a national approach to test for adverse drug events leading to life-threatening skin conditions such as Stevens-Johnson syndrome and Toxic Epidermal Necolysis (SJS/TEN). In that country, genetically susceptible individuals can carry a pharmacogenomics card with detailed, personalized information about specific susceptibility to certain drugs that could lead to SJS/TENS. The pharmacogenomics working group proposed a global eradication effort targeting SJS/TENS through pharmacogenomic testing.
"Even those countries with limited resources are showing that they can carry out innovative programs with high potential for improving health," said Dr. Ginsburg.
Dozens of meeting participants have expressed interest in continuing their involvement in the newly created working groups. "This meeting was an opportunity to compare systems across the globe to see which have been the most effective, and it has enabled the genomic medicine leadership from many nations to begin dialogues and develop collaborative projects," Dr. Ginsburg said.
"The goals of the meeting were achieved by all accounts and plans are underway to develop an international organizational structure to carry forward the momentum of addressing genomic medicine collectively as a global community," Dr. Ginsburg continued. "We have a real opportunity with this group to move the genomic medicine field forward in new ways. We've only scratched the surface."
To watch the meeting's proceedings, please go to: www.genome.gov/27555775/genomic-medicine-centers-meeting-vi-global-leaders-in-genomic-medicine-gm6/.
Last updated: February 7, 2014