Intramural trainees represent NHGRI at 2015 plain language competition
Every day, people make decisions about their healthcare, sometimes without fully understanding their healthcare providers' recommendations. By the same turn, scientists trained in research methodologies and analytical skills sometimes lack the ability to translate their scientific findings into plain language, further increasing the disconnect between scientists and the general public.
Training Scientists, Improving Public Literacy
To help bridge the gap, representatives of the National Human Genome Research Institute (NHGRI) and other institutes at the National Institutes of Health recently participated in a high-energy science communications contest called the Three-minute Talk (TmT). Five intramural trainee finalists from NHGRI - Melissa Harris, Ph.D., Gustavo Sudre, Ph.D., Shurjo Sen, Ph.D., and Ph.D. candidates Senta Kapnick and Brenna Labarre - took on the challenge of using plain language principles and one PowerPoint slide to explain their research in three-minutes or less.
"Plain language is one of the best tools to increase the public's scientific literacy," said Bill Pavan, Ph.D., Intramural Training Office director and senior investigator for NHGRI's Genetic Disease Research Branch. "These scientists are still speaking as experts in their fields, but they are removing some of the jargon and placing more emphasis on the importance of their research."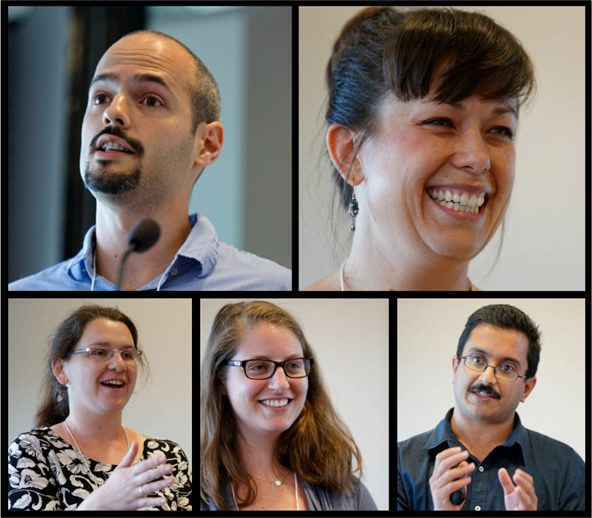 Using plain language is challenging for scientists, but it's required by law, he said. The Plain Writing Act of 2010 requires that all federal agencies write "clear government communication that the public can understand and use," and that includes its scientists, too.
On July 16, NHGRI's five contestants competed against nine other finalists from the National Institute of Dental and Craniofacial Research (NIDCR) and the Eunice Kennedy Shriver National Institute of Child Health and Human Development (NICHD) at Lipsett Auditorium in Bethesda, Maryland.
At the end of the competition, judges announced the top three winners, with second and third place going to NHGRI contestants. Gustavo Sudre, who spoke on "The Connectome in the Human Brain: Defining its Heritability and Association with ADHD," placed second, and Melissa Harris, who spoke on "Identifying Genetic Modifiers of the Age-related Phenotype of Hair-graying," placed third.
NHGRI participants had positive things to say about the experience. "We learned the critical skill of how to tailor the message of our research to a greater audience," said Dr. Sudre. Dr. Harris added that, "We all have the potential to be great speakers, and the TmT training helped us all find a way to unleash these talents."
As a reward, the top three winners received scientific training and travel support as well as a professionally produced video of their talks. Their ability to convey in plain language their research will benefit trainees' careers, explained Dr. Pavan.
NICHD hosted its first TmT competition last year. The event is inspired by a similar contest called Three-minute Thesis at the University of Queensland, Australia. Since those beginnings in 2008, similar competitions have taken place in more than 200 universities in 18 countries.
In this year's competition, NICHD decided to expand their effort to include other institutes and centers. One of the criteria for participation was to attend training events such as one on improvisation at the Alan Alda Center for Communicating Science at Stony Brook University, State University of New York. They also received tips on speaking in plain language and creating effective visual aids from D.C. area public speaking coach, Scott Morgan.
Activities such as the TmT competition and a new category for plain language scientific posters launched at the 2013 NHGRI intramural symposium are ways in which NHGRI is embracing effective communication of science to the public.
"Through these efforts, we are enhancing the public's understanding of the work we do," said Dr. Pavan. "We can build public support for our work simply by making it more understandable."
TmT Second Place Winner
TMT Third Place Winner
TmT Finalist
TmT Finalist
TmT Finalist
Last updated: August 12, 2015