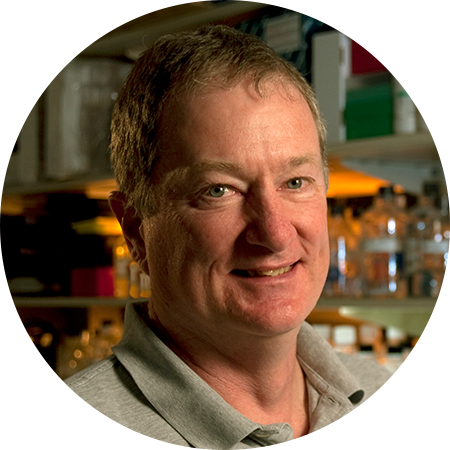 Chief & Senior Investigator
Genetics and Molecular Biology Branch
Head
Hematopoiesis Section
Education
B.A. Colby College, Waterville, ME, 1976
Ph.D. The Jackson Laboratory/University of Maine, 1984
Biography
Dr. David Bodine, Ph.D., received his undergraduate degree from Colby College in 1976, a master's degree in Human Genetics from Rutgers in 1977 and a Ph.D. for his work at the Jackson Laboratory through the University of Maine in 1984. After postdoctoral work at NIH's National Heart, Lung and Blood Institute, Dr. Bodine founded the Hematopoiesis Section in the newly formed Intramural Research Program of NIH's National Human Genome Research Institute (NHGRI) in 1993. In 1995, Dr. Bodine was promoted to Senior Investigator with tenure at NHGRI, and in 2006 was named chief of NHGRI's Genetics and Molecular Biology Branch.
Dr. Bodine has won numerous awards during his career. As an undergraduate, he received the Webster Chester Biology prize, and was awarded an honorary degree from Colby College in 2013. Dr. Bodine received postdoctoral fellowships from the NIH and the Cooley's Anemia Foundation. Having benefited from outstanding mentoring during his career, Dr. Bodine consequently has made mentoring his trainees a priority. In recognition of these efforts, Dr. Bodine was named 2004 NIH Mentor of the Year, and he has been named NHGRI Mentor of the Year three times, most recently in 2012. Nationally, Dr. Bodine has served as the president of the American Society of Gene Therapy and Counselor to the American Society of Hematology, and he is currently an Associate Editor for the journal Blood.
Scientific Summary
Hematopoiesis is the process of generating all of the different types of blood cells (erythrocytes, lymphocytes, platelets, etc.) circulating throughout the body. All of these cells are derived from a small population of pluripotent hematopoietic stem cells. As pluripotent hematopoietic stem and progenitor cells multiply and differentiate, their progeny lose the ability to differentiate into some lineages and eventually become committed to one single type of cell that ultimately enters the blood circulation. The Hematopoiesis Section's research focuses on erythropoiesis, the regenerative process in which undifferentiated hematopoietic cells differentiate into red blood cells. Perturbations of this process cause a variety of disorders ranging from hematologic malignancy to anemia.
One of the Hematopoiesis Section's research objectives is to understand the epigenetic changes that accompany erythroid differentiation, including how they differ from the epigenetic profiles of cells from other lineages. To accomplish this goal, the Hematopoiesis Section participates in a consortium known as VISION (Validated Systematic IntegratiON of hematopoietic epigenomes) whose goal is to define the epigenetic changes that occur during erythropoiesis. VISION is designed to extend the ENCyclopedia Of DNA Elements (ENCODE) Project into the study of primary hematopoietic cells. ENCODE was developed to identify all functional elements in the human genome, including epigenetic marks and sites occupied by transcription factors, primarily focusing on cell lines or cultured cells. The hematopoietic system provides a unique opportunity for study because primary hematopoietic cells can be separated into well-defined populations representing distinct lineages and stages of differentiation using flow cytometry, which is not possible in other organs. This allows the determination of the epigenetic state of the genome in freshly isolated, specific cell types. These data can be correlated with transcriptional profiles, chromatin accessibility, DNA methylation and 3D chromatin interactions to determine the regulatory signature that accompanies differentiation into a specific lineage (i.e. red cells).
The goal of these epigenetic studies is to determine how the genome of mouse hematopoietic progenitor cells becomes programed to generate red blood cells. By working with the mouse system, hypotheses derived from observations can be tested directly in the myriad mouse models available to study erythroid differentiation. The Hematopoiesis Section is developing a comprehensive transcriptional profile of single mouse progenitor cells to determine the earliest emergence of the different lineages. The histone code, chromatin accessibility, DNA methylation etc. profiles of these cells will be compared to the profiles we have generated in primary mouse erythroblasts, megakaryocytes (which generate platelets) and earlier bipotential progenitor cells. The collective chromatin signatures emerging from the analysis of these cell populations are compared to find correlations with the RNA expression profiles The long-term goal is to identify the critical regulatory pathways that promote erythroid proliferation and differentiation and to develop small molecules or compounds that could be used to treat anemia.
The Hematopoiesis Section also studies erythropoiesis using the model of a genetically-determined form of anemia that affects humans, called Diamond-Blackfan Anemia syndrome (DBA). DBA is an inherited autosomal dominant disorder associated with failed erythropoiesis, congenital malformations and a predisposition to cancer. Approximately 65 percent of DBA patients have mutations in genes encoding one of 13 ribosomal protein subunits, which result in haploinsufficiency. Because DBA mutations are incompletely penetrant, the lack of a molecular diagnosis in 35 percent of patients prevents the use of sibling donors for hematopoietic stem cell transplantation, the only curative therapy for DBA. The lack of a molecular diagnosis also complicates genotype/phenotype analysis of DBA patients and the possibility of family planning for parents and siblings of affected individuals. A large-scale targeted exome sequence analysis tested the hypothesis that mutations in non-ribosomal protein genes are the cause of DBA in these patients. However, no mutations in non-ribosomal protein genes were identified. The Hematopoiesis Section is currently employing genome sequencing to determine whether small deletions involving ribosomal protein genes or mutations in regulatory sequences are responsible for the "undiagnosed" 35% of DBA patients. The Hematopoiesis Section is also developing reporter cell lines that can be used to screen for drugs that increase the levels of ribosomal proteins, which may offer a new treatment for DBA.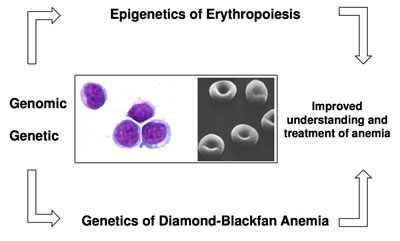 Publications
Bodine DM, Birkenmeier CS, and Barker JE. Spectrin deficient inherited hemolytic anemias in the mouse: Characterization by spectrin synthesis and mRNA activity in reticulocytes. Cell, 37:721-729. 1984. [PubMed]
Bodine DM and Ley TJ. An enhancer element lies 3' to the human A gamma globin gene. EMBO J, 6:2997-3004. 1987. [PubMed]

Bodine DM, Karlsson S, and Nienhuis AW. The combination of Interleukin 3 and 6 preserves stem cell function in culture and enhances retrovirus-mediated gene transfer into hematopoietic stem cells. PNAS, 86:8897-8901. 1989. [PubMed]

Bodine DM, McDonagh KT, Brandt SJ, Ney PA, Agricola B, Byrne E, Nienhuis AW. Development of a high-titer retrovirus producer cell line capable of gene transfer into Rhesus hematopoietic stem cells. PNAS, 87:3738-3742. 1990. [PubMed]

Orlic D, Anderson SM, Biesecker LG, Sorrentino BP, Bodine DM. Pluripotent hematopoietic stem cells contain high levels of mRNA for c-kit, GATA-2, p45NF-E2 and c-myb, and low levels or no mRNA for c-fms and the receptors for granulocyte-colony stimulating factor and interleukins 5 and 7. PNAS, 92:4601-4605. 1995. [PubMed]

Orlic D, Girard LJ, Jordan CT, Anderson SM, Cline AP, Bodine DM. The level of mRNA encoding amphotropic retrovirus receptor in mouse and human hematopoietic stem cells is low and correlates with the efficiency of retrovirus transduction. PNAS, 93:11097-11012. 1996. [PubMed]

Dunbar CE, Seidel NE, Doren S, Sellers S, Cline AP, Metzger ME, Agricola BA, Donahue RE, Bodine DM. Improved retroviral gene transfer into murine and Rhesus peripheral blood or bone marrow repopulating cells primed in vivo with Stem Cell Factor and Granulocyte Colony Stimulating Factor. PNAS, 93:11871-76. 1996. [PubMed]

Sabatino DE, Seidel NS, Aviles-Mendoza GJ, Cline AP, Anderson SM, Gallagher PG, Bodine DM. Long term expression of g-globin mRNA in mouse erythrocytes from retrovirus vectors containing the human g-globin gene fused to the Ank-1 promoter. PNAS, 97:13294-9. 2000. [PubMed]

Broxmeyer HE, Srour EF, Hangoc G, Cooper S, Anderson SM, Bodine DM. High Efficiency Recovery of Hematopoietic Progenitor Cells with Extensive Proliferative and Ex Vivo Expansion Activity and of Hematopoietic Stem Cells with NOD/SCID Mouse Repopulating Ability from Human Cord Blood Cryopreserved for 15 years. PNAS, 100:645-50. 2003. [PubMed]

Nemeth M, Kirby M, Bodine DM. Hmgb3 Regulates the Balance Between Hematopoietic Stem Cell Self-Renewal and Differentiation. PNAS, 103:13783-8. 2006. [PubMed]

Nemeth MJ, Topol L, Kirby M, Yang Y, Bodine DM. Wnt5a Inhibits Canonical Wnt Signaling in Hematopoietic Stem Cells and Enhances Repopulation. PNAS, 104:15436-41. 2007. [PubMed]

Pilon AM, Arcasoy MO, Dressman HK, Vayda SE, Maksimova YD, Sangerman JI, Gallagher PG, Bodine DM. Failure of terminal erythroid differentiation in EKLF-deficient mice is associated with cell cycle perturbation and reduced expression of E2F2. Mol Cell Bio,28(24):7394-401. 2008. [PubMed]
Laflamme K, Owen AN, Devlin EE, Yang MQ, Wong C, Steiner LA, Garrett LJ, Elnitski L, Gallagher PG, Bodine DM. Functional analysis of a novel cis-acting regulatory region within the human ankyrin gene (ANK-1) promoter. Mol Cell Biol, 30(14):3493-502. 2010. [PubMed]

Devlin EE, Dacosta L, Mohandas N, Elliott G, Bodine DM. A transgenic mouse model demonstrates a dominant negative effect of a point mutation in the RPS19 gene associated with Diamond-Blackfan anemia. Blood, 116:2826-35. 2010. [PubMed]

Gallagher PG, Steiner LA, Liem RI, Owen AN, Cline AP, Seidel NE, Garrett LJ, Bodine DM. Mutation of a barrier insulator in the human ankyrin-1 gene is associated with hereditary spherocytosis. J Clin Invest, 120:4453-65. 2010. [PubMed]

Pilon AM, Ajay SS, Kumar SA, Steiner LA, Cherukuri PF, Wincovitch S, Anderson SM; NISC Comparative Sequencing Center, Mullikin JC, Gallagher PG, Hardison RC, Margulies EH, Bodine DM. Blood, 118(17):e139-48. 2011. [PubMed]
Farrar JE, Vlachos A, Atsidaftos E, Carlson-Donohoe H, Markello TC, Arceci RJ, Ellis SR, Lipton JM, Bodine DM. Ribosomal Protein Gene Deletions in DBA. Blood, 118(26):6943-51. 2011. [PubMed]
Hogart A, Lichtenberg J, Ajay SS, Anderson S; NIH Intramural Sequencing Center, Margulies EH, Bodine DM. Genome-wide DNA methylation profiles in hematopoietic stem and progenitor cells reveal overrepresentation of ETS transcription factor binding sites. Genome Res, 22(8):1407-18. 2012. [PubMed]

Vlachos A, Farrar JE, Atsidaftos E, Muir E, Narla A, Markello TC, Singh SA, Landowski M, Gazda HT, Blanc L, Liu JM, Ellis SR, Arceci RJ, Ebert BL, Bodine DM, Lipton JM. Diminutive somatic deletions in the 5q region lead to a phenotype atypical of classical 5q- syndrome. Blood, 122: 2487-90. 2013. [PubMed]
Farrar JE, Quarello P, Fisher R, O'Brien KA, Aspesi A, Parrella S, Henson AL, Seidel NE, Atsidaftos E, Prakash S, Bari S, Garelli E, Arceci RJ, Dianzani I, Ramenghi U, Vlachos A, Lipton JM, Bodine DM, Ellis SR. Exploiting pre-rRNA processing in Diamond Blackfan anemia gene discovery and diagnosis. Am J Hematol, 89: 985-91. 2014. [PubMed]
Hematopoiesis Section Staff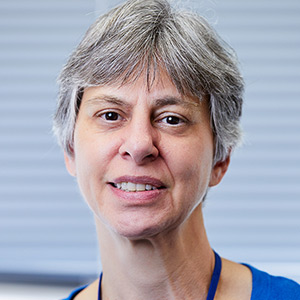 Nancy Seidel
Biologist
Hematopoiesis Section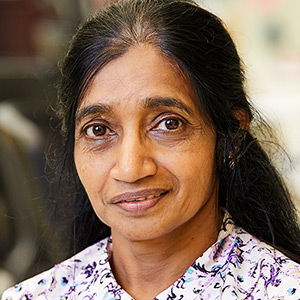 Jaya J. Jagadeesh
Biologist
Hematopoiesis Section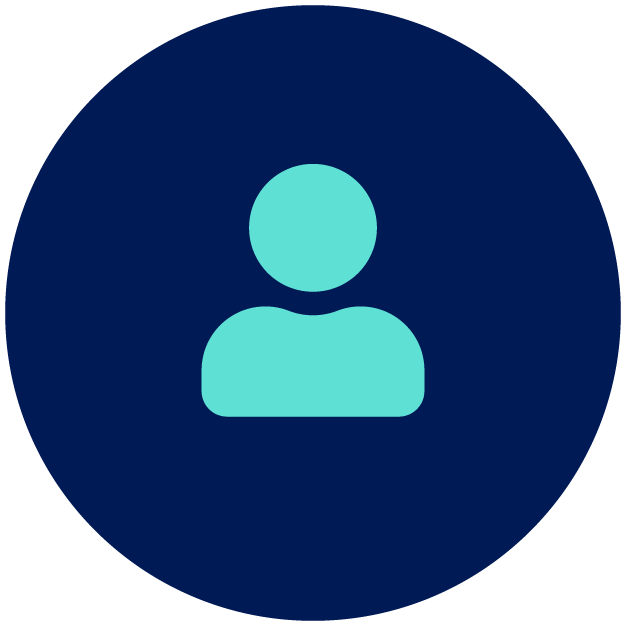 Jens Lichtenberg
Postdoctoral Fellow
Hematopoiesis Section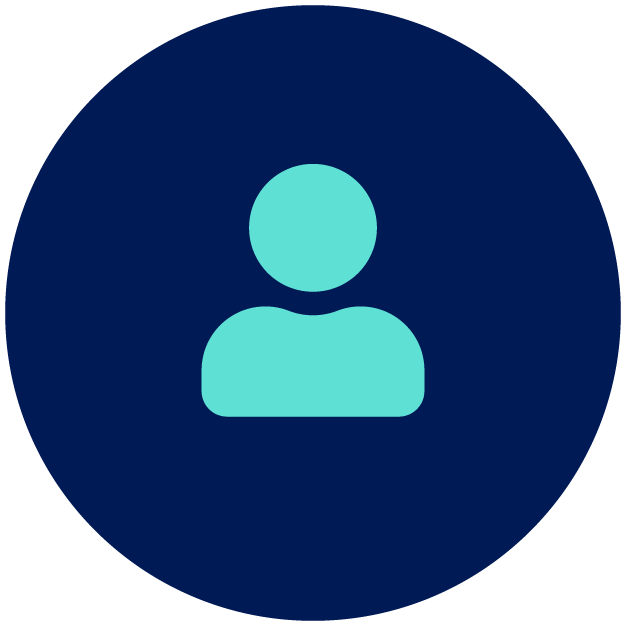 Will Simmons
Postbaccalaureate Fellow
Hematopoiesis Section Staff
Last updated: August 28, 2018