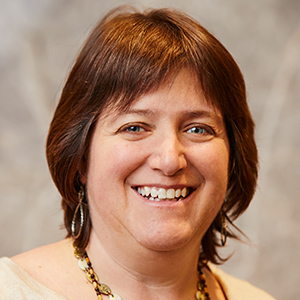 Jennifer L. Troyer, Ph.D.
Program Director Human Heredity and Health in Africa
Division of Genome Sciences
Education
B.A. Earlham College, 1990
Ph.D. University of Connecticut, 2000
Biography

Dr. Jennifer Troyer joined the NHGRI Extramural Research Program as a program director in 2013. She manages a portfolio of grants focused on comparative genomic approaches and analysis methods for understanding genome structure and function. As part of this portfolio, she is the NHGRI contact for the NSF Enabling Discovery through Genomics (EDGE) program and manages the comparative genomic non-human primate portion of the developmental Genotype Tissue Expression (dGTEx) program. She has also served as coordinator for the Common Fund Human Heredity and Health in Africa (H3Africa) program as part of their Global Health Initiative.

Dr. Troyer came to NHGRI from the National Cancer Institute (NCI) intramural program. While at NCI, she ran a research program focused on viral evolution and host susceptibility and restriction factors in the Laboratory of Genomic Diversity and then served as project manager of genetics and genomics technology development for the Advanced Technology Program.

Dr. Troyer received a B.A. in biology from Earlham College, a Ph.D. in genetics from the University of Connecticut, and completed postdoctoral research at NCI in the Laboratory of Genomic Diversity and at Colorado State University in the Department of Microbiology, Immunology, and Pathology.
Publications

Tang M, Lautenberger JA, Gao X, Sezgin E, Hendrickson SL, Troyer JL, David VA, Guan L, McIntosh CE, Guo X, Zheng Y, Liao J, Deng H, Malasky M, Kessing B, Winkler CA, Carrington M, Dé The G, Zeng Y, O'Brien. The principal genetic determinants for nasopharyngeal carcinoma in China involve the HLA class I antigen recognition groove. SJ.PLoS Genet. 2012;8(11):e1003103. doi: 10.1371/journal.pgen.1003103. Epub 2012 Nov 29. [PubMed]

An P, Li R, Wang JM, Yoshimura T, Takahashi M, Samudralal R, O'Brien SJ, Phair J, Goedert JJ, Kirk GD, Troyer JL, Sezgin E, Buchbinder SP, Donfield S, Nelson GW, Winkler CA. Role of exonic variation in chemokine receptor genes on AIDS: CCRL2 F167Y association with pneumocystis pneumonia. PLoS Genet, Oct;7(10). 2011. [PubMed]

Troyer JL, Nelson GW, Lautenberger JA, Chinn L, McIntosh C, Johnson RC, Sezgin E, Kessing B, Malasky M, Hendrickson SL, Li G, Pontius J, Tang M, An P, Winkler CA, Limou S, Le Clerc S, Delaneau O, Zagury JF, Schuitemaker H, van Manen D, Bream JH, Gomperts ED, Buchbinder S, Goedert JJ, Kirk GD, O'Brien SJ. Genome-wide association study implicates PARD3B-based AIDS restriction. J Infect Dis. May 15;203(10):1491-502. 2011. [PubMed]

Sezgin E, Jabs DA, Hendrickson SL, Van Natta M, Zdanov A, Lewis RA, Smith MW, Troyer JL, O'Brien SJ; SOCA Research Group. Effect of host genetics on the development of cytomegalovirus retinitis in patients with AIDS. J Infect Dis, 202(4):606-13. [PubMed]

Sezgin E, Drosdak A, McIntosh C, Kessing B, Lautenberger JA, Goedert JJ, Phair JP, Troyer JL, Smith MW, O'Brien SJ. Examination of disease-based selection, demographic history and population structure in European Y-chromosome haplogroup I. J Hum Genet. 55(9):613-20. 2010. [PubMed

Brown MA, Troyer JL, Pecon-Slattery J, Roelke ME, O'Brien SJ. Genetics and pathogenesis of feline infectious peritonitis virus. Emerg Infect Dis, 15(9):1445-52. 2009. [PubMed]

Antunes A, Troyer JL, Roelke ME, Pecon-Slattery J, Packer C, Winterbach C, Winterbach H, Hemson G, Frank L, Stander P, Siefert L, Driciru M, Funston PJ, Alexander KA, Prager KC, Mills G, Wildt D, Bush M, O'Brien SJ, Johnson WE. The evolutionary dynamics of the lion Panthera leo revealed by host and viral population genomics. PLoS Gen, 4(11):e1000251. 2008. [PubMed]

Terwee JA, Carlson JK, Sprague WS, Sondgeroth KS, Shropshire SB, Troyer JL, VandeWoude S. Prevention of immunodeficiency virus induced CD4+ T-cell depletion by prior infection with a non-pathogenic virus. Virology, 20;377(1):63-70. 2008. [PubMed]

Troyer JL, Vandewoude S, Pecon-Slattery J, McIntosh C, Franklin S, Antunes A, Johnson W, O'Brien SJ. FIV cross-species transmission: an evolutionary prospective. Vet Immunol Immunopathol, 123(1-2):159-66. 2008. [PubMed]

Brown MA, Cunningham MW, Roca AL, Troyer JL, Johnson WE, O'Brien SJ. Genetic characterization of feline leukemia virus from Florida panthers. Emerg Infect Dis, 14(2):252-9. 2008. [PubMed]

Franklin SP, Troyer JL, Terwee JA, Lyren LM, Boyce WM, Riley SP, Roelke ME, Crooks KR, Vandewoude S. Frequent transmission of immunodeficiency viruses among bobcats and pumas. J Virol, 81(20):10961-9. 2007. [PubMed]

Smirnova N, Troyer JL, Schissler J, Terwee J, Poss M, VandeWoude S. Feline lentiviruses demonstrate differences in receptor repertoire and envelope structural elements. Virology, 342(1):60-76. 2005. [PubMed]

Troyer JL, Pecon-Slattery J, Roelke ME, Johnson W, VandeWoude S, Vazquez-Salat N, Brown M, Frank L, Woodroffe R, Winterbach C, Winterbach H, Hemson G, Bush M, Alexander KA, Revilla E, O'Brien SJ. Seroprevalence and genomic divergence of circulating strains of feline immunodeficiency virus among Felidae and Hyaenidae species. J Virol, 79(13):8282-94. 2005. [PubMed]

Pearks Wilkerson AJ, Teeling EC, Troyer JL, Bar-Gal GK, Roelke M, Marker L, Pecon-Slattery J, O'Brien SJ. Coronavirus outbreak in cheetahs: lessons for SARS. Curr Biol, 23;14(6):R227-8. 2004. [PubMed]

Troyer JL, Pecon-Slattery J, Roelke ME, Black L, Packer C, O'Brien SJ. Patterns of feline immunodeficiency virus multiple infection and genome divergence in a free-ranging population of African lions. J Virol. 78(7):3777-91. 2004. {PubMed]
Last updated: June 27, 2022