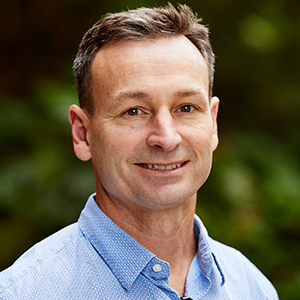 Randy Chandler, Ph.D., M.B.
Associate Investigator
Metabolic Medicine Branch
Education
B.S., St. Joseph's University
M.B., University of Pennsylvania
Ph.D., George Washington University
Biography
Dr. Randy Chandler is an associate investigator in the Organic Acid Research (OAR) Section of the Metabolic Medicine Branch in NHGRI. He earned a bachelor of science degree in biology from Saint Joseph's University, a master of biotechnology degree from the University of Pennsylvania, and doctor of philosophy in molecular medicine from George Washington University. Prior to joining the National Institutes of Health (NIH) in 2003, Dr. Chandler was at the University of Pennsylvania School of Medicine's Department of Genetics in Dr. Haig Kazazian's lab, where Dr. Chandler's research focused on adeno-associated virus (AAV) gene therapy for the treatment of hemophilia A, a genetically inherited bleeding disorder.
Since coming to the NIH and joining Dr. Charles Venditti's OAR Section, Dr. Chandler's research has focused on the efficacy of gene therapy as a treatment for rare genetic disorders, such as methylmalonic acidemia (MMA), propionic acidemia (PA), and Niemann-Pick Disease, Type C1. His preclinical proof-of-principal studies using MMA murine models have helped enable two clinical trials: one uses mRNA therapy and the other, AAV-mediated nuclease-free genome editing. In addition, he is a member of NCATS's Platform Vector Gene Therapy (PaVe-GT) pilot project team that seeks to increase the efficiency of clinical trial start-ups by using the same gene delivery system and manufacturing methods for multiple rare genetic diseases. Based on his pioneering work using AAV gene therapy to develop a new treatment for PA, this disorder was nominated as a target indication by the PaVe-GT leadership team. During his career, Dr. Chandler has received numerous awards, including the Emmanuel Shapira Award from the Society for Inherited Metabolic Disorders in 2007, the Charles J. Epstein Trainee Research Award from the American Society of Human Genetics in 2008, and a Young Investigator Award from the European Society of Gene and Cell Therapy in 2012 for his contributions to the field of gene therapy.
Scientific Summary
Dr. Chandler has specific expertise and research interest in developing and testing various gene therapy approaches, such as AAV gene delivery, genome editing, and mRNA therapy, to cure rare genetic disorders. The primary focus of his research has been to develop gene therapies for two severe inherited organic acidemias, MMA and PA, for which more effective treatments are needed than those that currently exist. Dr. Chandler was the first to establish long-term efficacy for AAV-mediated gene delivery for MMA and PA. In addition, his research has shown that mRNA therapy and gene editing approaches could also be potentially beneficial for MMA patients. Importantly, Dr. Chandler's research relating to the in vivo gene editing in murine models of MMA has shown that the corrected MMA hepatocytes have a growth advantage, which allows corrected hepatocytes to outcompete uncorrected hepatocytes and to repopulate MMA-diseased livers. The gene therapy approaches and methods he has developed have also been applied by the OAR Section to treat murine models of related organic acidemias. Dr. Chandler regularly collaborates with other NHGRI labs, NIH Institutes,and biotechnology companies in designing gene therapy vectors and preparing FDA Interact, IND and ODD submissions for gene therapy applications. In collaboration with Dr. William Pavan's (NHGRI) and Dr. Denny Porter's (NICHD) labs, he led efforts to develop AAV gene therapy to treat Niemann-Pick Disease, Type C1 disease, a rare and lethal inherited neurological disorder. This breakthrough has resulted in continued efforts to advance gene therapy as a treatment for this disease.
In addition to developing gene therapy approaches for genetic diseases, Dr. Chandler's research focuses on the potential toxicities associated with gene therapies. He has demonstrated that AAV vectors can cause insertional mutagenesis in mice treated as neonates and that this toxicity is dose-dependent. His research has also demonstrated that enhancer elements in the AAV vectors are likely the cause of upregulation of oncogenes and tumorigenesis in mice treated with AAV. Importantly, his AAV integration studies revealed that transcriptionally active genes in the murine liver, such as albumin, may be an integration hotspot for AAV.
Lastly, Dr. Chandler's research has involved the use of gene editing and transgenic constructs to create murine models of human genetic diseases both to test gene therapies and to understand pathophysiology. He was the first to demonstrate that mice and patients with MMA both have a tissue-specific mitochondrial dysmorphology and impaired mitochondrial function. In addition, these murine models have been used to establish biomarkers, to develop assays that can be used to monitor the effects of gene therapy, and to establish efficacy data to support human clinical translation.
Publications
Chandler RJ, Venturoni LE, Liao J, Hubbard BT, Schneller JL, Hoffmann V, Gordo S, Zang S, Ko CW, Chau N, Chiang K, Kay MA, Barzel A, Venditti CP. Promoterless, nuclease-free genome editing confers a growth advantage for corrected hepatocytes in mice with methylmalonic acidemia. Hepatology. 2021.
Schneller JL, Lee CM, Venturoni LE, Chandler RJ, Li A, Myung S, Cradick TJ, Hurley AE, Lagor WR, Bao G, Venditti CP. In vivo genome editing at the albumin locus to treat methylmalonic acidemia. Mol Ther Methods Clin Dev. 2021.
Davidson CD, Gibson AL, Gu T, Baxter LL, Deverman BE, Beadle K, Incao AA, Rodriguez-Gil JL, Fujiwara H, Jiang X, Chandler RJ, Ory DS, Gradinaru V, Venditti CP, Pavan WJ. Improved systemic AAV gene therapy with a neurotrophic capsid in Niemann-Pick disease type C1 mice. Life Sci Alliance. 2021.
May FJ, Head PE, Venturoni LE, Chandler RJ, Venditti CP. Central nervous system-targeted adeno-associated virus gene therapy in methylmalonic acidemia. Mol Ther Methods Clin Dev . 2021.
Ilyinskii PO, Michaud AM, Rizzo GL, Roy CJ, Leung SS, Elkins SL, Capela T, Chowdhury A, Li L, Chandler RJ, Manoli I, Andres-Mateos E, Johnston LPM, Vandenberghe LH, Venditti CP, Kishimoto TK. ImmTOR nanoparticles enhance AAV transgene expression after initial and repeat dosing in a mouse model of methylmalonic acidemia. Mol Ther Methods Clin Dev. 2021.
Li Y, Miller CA, Shea LK, Jiang X, Guzman MA, Chandler RJ, Ramakrishnan SM, Smith SN, Venditti CP, Vogler CA, Ory DS, Ley TJ, Sands MS. Enhanced efficacy and increased long-term toxicity of CNS-directed, AAV-based combination therapy for Krabbe disease. Mol Ther. 2021.
Ferla R, Alliegro M, Dell'Anno M, Nusco E, Cullen JM, Smith SN, Wolfsberg TG, O'Donnell P, Wang P, Nguyen AD, Chandler RJ, Chen Z, Burgess SM, Vite CH, Haskins ME, Venditti CP, Auricchio A. Low incidence of hepatocellular carcinoma in mice and cats treated with systemic adeno-associated viral vectors. Mol Ther Methods Clin Dev. 2020.
Brooks PJ, Ottinger EA, Portero D, Lomash RM, Alimardanov A, Terse P, Xu X, Chandler RJ, Geist Hauserman J, Esposito E, Bönnemann CG, Venditti CP, Austin CP, Pariser A, Lo DC. The Platform Vector Gene Therapies Project: Increasing the efficiency of adeno-associated virus gene therapy clinical trial startup. Hum Gene Ther. 2020.
Chandler RJ. Messenger RNA therapy as an option for treating metabolic disorders. Proc Natl Acad Sci U S A. 2019.
An D, Schneller JL, Frassetto A, Liang S, Zhu X, Park JS, Theisen M, Hong SJ, Zhou J, Rajendran R, Levy B, Howell R, Besin G, Presnyak V, Sabnis S, Murphy-Benenato KE, Kumarasinghe ES, Salerno T, Mihai C, Lukacs CM, Chandler RJ, Guey LT, Venditti CP, Martini PGV. Systemic messenger RNA therapy as a treatment for methylmalonic acidemia. Cell Rep. 2017.
Chandler RJ, Williams IM, Gibson AL, Davidson CD, Incao AA, Hubbard BT, Porter FD, Pavan WJ, Venditti CP. Systemic AAV9 gene therapy improves the lifespan of mice with Niemann-Pick disease, type C1. Hum Mol Genet. 2017.
Chandler RJ, LaFave MC, Varshney GK, Trivedi NS, Carrillo-Carrasco N, Senac JS, Wu W, Hoffmann V, Elkahloun AG, Burgess SM, Venditti CP. Vector design influences hepatic genotoxicity after adeno-associated virus gene therapy. J Clin Invest . 2015.
Chandler RJ, Venditti CP. Pre-clinical efficacy and dosing of an AAV8 vector expressing human methylmalonyl-CoA mutase in a murine model of methylmalonic acidemia (MMA). Mol Genet Metab. 2012.
Chandler RJ, Chandrasekaran S, Carrillo-Carrasco N, Senac JS, Hofherr SE, Barry MA, Venditti CP. Adeno-associated virus serotype 8 gene transfer rescues a neonatal lethal murine model of propionic acidemia. Hum Gene Ther. 2011.
Chandler RJ, Zerfas PM, Shanske S, Sloan J, Hoffmann V, DiMauro S, Venditti CP. Mitochondrial dysfunction in mut methylmalonic acidemia. FASEB J. 2009.
Chandler RJ, Venditti CP. Long-term rescue of a lethal murine model of methylmalonic acidemia using adeno-associated viral gene therapy. Mol Ther. 2010.
For more publications from Dr. Chandler see My Bibliography-NCBI, ORCID or Google Scholar
Last updated: March 25, 2022