Non-Human Primate Developmental Genotype-Tissue Expression (NHP dGTEx)
The goal of the NHP dGTEx initiative is to study tissue-specific gene expression patterns at multiple stages of non-human primate development, thus providing an evolutionary and translational framework for the human dGTEx project.
Overview
NHP dGTEx aims to catalog and analyze transcriptional profiles from a wide variety of tissues at multiple developmental stages from two species of non-human primates: Macaca mulatta (rhesus macaque), an Old World monkey, and Callithrix jacchus (common marmoset), a New World monkey. This program is led by NHGRI with co-funding from the Office of Research Infrastructure Programs (ORIP) and the National Institute of Mental Health (NIMH). NHP dGTEx will provide high quality tissue samples for analyses as well as process tissues for sequencing, analyze gene expression patterns both in bulk tissues and single cells, and ensure that the data and samples are accessible to the research community. Serving as a complement to the human dGTEx project, NHP dGTEx will add to our understanding of human-specific and primate-specific gene expression patterns throughout development, including prenatal stages. In addition, NHP dGTEx will enhance the translational value of NHP models for biomedical research.
Program Goals
Human Developmental GTEx (dGTEx) was created after the successful Common Fund project, GTEx (2010 - 2019), which investigated how genetic variation impacts gene expression in multiple tissues across individuals. GTEx generated expression data for 54 tissues from 948 donors along with genotype data from the donors. This allowed GTEx to pioneer tissue-specific eQTL analyses. The GTEx Portal was created to store, catalog, search, and share the wealth of data produced by this initiative. Researchers have used data from the GTEx Portal in over 7,000 publications, and this resource continues to be highly used by the research community.
The goal of dGTEx is to expand the GTEx dataset to include early developmental stages to understand how tissue-specific gene expression patterns change throughout human development. Human dGTEx plans to perform whole genome sequencing, as well as collect and generate expression profiles for ~30 tissues from 120 human donors at four different stages of post-natal development: early post-natal, early childhood, pre-pubertal, and post-pubertal. The purpose of NHP dGTEx is to provide datasets complementary to those from human dGTEx using non-human primates. NHP dGTEx will consist of ~30 tissues from 12 rhesus macaque and 12 common marmoset individuals at each of 6 developmental stages, including prenatal development. This project will allow cross-species comparisons through the collection of high-quality tissue samples from well-characterized animals, whole genome and RNAseq data, and analysis of tissue- and cell-type specific gene expression at different stages of primate development.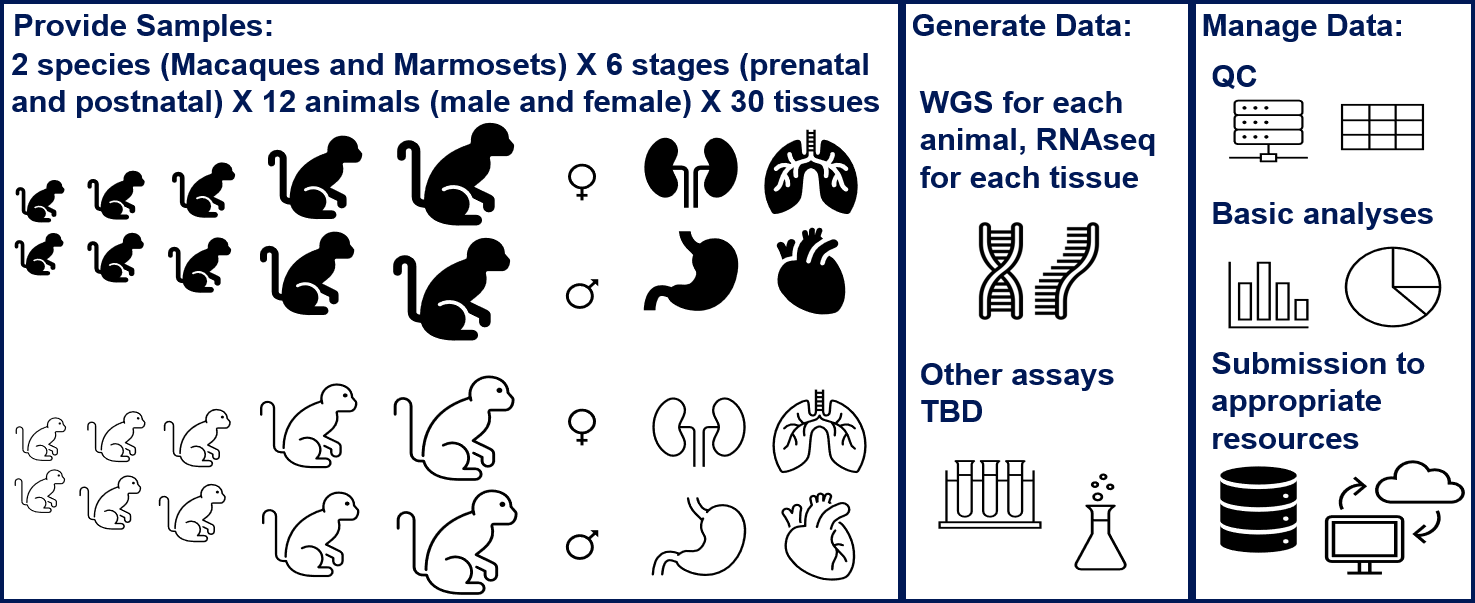 Funding Opportunities
Active
RFA-HG-23-005: Data Integration and Statistical Analysis Methods (DISAM) (U01 Clinical Trial Not Allowed)
Application Due Date: November 20, 2023
Expiration Date: November 21, 2023
---
Expired
RFA-HG-21-026: Non-Human Primate Developmental Genotype-Tissue Expression (NHP dGTEx) Project (U24 Clinical Trials Not Allowed)
Application Due Dates: August 2, 2021
Expiration Date: August 3, 2021
Grantee Information
Principal Investigator
Institution
Title
Award Number
Donald Conrad
Oregon Health & Science University
Multispecies NHP dGTEx Research Center
HG012483
Kristen Ardlie
Broad Institute
Nenad Sestan
Yale University
Guoping Feng
Massachusetts Institute of Technology
Program Staff
Program Analysts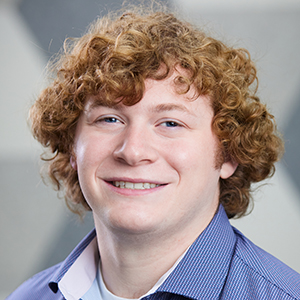 Jake Baroch, B.S.
Scientific Program Analyst
Division of Genome Sciences
Last updated: April 19, 2023