Genomics is relevant to the practice of all nurses.
What is Genomics?
The genome is the entire set of genetic instructions found in a cell. In humans, the genome consists of 23 pairs of chromosomes, found in the nucleus, as well as a small chromosome found in the cells' mitochondria. Each set of 23 chromosomes contains approximately 3.1 billion bases of DNA sequence. Genomic-based healthcare involves use of this genomic information about an individual as part of their clinical decisions (i.e., for diagnostic or therapeutic decision-making) and consideration of implications of that use.
Genomics is relevant to the practice of all nurses.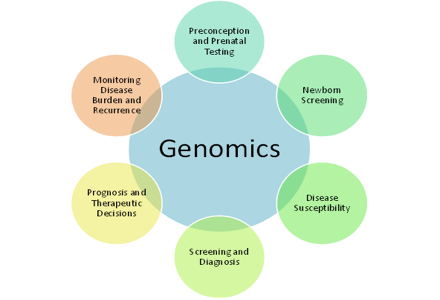 Exemplars of the Relevancy of Genomics for Nurses
How Genetic Testing Guided Treatment Options
I grew up in a small town, but had big dreams. I came to the city to get my education and have been continuing on that journey ever since. But my life changed on a dime at age 47 when I was told I had lymphoma, a cancer that was not curable. Needless to say I was devastated. Treatments available at that time were not good enough, so I needed something more. After standard chemotherapy I received an experimental vaccine that targeted my specific cancer markers - talk about personalized or precision medicine! I wanted to know everything I could about the use of DNA information to diagnose what kind of cancer I had, determine how aggressive the cancer was based on my tumor molecular profile, and how the use of my own DNA information could guide treatment options for my lymphoma. My new dream was to survive this cancer.
So, how has using DNA information in my care made a difference for me:
I am still alive and cancer free.

I have seen two granddaughters born and grow up to be amazing young ladies.

I've been able to work to educate other healthcare providers about the challenges of using DNA information to help guide clinical decisions.

And importantly, I've lived long enough to see new discoveries in cancer care that are now available, should I ever need them again.

My family, friends, doctors, nurses, and personalized care were invaluable to me during this time. Definitely, using genetic information in my care has made a difference for me!
Genetic Testing Confirms Diagnosis
It began about 5 years ago-my long journey of trying to find a cause for my symptoms. I had progressive weakness and pain which couldn't be explained resulting in numerous visits to the doctors for work-up and tests. At the end of 2012 I had a deep muscle biopsy done which was highly suggestive of a rare disease called Myotonic Dystrophy Type 2. It was recommended I have genetic testing to confirm what was suspected, but I was unsure that was something I wanted to do.
In my professional life as a nurse in 2013 I was part of a team beginning a project to integrate genetic and genomic information in the care of patients at our hospital. I spoke with a colleague leading that project about how I had been sick a lot, how I had been worked up by my family doctor, and seen several specialists. I explained to her that they were telling me I needed a genetic test to confirm what was suspected, that I had Myotonic Dystrophy. She and I discussed the benefits and risks of genetic testing and about the GINA legislation that had been put in place to protect people like me from discrimination based on genetic test results. Based on our conversations and all I learned being involved with this MINC project, I decided to go ahead with genetic testing. I was almost relieved to receive the results confirming this was the cause of my symptoms and that I wasn't crazy! I am glad I had the genetic testing done. Knowing the diagnosis has not been easy but it has helped me face the future knowing more about what to expect.
We Need to Develop Genomic Knowledge Competency NOW!
There is a great opportunity to develop genomic knowledge competency for practicing healthcare providers:
To bring new discoveries to patients needing them now,

Considered in the context of a rapidly changing healthcare environment,

Spurred by technology and new scientific discoveries, and

Resulting in healthcare information that impacts public welfare, patient safety, and cost containment.

Expanding nursing competency is critical to growing the healthcare system's ability to translate new information into practice to make a difference for patients, their families, and communities. The challenge is how to introduce a complex competency, such as genomics, into the nursing scope of practice with ramifications for:
Clinical systems,

Policies, and

Workforce preparation.
This toolkit provides you with suggestions of where to begin, how to move forward, opportunities and challenges to consider including recommended competencies for genomics nursing.
Genomic Competencies
Recommendations for genomic competencies are now available for multiple healthcare providers. Reviewing these documents will provide you with a snapshot of what is recommended for minimum preparation of healthcare providers to deliver competent genetic- and genomic-focused care.
Nurses have identified competencies for all nurses. Those identified in the document, ESSENTIALS OF GENETIC AND GENOMIC NURSING: COMPETENCIES, CURRICULA GUIDELINES, AND OUTCOME INDICATORS (2009), are integral to the practice of all registered nurses regardless of academic preparation, practice setting, role, or specialty.
The ESSENTIALS OF GENETIC AND GENOMIC NURSING: COMPETENCIES FOR NURSES WITH GRADUATE DEGREES (2011) apply to anyone functioning at the graduate level in nursing, including but not limited to advanced practice registered nurses (APRNs), clinical nurse leaders, nurse educators, nurse administrators, and nurse scientists.
Last updated: February 4, 2022