NIH accelerates the use of genomics in clinical care
The National Institutes of Health (NIH) is awarding $18.9 million towards research that aims to accelerate the use of genome sequencing in clinical care. The new awards will generate innovative approaches and best practices to ensure that the effectiveness of genomic medicine can be applied to all individuals and groups, including diverse and underserved populations, and in healthcare settings that extend beyond academic medical centers.
Genome Sequencing in the Clinic
The research is being funded as part of the Clinical Sequencing Evidence-Generating Research (CSER2) Consortium. CSER2 builds upon the Clinical Sequencing Exploratory Research (CSER) Consortium, initiated in 2010 and funded by the National Human Genome Research Institute (NHGRI) and the National Cancer Institute (NCI), both part of NIH. The new grants will support the development of methods needed to integrate genome sequencing into the practice of medicine, improve the discovery and interpretation of genomic variants, and investigate the impact of genome sequencing on healthcare outcomes.
"CSER's initial goal was more exploratory in nature to see if we could, in fact, integrate genome sequencing into clinical care," said Lucia Hindorff, Ph.D., M.P.H., a program director in NHGRI's Division of Genomic Medicine. "The exploratory focus allowed each site to develop its own approach. Working together, CSER investigators were effective in identifying common challenges and opportunities for advancing this integration."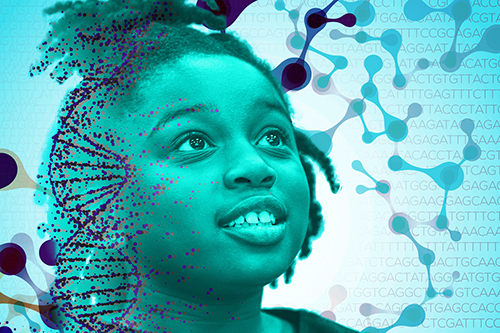 With this new round of funding, CSER2 investigators will continue the effort to generate evidence for the usefulness of genome sequencing in clinical care, but with a particular focus on diverse and underserved individuals. To that end, NHGRI and NCI have partnered with the National Institute on Minority Health and Health Disparities (NIMHD) to improve processes for recruiting and retaining patients to participate in research from diverse racial and ethnic groups, as well as from currently understudied clinical healthcare settings where genomic medicine could potentially be put into practice.
"Engaging patient populations that are traditionally underrepresented in genomics research, coupled with the inclusion of broader types of healthcare settings, will enrich the data that result from CSER2," said Regina Smith James, M.D., director of Clinical and Health Services Research at NIMHD.
In Fiscal Year (FY) 2017, CSER2 is awarding grants to six clinical sites and one coordinating center, with the awards planned for a total of four years. CSER2 will also continue to include collaborators such as those from the NHGRI Intramural CLINSEQ® study. The clinical sites - all with a goal of recruiting at least 60 percent of participants from diverse or underserved settings - will include research that covers geographical areas from the racially diverse populations in Houston, to the underrepresented minority populations in Harlem and the Bronx in New York. Each project will address additional areas that will be common across CSER2 sites, such as the effectiveness of treatment decisions; patient and familial response to genomic testing; patient-provider-laboratory interactions that influence the use of genome sequencing; and integrating genomic, clinical and healthcare data to build a shared evidence base for clinical decision making.
With the help of the coordinating center, which assures the organization and logistical support to stimulate synergies among the six individual projects, CSER2 will continue to develop and enhance the evidence base required to bring genome sequencing to non-academic clinical settings, as well as to diverse patient groups.
Recipients of the awards are:
Clinical Sequencing Evidence-Generating Research 2 (CSER2) Clinical Sites
Jonathan Berg, M.D., Ph.D., University of North Carolina, Chapel Hill
Gregory Cooper, Ph.D., HudsonAlpha Institute for Biotechnology, Huntsville, Alabama
Katrina Goddard, Ph.D., Kaiser Permanente Center for Health Research, Portland, Oregon
Eimear Kenny, Ph.D., Icahn School of Medicine at Mount Sinai, New York
Pui-Yan Kwok, M.D., Ph.D., University of California, San Francisco
Sharon Plon, M.D., Ph.D., Baylor College of Medicine, Houston
CSER2 Coordinating Center
Gail Jarvik, M.D., Ph.D., University of Washington, Seattle
NHGRI is one of the 27 institutes and centers at the National Institutes of Health. The NHGRI Extramural Research Program supports grants for research, and training and career development at sites nationwide. Additional information about NHGRI can be found at www.genome.gov.
About the National Cancer Institute (NCI): NCI leads the National Cancer Program and the NIH's efforts to dramatically reduce the prevalence of cancer and improve the lives of cancer patients and their families, through research into prevention and cancer biology, the development of new interventions, and the training and mentoring of new researchers. For more information about cancer, please visit the NCI website at cancer.gov or call NCI's Cancer Information Service at 1-800-4-CANCER.
NIMHD is one of NIH's 27 Institutes and Centers. It leads scientific research to improve minority health and eliminate health disparities by conducting and supporting research; planning, reviewing, coordinating, and evaluating all minority health and health disparities research at NIH; promoting and supporting the training of a diverse research workforce; translating and disseminating research information; and fostering collaborations and partnerships. For more information about NIMHD, visit http://www.nimhd.nih.gov.
National Institutes of Health (NIH): NIH, the nation's medical research agency, includes 27 institutes and centers and is a component of the U.S. Department of Health and Human Services. NIH is the primary federal agency conducting and supporting basic, clinical and translational medical research, and is investigating the causes, treatments and cures for both common and rare diseases. For more information about NIH and its programs, visit www.nih.gov.
Last updated: August 8, 2017