The microbiome's role in health disparities requires multi-disciplinary research
Researchers at NIH's National Human Genome Research Institute (NHGRI) and their colleagues* are calling for health disparities research that focuses on the microbiome. Health disparities -- the negative health outcomes that impact certain groups of people - and the microbiome - the microorganisms that live in and on us -- are both influenced by people's environments and social interactions. As a result, the microbiome and health differences experienced by diverse people may be a two-way street, with the biological and environmental factors influencing each other, according to the perspective published October 3 in the journal Trends in Microbiology.
Reducing Health Disparities
Health disparities, including shorter life expectancy and higher rates of cancer and infant mortality, persist among people of diverse ancestries and homelands despite decades of health disparities research. The role of the microbiome on ethnic and racial differences in health hasn't been fully explored, nor are researchers yet capturing necessary information about the socioeconomic, psychosocial, cultural and behavioral factors in people of diverse ancestry, according to the perspective.
"We hope that research on the human microbiome will help reduce and even eliminate certain health disparities by shedding light on how a person's microbiome interacts with social and environmental factors," said Vence L. Bonham, Jr., J.D., perspective co-author and associate investigator in NHGRI's Social and Behavioral Research Branch. "Social scientists should be working alongside basic and computational scientists, clinicians and epidemiologists to understand the microbiome's role in health disparities."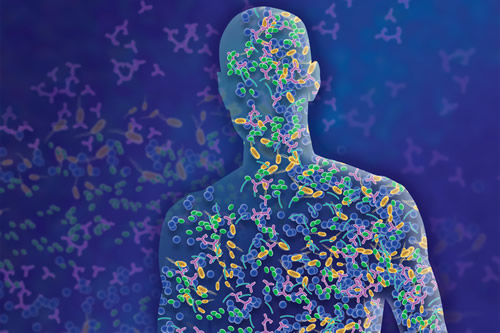 An example of the microbiome's influence in health disparities can be found among some African American woman, according to the perspective. Research has shown that differences in some African American women's vaginal microbiome may result in higher rates of premature births, bacterial vaginosis (the most common vaginal infection in women, ages 15-44) and sexually transmitted infections.
While some researchers have focused on reproductive health, others are conducting research on early feeding practices that may alter the gut microbiome and increase risk for developing obesity later in life, according to the perspective. This emerging focus of research may shed light on how feeding practices relate to biological and behavioral factors such a mother's weight, eating habits and sleep patterns.
Stress, its impact on the immune system and its role on disease risk is another important area of health disparities research. The authors speculated that the microbiome may change in response to the immune system and vice versa. In response, they propose a multidisciplinary research framework that investigates the microbiome, biological processes and the social and physical environmental factors for a comprehensive understanding of human health and disease.
* Perspective authors included:
Vence L. Bonham, J.D., senior advisor to the NHGRI director on genomics and health disparities and associate investigator in Social and Behavioral Research Branch, NHGRI, NIH
Keisha Findley, Ph.D., postdoctoral fellow, Social and Behavioral Research Branch, NHGRI, NIH
David R. Williams, Ph.D. Florence Sprague Norman and Laura Smart Norman Professor of Public Health, Department of Social and Behavioral Sciences, Harvard T.H. Chan School of Public Health
Elizabeth A. Grice, Ph.D., assistant professor, Departments of Dermatology and Microbiology, Perelman School of Medicine, University of Pennsylvania
Last updated: January 10, 2017