20 years later, genomicists remember White House event announcing draft human genome sequence
As is likely the case for many of your organizations, NHGRI and NIH are starting to bring some of our staff back to the physical workplace. This will obviously be a complex and lengthy process! As has been the case for the past few months, NHGRI staff will continue pursuing our genomics-driven mission, whether working remotely from home or at our physical workspaces at NIH.
To foster a safe and fair research and training environment, combating all forms of harassment is a priority for NIH. I would like to call to your attention to a recently published editorial in Science that describes a new NIH guidance that holds grantee investigators and institutions accountable for reporting findings of sexual harassment.
Last month's issue of The Genomics Landscape featured NHGRI efforts to develop a plan for substantially increasing the diversity of the genomics workforce in the United States. This included gathering input from the genomics community about successful programs and strategies in this area as well as new ideas. I want to thank all of those who have or will provide such input!
All the best,

20 years later, genomicists remember the White House event announcing the draft human genome sequence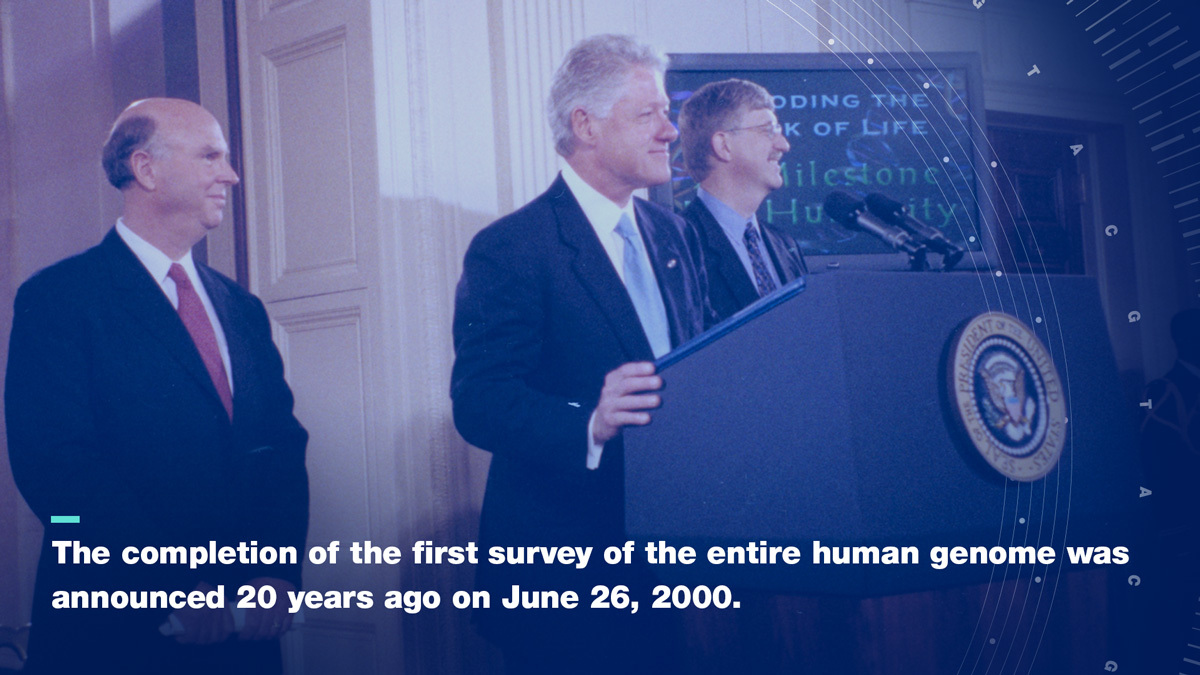 Twenty years ago – specifically on June 26, 2000 – President Bill Clinton held a White House event to announce the completion of a draft sequence of the human genome. The ceremony took place in the East Room of the White House, where politicians, ambassadors, scientists, company executives, disease advocates, and journalists gathered to celebrate a major milestone for the Human Genome Project.
This historic landmark for biomedical research was in the making for nearly 10 years, since the Human Genome Project (HGP) began on October 1, 1990. Led by an international team of multidisciplinary researchers, the HGP aimed to order (i.e., sequence) the roughly three billion letters of the four-letter (A, C, G, and T) human DNA instruction book. The first working draft and initial analysis of the human genome sequence would start the process of building the HGP's legacy with respect to leading to a better understanding of human biology and new insights about human health and disease.
On that day 20 years ago, Francis Collins, now the director of the National Institutes of Health [but then the director of the National Human Genome Research Institute (NHGRI)] and key HGP leader, stood on stage with the President and Craig Venter, founder of Celera Genomics. The joint presence of these two scientific leaders signified the agreed-upon shared success of the public HGP and private Celera Genomics efforts in generating the first draft sequence of the human genome.
In attendance at the White House event were several members of the NHGRI and HGP communities, all of whom have notable memories of the day. While the attendees were excited and felt a sense of accomplishment, they also knew that the draft sequence represented the beginning of something much larger that was still to come. The next step for the HGP scientists was to refine the working draft sequence and produce a more finished product. In short, while the working draft version was deemed useful for biomedical research, a highly accurate finished sequence was recognized as being critical for maximizing the benefit of the HGP's efforts.
Fast-forward to April 2003 and the HGP succeeded in its quest of generating a near-complete human genome sequence, one that covered about 99 percent of the genome's gene-containing regions and had an accuracy of 99.99 percent. The draft human genome sequence, and later the finished sequence, could not have been completed as quickly and as effectively without the strong participation of universities and research centers throughout the United States, the United Kingdom, France, Germany, Japan, and China. In addition, to help researchers better understand the meaning of the human genome, the HGP had also accomplished a series of other goals, including sequencing the genomes of a set of model organisms. In fact, by April 14, 2003, all of the HGP's ambitious goals had been met or surpassed.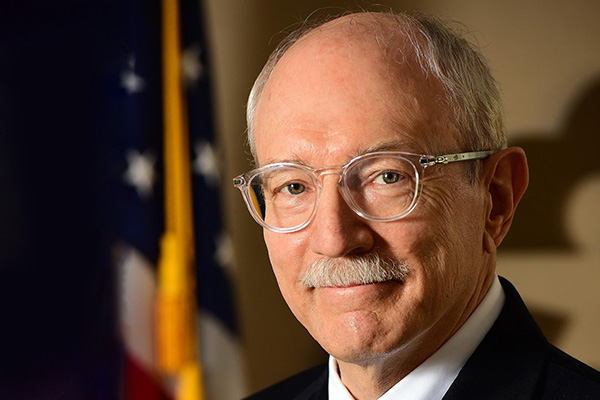 Richard (Rick) Woychik, Ph.D., has been appointed director of National Institute of Environmental Health Sciences (NIEHS) at NIH. Dr. Woychik joined NIEHS in 2010 as the institute's Deputy Director. He has served as acting director of NIEHS since October 2019 and officially began his new role as the NIEHS director on June 7, 2020. NIEHS, located in Research Triangle Park, North Carolina, conducts and supports environmental health sciences in alignment with real-world public health needs and translates science findings into knowledge that can inform real-life individual and public health outcomes. As NIEHS director, Dr. Woychik will also serve as director of the National Toxicology Program (NTP). The NTP is a federal, inter-agency program that reports directly into the U.S. Department of Health and Human Services.
Ninth meeting of committee for improving genomic literacy of healthcare providers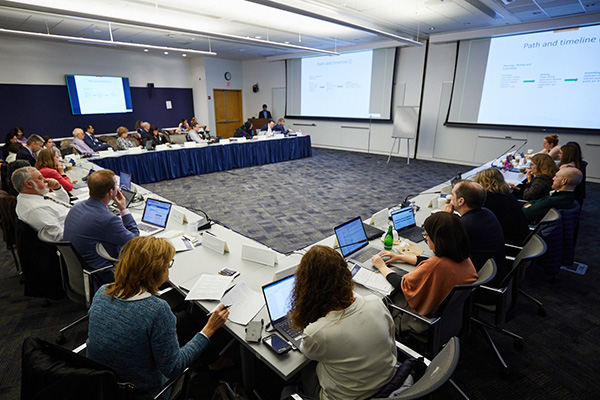 The Inter-Society Coordinating Committee for Practitioner Education in Genomics (ISCC-PEG) held its ninth in-person meeting on February 25, 2020, in Bethesda, Maryland. Topics discussed at the meeting included tools for public education and research ethics, extramural training opportunities, the NHGRI ELSI Research Program, and discussion of a policy on review of ISCC materials and dissemination. The meeting also provided time for the ISCC project groups to convene. Minutes from the meeting are now available online.
ACMG issues statement regarding genomic data and electronic health records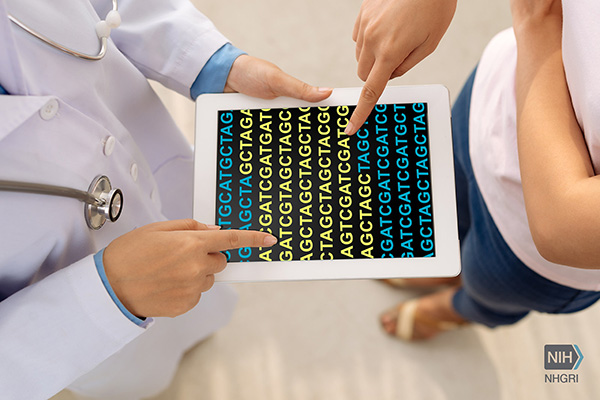 The American College of Medical Genetics and Genomics (ACMG) recently published guidance on incorporating genomic data into electronic health records (EHRs). EHRs are a valuable tool for facilitating communication between patients and doctors and for patient health overall. As genomic information about patients becomes more and more available, it is essential that it becomes appropriately integrated into medical systems such as EHRs. The ACMG guidance addresses topics such as: types of genomic information and data entry; data usage and access; results disclosure; portability and privacy; patient, family, and societal benefits; and unique characteristics of genomic information that require additional attention. The guidance aims to contribute to the development of policies and procedures that maximize "patient benefit, minimize harm, improve population health, and decrease health care costs."
All of Us Research Program opens data platform for beta testing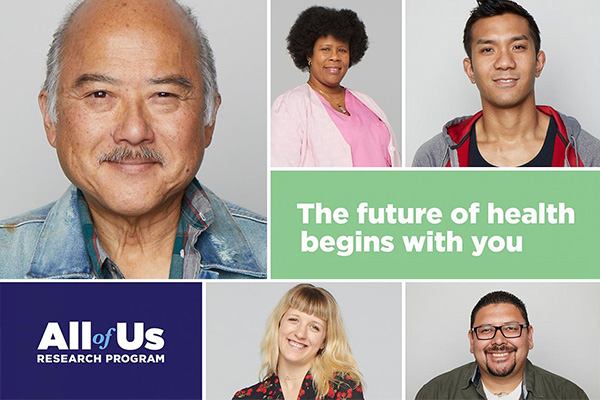 The All of Us Research Program has started beta testing their new data platform. The All of Us Researcher Workbench allows researchers to use the initial dataset and tools in studies. During this beta-testing phase, researchers are encouraged to start exploring the platform and data; they are also invited to give feedback about the platform. By sharing data and tools now – while participant recruitment and data collection are still in their early stages – All of Us is demonstrating its commitment to making data broadly and readily accessible. The feedback generated by users will allow All of Us to make the resource more valuable at the same time that new data types are added. Currently, any U.S.-based academic, nonprofit, or healthcare organization can access the data and tools by entering into the All of Us data use agreement. For information about features and limitations of the beta platform and about the data access process, please see the recent announcement. The All of Us Research Program ultimately aims to create one of the world's largest and most diverse datasets to advance health research. The All of Us Researcher Workbench beta testing phase is one step toward meeting that goal.
About The Genomics Landscape
A monthly update from the NHGRI Director on activities and accomplishments from the institute and the field of genomics.
Last updated: July 2, 2020